The Justice Department says the new version of President Trump's executive order on travel allows the government wide latitude to grant exceptions, previewing its defense of an expected wave of new legal challenges.
The outline of the Justice Department's position comes in court documents filed late Tuesday in Honolulu, anticipating a renewed legal challenge to President Trump's executive order on travel.
The new executive order contains "a robust waiver provision," allowing exceptions to the 90-day ban on travel from six countries. "That case-by-case process plainly satisfies any possible due process requirements," the administration argued, when a U.S. citizen, company, or university seeks the entry of someone overseas.
Hawaii has told a federal judge that it intends to file a new lawsuit against the revised executive order, arguing in part that it would affect "thousands of individuals across the United States and Hawaii who have immediate family members living in the affected countries" and who will be unable to receive visits from their relatives.
The government says the new order gives examples of when a waiver could be appropriate, including when a foreign national "seeks to enter the United States to visit a close family member."
Exceptions could also be made when a person in one of the six affected countries seeks entry "for significant business or professional obligations." Lawsuits filed against the original order said business and universities would be harmed if they could not recruit talent or visiting scholars, and that claim will be raised again in the new challenges.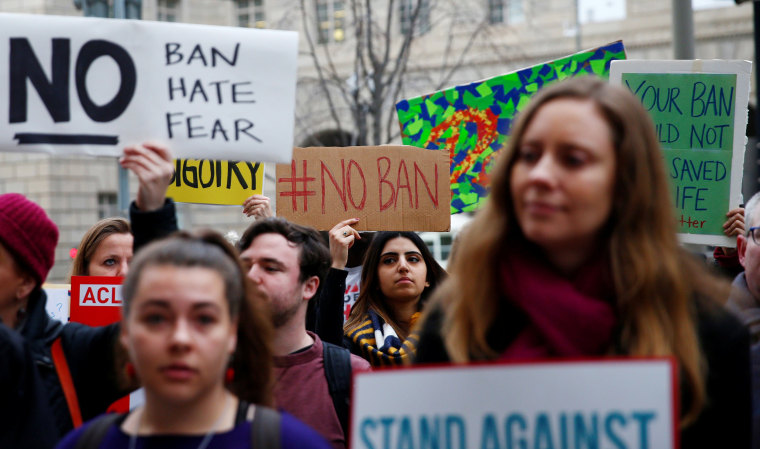 The judge Wednesday allowed lawyers for Hawaii and an Islamic cleric in the state to file their new lawsuit. He set a schedule for receiving written briefs and ordered oral argument for March 15, the day before the new executive order goes into effect.
The new lawsuit will also claim that the executive order harms Hawaii's tourist economy and violates the Constitution because it is aimed at limiting travel to the U.S. by Muslims, who will perceive that "the government has established a disfavored religion."
Also Wednesday, the Ninth Circuit Court of Appeals in California dismissed the lawsuit filed in February by Washington state. That case resulted in a nationwide ban on enforcing the original executive order.
President Trump's new order rescinds the old one, making the Washington state case a dead letter. Washington's attorney general, Bob Ferguson, said changes made in the new order show that the courts "got it right" when they blocked the original one.