This story about for-profit education was produced by The Hechinger Report, a nonprofit, independent news organization focused on inequality and innovation in education. Sign up for the Hechinger newsletter.
Signs of trouble at the Charlotte School of Law percolated for years.
Fewer than half of its graduates passed the bar exam. Only one in five got full-time legal jobs. And the U.S. Department of Education found the school misrepresented its credentials and their odds of success.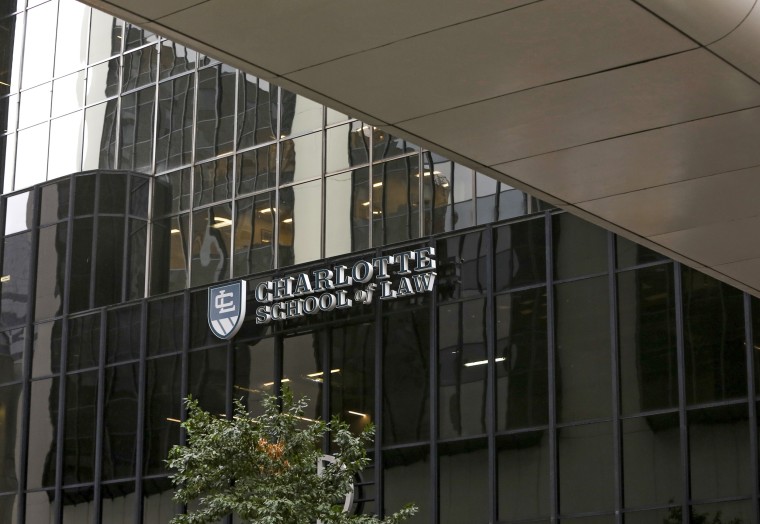 But when the law school was finally forced to shut down last year, it wasn't because of President Donald Trump's education department. It was North Carolina's attorney general who closed its doors. And when the federal department sought to limit the number of the law school's students eligible to have their loans forgiven, the attorney general intervened again.
The case is among a slew of enforcement actions, lawsuits and legislative proposals in which states are cracking down on for-profit colleges and universities and loan-servicing companies they say cheat or mislead students. And the trend is picking up momentum as the Trump administration and Congress seek to soften federal regulations that were beefed up during the Obama years.
The for-profit companies' own securities filings disclose growing numbers of class-action lawsuits by students based on state instead of federal consumer laws and rising concern in the industry about intensifying state scrutiny.
"My office has and will continue to aggressively protect North Carolina students and consumers, whether the federal government is on the job or not," North Carolina Attorney General Josh Stein said in an interview.
Stein is among attorneys general from 18 states and the District of Columbia who have sued to prevent Education Secretary Betsy DeVos from suspending rules meant to protect students who borrowed money to attend colleges that have closed or were found to have defrauded them.
The Education Department said in a statement that the suit is "ideologically driven"; all the state officials who signed onto it are Democrats. But the bipartisan National Governors Association and a bipartisan group of 30 attorneys general have protested a proposal by House Republicans that would block states from regulating companies that service billions of dollars in student loans, some of which are accused of misleading and overcharging consumers.
The standoff between the federal government and the states comes as DeVos has appointed several for-profit college industry executives to high-level positions overseeing their former companies and others.
"The foxes are running the henhouse," said Robert Shireman, a deputy undersecretary of education under President Barack Obama and a longtime critic of for-profit colleges who is now a senior fellow at The Century Foundation, a liberal think tank in New York.
Critics say the Education Department has backed off from going after for-profit institutions and loan servicers that mistreat students. One state attorney general, Gurbir Grewal of New Jersey, said cooperation from the Education Department "seems to have ground to a halt" in his office's efforts to help 2,200 New Jersey students of the now-closed Corinthian Colleges get their loans forgiven. Corinthian shut down after the Obama administration fined it $30 million in 2015 for inflating its job-placement rates.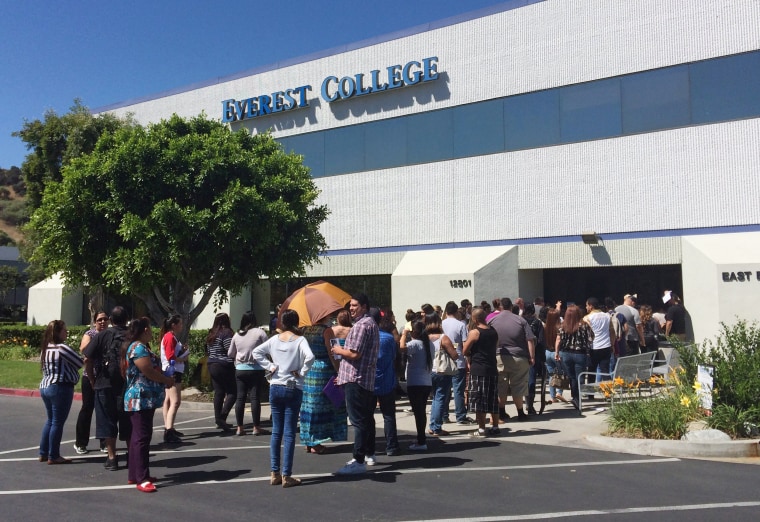 "It's just a new stand for the department to be taking, that the states aren't its partner — that the states are its enemy," said Eileen Connor, director of litigation at Harvard Law School's Project on Predatory Student Lending.
But filings with the Securities and Exchange Commission by publicly traded for-profit education companies and loan servicers show that states are moving ahead with a more forceful role in scrutinizing these industries.
"We are in a period in which many states are re-evaluating and revising their authorization regulations," Capella Education Company, which runs Capella University, warned its shareholders. "If these pressures and uncertainty continue in the future, they could have a material impact on our enrollments, revenue, results of operations and cash flow." It added: "Attorneys General in several states have become more active in enforcing consumer protection laws."
Both Capella and for-profit Walden University parent Laureate Education Inc. disclosed in securities documents that they are under scrutiny from the Office of Higher Education in Capella's home state of Minnesota after complaints were made by doctoral students.
Bridgepoint Education Inc. was sued by the attorney general in its home state of California for allegedly providing inaccurate information to prospective students and using illegal debt-collection practices, which the company denies. It also said it's under investigation by the attorney general in Massachusetts, Maura Healey, who last year sued the Pennsylvania Higher Education Assistance Agency, a loan-servicer.
Twenty-one states and the District of Columbia are investigating the for-profit Career Education Corp., which runs American InterContinental University and Colorado Technical University, over whether its student recruitment and claims of graduate placement and licensing meet state consumer laws, that company says.
State laws, rather than federal regulations, are also being used as the basis of class-action lawsuits brought by former students against Career Education, DeVry parent Adtalem Global Education and Laureate, the companies acknowledge.
Legislatures in several states are ramping up laws that affect loan servicers and for-profit universities and colleges. California has imposed regulations stronger than federal ones, requiring, for example, that for-profit colleges with 40 percent or more of students borrowing keep their loan default rates under 15.5 percent to remain eligible for state financial aid; the federal threshold is 30 percent. To operate in Connecticut, student loan-servicers now have to get state licenses.
Twenty states require for-profit colleges, whose collective enrollment in the spring was 925,532, to set aside money to reimburse students who are defrauded or if the institutions close, according to the National Consumer Law Center. Maryland's General Assembly just passed a bill adding that requirement and another, under which for-profit colleges must furnish information to students about loan default and graduation rates and typical debt before they take out loans.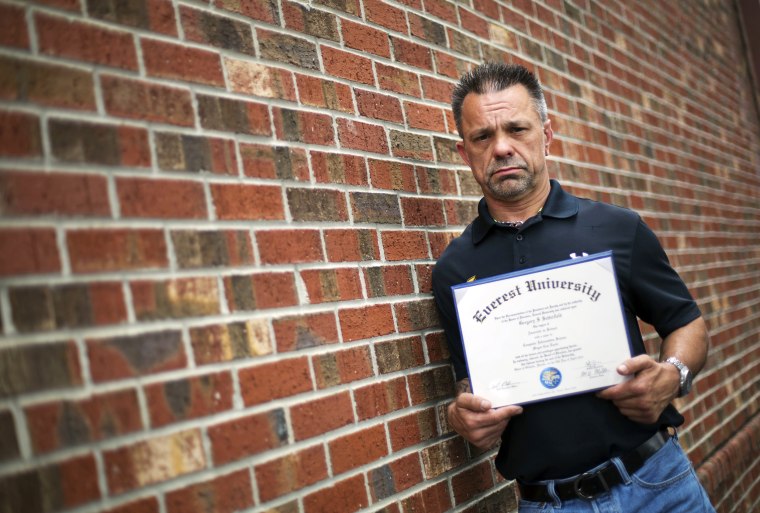 States are also attempting to require more oversight of for-profits and more transparency for their results. Maine legislators passed a bill seeking to require that the state annually review how for-profit colleges in Maine handle student complaints. "This federal government is walking away from their responsibility to do basic consumer protection," said state Sen. Eloise Vitelli, a sponsor. The measure was vetoed by the governor.
A bill in California's legislature would have adopted an Obama-era rule blocking financial aid to programs for which the likely earnings don't justify the cost. DeVos has ordered that this federal regulation, called the gainful-employment rule, be overhauled. The California bill never came to a vote, but Assemblymember Marc Berman, who introduced it, said he'll keep trying. "If they're not going to do it, we will."
The industries' standpoint is that this puts them in the middle of a dispute that is adding yet more layers of bureaucracy.
"In some states we have two sets of regulations," said Catherine Flaherty, executive director of the New England Private Career School Association, to whom Career Education Colleges and Universities, a trade organization for for-profit colleges, deferred for comment.
A few of her member schools have closed as a result, Flaherty said. "Some were bad apples; some decided it was just too complicated to operate," she said.
And while many states started regulating for-profit colleges before Trump took office, Flaherty said, they're doing even more of it now, at the same time that there are shortages in fields for which these institutions train their students, especially in the skilled trades. "On one hand we have the employers saying, 'Give us more students.' On the other hand we have the states cracking down."
She, too, ascribed this to politics. "It's a continuation of the Obama administration's determination to close all private career schools," Flaherty said. "They just have a fundamental dislike of the private career schools. I don't know, maybe they think everybody should get a four-year degree. But we think we're doing a service."
There are limits to how much states can regulate for-profit higher education institutions. Twenty-two states do not provide financial aid for students at these schools, for instance, according to The Century Foundation, meaning they have less standing to intervene on behalf of taxpayers. Many students take online courses from for-profit colleges in other states. And states don't necessarily have the resources to closely monitor even their local for-profit schools.
"The states are doing great things, but there are just factors that limit the impact they can have," said Connor, at Harvard Law.
Still, a study by the Children's Advocacy Institute at the University of San Diego School of Law found that states could do much more than they are doing now.
"We should remain highly concerned," said Debbie Cochrane, vice president of The Institute for College Access and Success, a nonprofit advocacy group. "Some states may be stepping up, but not all."
Stein, North Carolina's attorney general, declined to predict whether he and his counterparts in other states will ramp up their efforts even further.
"I'm hesitant to project into the future," he said. "My hope is that the Department of Education reorients itself to be on the side of the students."