The federal office focused on preventing young people from becoming entangled in the criminal justice system has turned tougher under the Trump administration — and it has quietly changed the language on its website to reflect this, a watchdog group says in a report released Thursday.
The changes to the Office of Juvenile Justice and Delinquency Prevention website, which include slashing references to treating and rehabilitating young people, signal "a more punitive approach to juvenile justice under the Trump administration," according to the report from the Sunlight Foundation, a nonprofit government transparency group.
Stricken from the website, or made harder to find, are pages titled "Girls and the Juvenile Justice System," "Engaging Families and Youth in the Juvenile Justice System, Policy Guidance" and "Eliminating Solitary Confinement for Youth." References to "justice-involved youth" have been replaced by the term "offenders" on the site's "About" page.
The agency and its website are important in setting the agenda for states, cities and groups that try to reduce juvenile crime. Activists say that changes to the website make it difficult to understand which juvenile justice programs the federal government still supports under President Donald Trump.
Officials from the juvenile justice office did not respond to a request for comment. In an email to the Sunlight Foundation, James Goodwin, a spokesman with the agency, depicted the changes as standard when a new president takes office. "As part of a normal transition from one administration to another, web pages are removed or archived in order to review content and ensure programs, policy, and other online information is current," Goodwin said.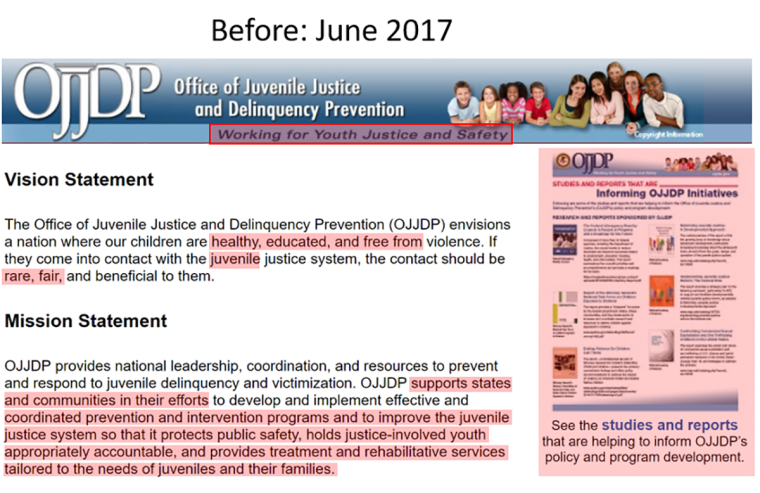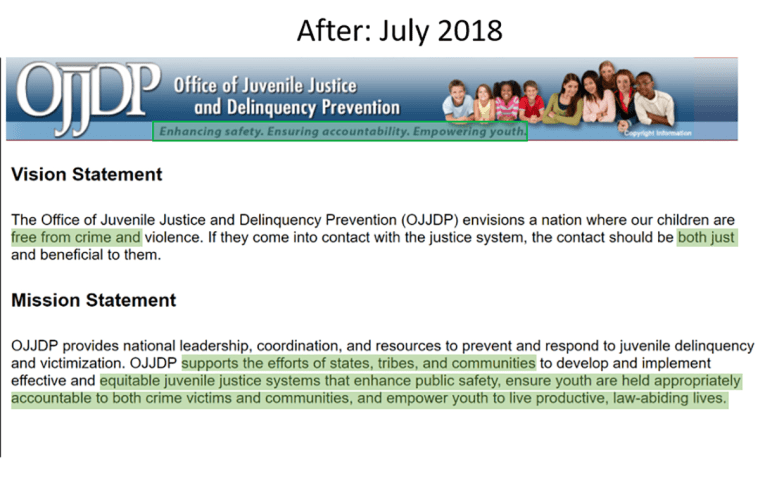 Led by Trump and Attorney General Jeff Sessions, the administration has taken a tough line on crime, saying it wants to send more criminals to prison for longer periods of time. The administration's appointee to run the juvenile justice office is Caren Harp, a onetime prosecutor and public defender. She has said that under previous administrations the office drifted toward "avoiding arrests at all costs and therapeutic intervention," without enough focus on public safety.
Some juvenile justice experts criticized the get-tough shift, saying it seemed to be more a political stance than an effort at sound policy. Dan Macallair, executive director of the San Francisco-based Center on Juvenile and Criminal Justice, which works to cut youth incarceration rates, noted that juvenile crime is at a low ebb, since its 1993 peak. "If they would look at their own numbers," he said, "they would see this is the best behaved generation of youth" in many years.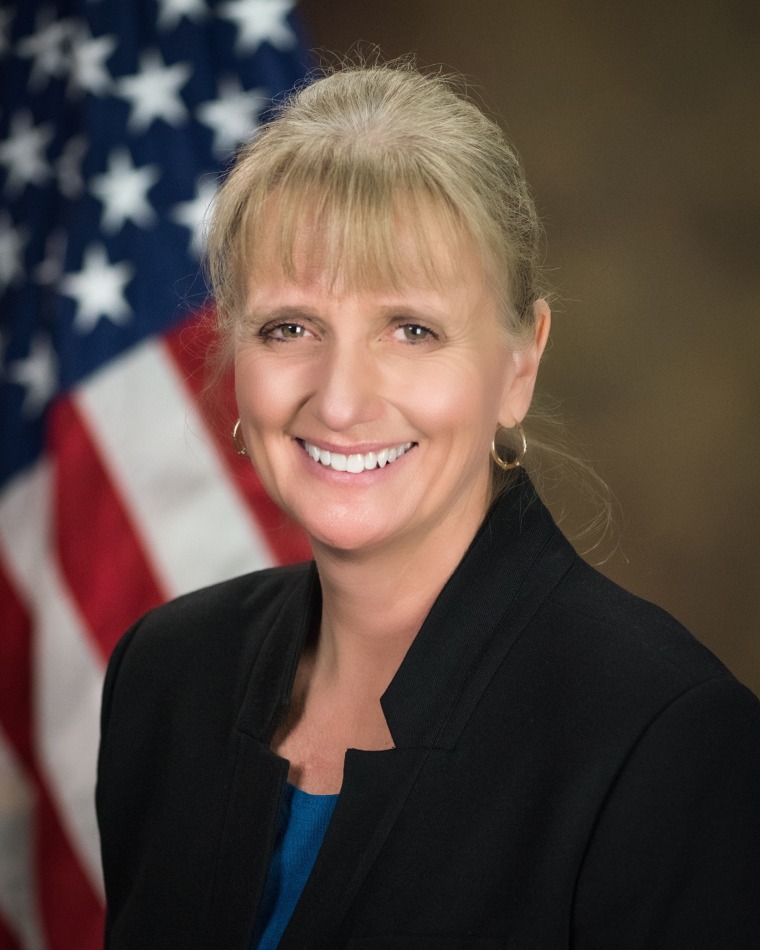 The reworking of federal government websites has been a hot topic since Trump took office in 2017. Sunlight and other groups previously revealed that information about global warming was removed from websites for the Environmental Protection Agency, the National Park Service and other agencies. Other postings were revamped to support fossil fuels (which create Earth-warming greenhouse gases), while downplaying the benefits of renewable energy.
The administration's disdain for the Affordable Care Act, passed under President Barack Obama, has also surfaced online, most recently when 14 pages about the national health insurance program were excised from Medicaid.gov. That change was first reported by the Sunlight Foundation.
Critics say the Trump administration is scrubbing websites to hamper policies that it hasn't been able to eliminate by executive order or via congressional action. But White House supporters say it is only rational that federal departments that report to Trump would alter their content and tone to reflect the views of the current president.
Changes to the juvenile justice office's website began in January 2017 and continued through July of this year, the Sunlight Foundation reported. A "Girls at Risk" page was among those removed. The page described the National Girls Initiative, an Office of Juvenile Justice-funded program that a Portland, Oregon-based nonprofit, National Crittenton, helped to implement. National Crittenton helps states and other nonprofits to adopt programs to keep girls out of the juvenile justice system. The group recently lost its $750,000 annual contract for the work.
The group's president, Jeannette Pai-Espinosa, said it's confusing that the web page about the girls program has been slashed, since the federal agency has announced no plans to discontinue efforts to keep girls out of the penal system.
The Sunlight Foundation report follows a story by the Marshall Project, which last month reported that the Office of Juvenile Justice was sharply curtailing efforts to track which young people are contacted by police, arrested and jailed, to determine whether minorities are disproportionately targeted.
"It's not been that long that they have been tracking that information and it's essential," said Pai-Espinosa. "Without the information, it's hard to make a case for addressing the needs of certain groups of youth in the system."
Goodwin, the Office of Juvenile Justice spokesman, said in an email to the Sunlight Foundation that reducing "disproportionate minority contact" remains "one of our top priorities." He said the office had simplified data collection in an effort to assist in that effort.
The Office of Juvenile Justice website's changes also reflect the Trump administration's focus on crimes committed by immigrants. On the site's home page, under "Funding Opportunities," the office lists "Gang Suppression: A Law Enforcement and Prosecutorial Approach To Address Gang Recruitment of Unaccompanied Alien Children."
Marcy Mistrett of the Campaign for Youth Justice, a nonprofit that tries to keep young people out of the adult criminal justice system, called the focus on using police and prosecutors to contact unaccompanied immigrant children a "dramatic departure" from past practice.
Statistics support the idea that young people are best kept out of gangs by exposing them to therapeutic programs like counseling and family support, not via police crackdowns, Mistrett said. "Unaccompanied minors are not, in fact, MS-13 ... gang members," Mistrett said. "There is just no data to support that kind of claim or that kind of approach."