The divisions between the Trump administration and the House Freedom Caucus appear to be deepening.
On Saturday, a Trump aide took to Twitter to call for primary challengers to unseat prominent Republican representative Justin Amash.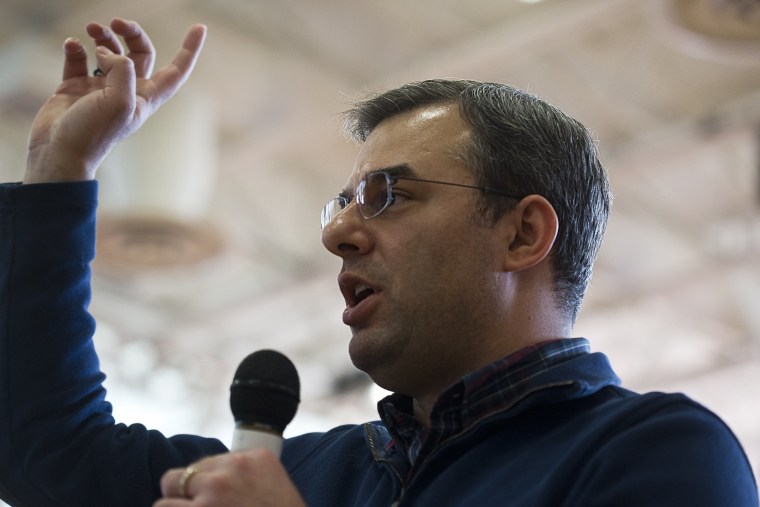 President Trump's social media director, Dan Scavino, lashed out at the Michigan lawmaker in a tweet, calling the representative a "liability," and challenging Trump supporters to "defeat him" during the 2018 primaries.
Trump "is bringing auto plants and jobs back to Michigan," Scavino tweeted." @justinamash is a big liability. #TrumpTrain, defeat him in primary."
Amash quickly fired back, tweeting that the Trump administration had merged with establishment Republicans and are following the "same old agenda": Attack anyone who disagrees with you.
"Trump admin & Establishment have merged into #Trumpstablishment," he tweeted. "Same old agenda: Attack conservatives, libertarians & independent thinkers."
The tweet is the latest in an increasingly public spat between the White House and the conservative caucus —sparked in large part when several representatives refused to back Trump's plan to repeal the Affordable Care Act last week.
Related: Trump Vows to 'Fight' Republicans, Targets Specific Lawmakers
After the White House-backed healthcare bill was defeated in the House, Trump vowed to fight members of his own party, as well as Democrats in the 2018 primaries.
When asked if this meant the president was advocating for primary challenges to members of his own party, spokeswoman Sarah Huckabee Sanders told NBC News "the tweet speaks for itself."
House Speaker Paul Ryan warned Thursday in an interview on CBS that if conservatives failed to work with Trump, he would "just go work with Democrats to try and change Obamacare and that's not, that's hardly a conservative thing."