President Trump asked two top intelligence officials in March to say publicly that they saw no evidence the Trump campaign had colluded with the Russian effort to interfere in the 2016 election, a former senior intelligence official told NBC News.
Trump asked both the director of national intelligence and the director of the National Security Agency to make the statement, and both declined, the former official said,.
The officials, DNI Dan Coats and Adm. Mike Rogers, were sufficiently concerned about the requests that one of them wrote a memo about it, the former official told NBC News. The two men also exchanged notes about their conversations with the president, the source said.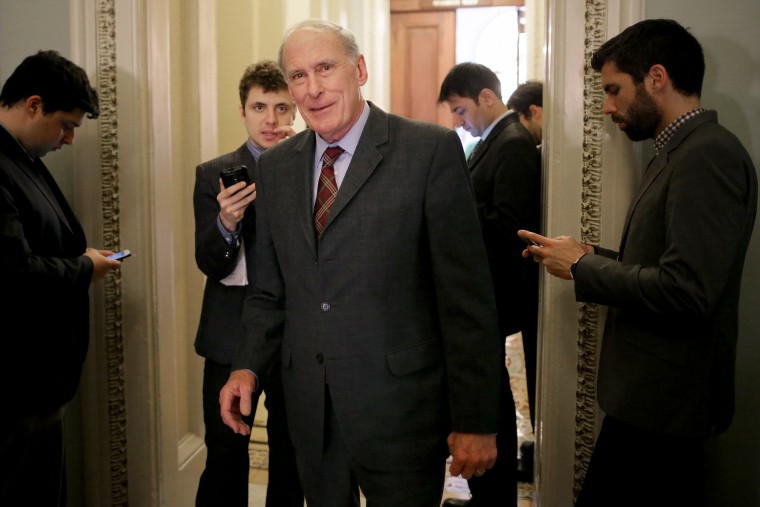 The Washington Post, which first reported Trump's request Monday evening, says Trump's conversation with Rogers was documented in an internal memo written by a senior NSA official.
The Office of the Director of National Intelligence declined to comment. The NSA did not respond to a request for comment.
A CIA spokesperson declined to comment when asked if CIA Director Mike Pompeo was also asked by President Trump to push back against an FBI investigation into possible collusion between his campaign and the Russian government.
The former official told NBC News that Coats and Rogers did not believe they were being asked to do something illegal. It was more of a public relations request, they believed, according to the official.
Related: Comey Wrote Memo Saying Trump Urged Him To Drop Flynn Investigation
"I don't think (Trump) ever asked somebody to say something that they didn't believe was true," the former official said.
He said the two officials were "sufficiently concerned that it was an extraordinary thing that they took care to write it down, but not sufficiently concerned that they reported it."
The former official said Rogers saw the request as a threat to the NSA, which generally doesn't wade into public debates.
"The White House does not confirm or deny unsubstantiated claims based on illegal leaks from anonymous individuals," a White House spokesman told the Washington Post. "The president will continue to focus on his agenda that he was elected to pursue by the American people."
Coats is scheduled to testify at 9:30 a.m. Tuesday before the Senate Armed Services Committee.
Rogers is slated testify at 3:30 p.m. before the House Armed Services Committee.