The Trump administration on Tuesday singled out MS-13 — an infamous street gang tied to Central America with a reputation for brutality — as "one of the gravest threats to American safety."
How did it gain such prominence? In an earlier tweet, President Donald Trump blamed the Obama administration's "weak illegal immigration policies" for allowing the gang to make inroads in cities across the United States. He later praised Jeff Sessions after the attorney general met with law enforcement officials and pledged the federal government would be more aggressive against MS-13.
While the number of members in the U.S. is murky, the FBI estimates 6,000 in recent years and 30,000 internationally. At least 46 states and Washington, D.C., have reported the infiltration of their "cliques" — typically linked to drug trafficking, low-level extortion, rape and in extreme instances, murder, including a grisly quadruple homicide on Long Island, New York, last week.
"Violence is an initiation rite," Sessions said.
But experts caution against laying the blame for their growth squarely on Obama-era immigration policies, and say decades of unchecked violence in Central America has only exacerbated the problem.
Born in the U.S.A.
The gang first took root in Los Angeles in either the late 1970s or early 1980s, gaining a foothold amid the Reagan administration, said Ioan Grillo, a Mexican-based journalist and author of "Gangster Warlords."
The group, formally known as "Mara Salvatrucha," or "gang of Salvadoran guys," was made up of immigrants, mostly young teenagers from El Salvador. They fled civil war, but learned quickly that they needed to protect themselves from other gangs that sprouted up in Los Angeles, such as rival the 18th Street Gang, Grillo said.
The "13" represents the 13th letter of the alphabet: M — or its allegiance to the Mexican Mafia, a criminal organization. Prospective recruits are initiated by getting physically beat for at least 13 seconds.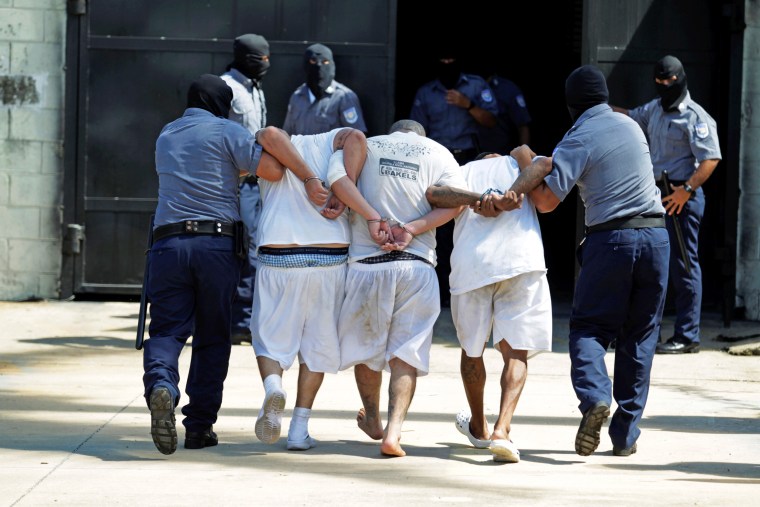 The gang quickly assimilated into the street lifestyle that gripped urban America, complete with tattoos, hand signs, wearing certain colored clothing and learning how to recruit. But in 1996, the Illegal Immigration Reform and Immigrant Responsibility Act prompted the deportation of undocumented immigrants with rap sheets back to their native countries. As a result, these American-groomed gang members taught what they learned abroad — and helped the gang to flourish internationally.
The level of violence and crime that MS-13 perpetuates in economically distressed countries such as El Salvador, Guatemala and Honduras is at a different level, Grillo said. These countries are among the most violent in the world.
"To compare the threat they are in Central America, where they are destabilizing countries — it's extremely different in the United States," Grillo said. "In the U.S., they do not commit anywhere near the same level of murder, they don't have the same level of recruitment and don't pose the same level of threat to police."
How the U.S. Has Responded
In 2004, the FBI created an MS-13 National Gang Task Force to try and curb their growth. That included more collaboration with police forces in Central America and sharing of intelligence.
Over the years, it was clear that MS-13 leaders in Central America were the ones wielding power that could be felt across borders.
Related: Violent El Salvador Records First Day Without Homicides in 2 Years
"By 2008, U.S. law enforcement had found evidence suggesting that some MS-13 leaders jailed in El Salvador were ordering retaliatory assassinations of individuals in the Washington, D.C., metro area, as well as designing plans to unify their cliques with those in the United States," the Congressional Research Service wrote in a 2016 report about gangs in Central America. "More recent investigations have shown evidence of MS-13 leaders seeking to buy high-powered firearms in Mexico and Guatemala."
But experts also caution that connections from one state or country to another are tenuous between cliques because leadership varies, and not every crime committed by a member is always to benefit MS-13.
Still, in 2012, President Barack Obama recognized MS-13 as a transnational criminal group subject to sanctions by the U.S. Treasury Department, putting them in the same category as the Yakuza organized crime group in Japan and Los Zetas drug cartel in Mexico. Such a designation was done to squeeze out MS-13's profits and stop members from using banks and wire transfer services that could help them funnel money back to Central America.
Murders Blamed on MS-13
It's unclear how many murders have been tied to MS-13, but the gang has been gaining more prominence in recent months with a series of high-profile cases being linked to its members.
In Houston, alleged MS-13 members are being accused of kidnapping a 14-year-old girl and sexually assaulting her, while killing another one as part of a ritualistic slaying earlier this year, reported NBC affiliate KPRC.
Last week, the FBI added suspected MS-13 member Walter Yovany Gomez, who is wanted for a 2011 murder in New Jersey, to its 10 Most Wanted list.
Meanwhile, two Long Island communities are grappling with a series of murders that police say were at the hands of MS-13, including the deaths of four people involving sharp instruments, reported NBC New York.
Former Suffolk County Executive Steve Levy said the gang's presence has been emboldened by the influx of unaccompanied minors at the U.S. border in recent years, making their way to the Northeast.
"They have no family, and this gang becomes their family. They give them cellphones," said Levy, also the executive director of the Center for Cost Effective Government. "And they're using similar tactics they used in Central America, threatening these young kids that if you don't join us, we're going to go after your family."
Levy said he supports the Trump administration's effort to deport undocumented immigrants in the United States who have committed crimes and to deter sanctuary cities.
"We need to start dealing with this," he added, "not just on a one by one basis, but really getting to the root of the problem."