The companies that appear to have swindled supporters of former President Donald Trump out of tens of thousands of dollars by peddling bogus "Trump Bucks" no longer have active websites just days after their businesses were exposed by NBC News.
The websites where the Colorado-based Patriots Dynasty, Patriots Future and USA Patriots companies were selling Official Trump 2024 Gold Cards to Trump Rebate Banking System (TRB) membership cards purportedly issued "by Donald Trump" himself are no longer active.
Similar websites that also promise "real patriots" will get rich if they buy the products remain active, but they have been disabled by the online retailer ClickBank, which connects the purveyors of the products to potential buyers.
"This site is no longer in service or has been disabled due to a terms of service violation" was the message that popped up when an NBC News reporter tried to make a purchase.
Jennifer Beevers, ClickBank's vice president of client and customer advocacy, said it was the right thing to do.
"Any consumer purchasing these items through ClickBank received a pre-purchase disclosure that they are for commemorative value only and are not legal tender," Beevers said in an emailed statement. "Still, ClickBank is concerned to hear that the products were being deceptive marketed elsewhere so we chose to discontinue sales even with our disclaimer."
No evidence suggests the alleged scammers are connected to Trump or his re-election campaign. Trump spokesman Steven Cheung has not responded to repeated emails seeking comment about the shady companies selling "Trump Bucks" using Trump's likeness and aimed directly at some of his most ardent supporters.
Representatives for the companies that sell Trump Bucks and TRB membership cards could not be reached for comment, and there are no criminal charges or active investigations against the companies.
But word that three of the retailers' websites had been shuttered was welcome news to a Florida woman who said earlier that her 77-year-old mother-in-law was fooled into buying tens of thousands of dollars' worth of Trump Bucks.
"It seems, at least, they know now they can't get away with this," said the woman, who lives north of Tampa and asked not to be identified for fear of internet harassment.
The Florida woman described her mother-in-law as an ardent Trump supporter who had always been "conservative and prone to believe in conspiracy theories."
But of late, the woman said, her mother-in-law has "been insisting that something big was about to come down" related to the Trumps Bucks she had purchased.
"So maybe this is it," she said.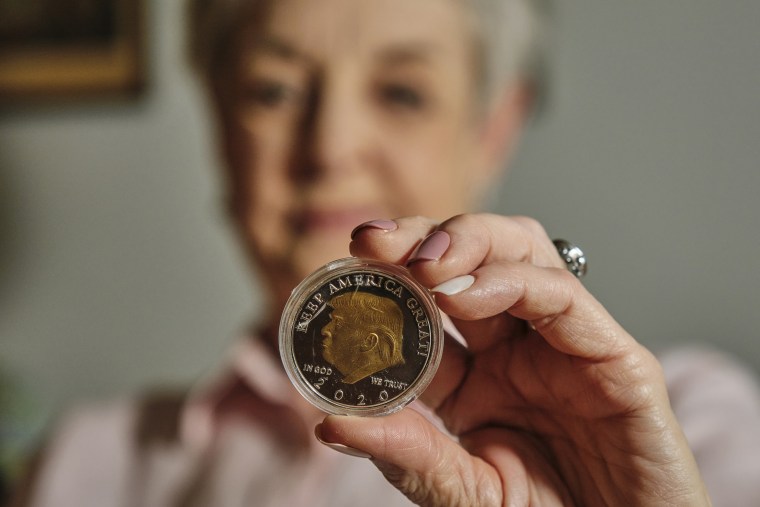 A 75-year-old Alabama grandmother, who said earlier that she became outraged when she discovered that the $1,500 in Trump Bucks she had purchased were worthless, said she, too, was happy the Colorado-based companies had been shut down.
"Awesome," the woman, who also asked not to be identified by name, texted. "Now if they could be arrested and put behind bars!"
NBC News identified more than a dozen victims and reviewed dozens of social media posts and online complaints and hundreds of misleading ads for products being sold to Trump supporters.
In addition to promising that their investments in the products would help propel Trump back into the White House, the ads also falsely suggested that Trump will make the "real patriots" who support him rich.
For example, the ads say, a "$10,000 Diamond Trump Bucks" bill purchased for $99.99 can be cashed in for $10,000 at major banks like Bank of America and retailers like Walmart, Costco and Home Depot.
BofA and all of the companies mentioned in the ads have denied any involvement in the apparent get-rich-quick schemes.
So far, just one fraud complaint against Patriots Dynasty has been filed with the Federal Trade Commission, the agency confirmed in response to a Freedom of Information Act request. The complaint was filed in January.
But the Better Business Bureau has given Patriots Dynasty, Patriots Future and USA Patriots, which use the address of an industrial center in the Denver suburb of Aurora, an F rating. And dozens of complaints have been lodged against the companies on the BBB site and on consumer ratings sites like TrustPilot.