A former Trump campaign adviser struck a cooperation agreement with Special Counsel Robert Mueller, secretly pleading guilty three weeks ago to lying to federal agents about his contacts with Kremlin-connected Russians.
The bombshell announcement about George Papadopoulos, 30, came shortly after indictments against former campaign chair Paul Manafort and Manafort associate Rick Gates were unsealed, alleging financial crimes that predated Trump's candidacy.
Court documents unsealed Monday in the Papadopoulos case refer to unnamed campaign officials who were aware he was trying to set up a meeting between Trump and the Russians. Two sources familiar with the charges said one of the officials is Manafort, who authored a key email about Papadopoulos' efforts.
"We need someone to communicate that DT is not doing these trips," the email said, according to the documents. "It should be someone low level in the campaign so as not to send any signal."
Related: Who Is George Papadopoulos? Junior Staffer Sought to Be Power Broker
White House press secretary Sarah Sanders said Monday that Papadopoulos had an "extremely limited" role with the campaign. "It was a volunteer position and again, no activity was ever done in an official capacity on behalf of the campaign in that regard," she said at a briefing.
However, the court papers reveal that a Trump campaign supervisor, who was not named, encouraged Papadopoulos to make a trip to Russia for an off-the-record meeting with Russian officials "if it is feasible."
READ: Special Counsel's office documents on George Papadopoulos
The documents suggest that foreign nationals with ties to the Russian government were seeking to establish a relationship with at least one campaign official, offering "dirt" on Hillary Clinton. And the documents outline how Papadopoulos, when questioned about those associations, lied.
"Through his false statements and omissions, defendant ... impeded the FBI's ongoing investigation into the existence of any links or coordination between individuals associated with the Campaign and the Russian government's efforts to interfere with the 2016 presidential election," Mueller's team wrote.
In his first interview with the FBI, Papadopoulos claimed that he made the contacts before Trump named him as a member of his campaign foreign policy team in March 2016 and called him an "excellent guy." He actually began communicating with them after he joined the campaign as an energy expert.
Days later, while attending what was billed as a "national security meeting" with Trump, Papadopoulos told the group he had connections that could lead to a meeting with Russian President Vladimir Putin, the court papers say.
During the FBI interview, Papadopoulos downplayed the importance of the communications, saying that a professor living in London was "a nothing," while a Russian woman had been emailing him just to say, "Hi, how are you?"
In reality, the professor, identified by the Washington Post as Joseph Mifsud of the London Academy of Diplomacy, had told Papadopoulos that Russians had "dirt" on Hillary Clinton.
"They have thousands of emails," the professor said, according to the documents — well before it was widely understood that Russia had hacked the Democrats.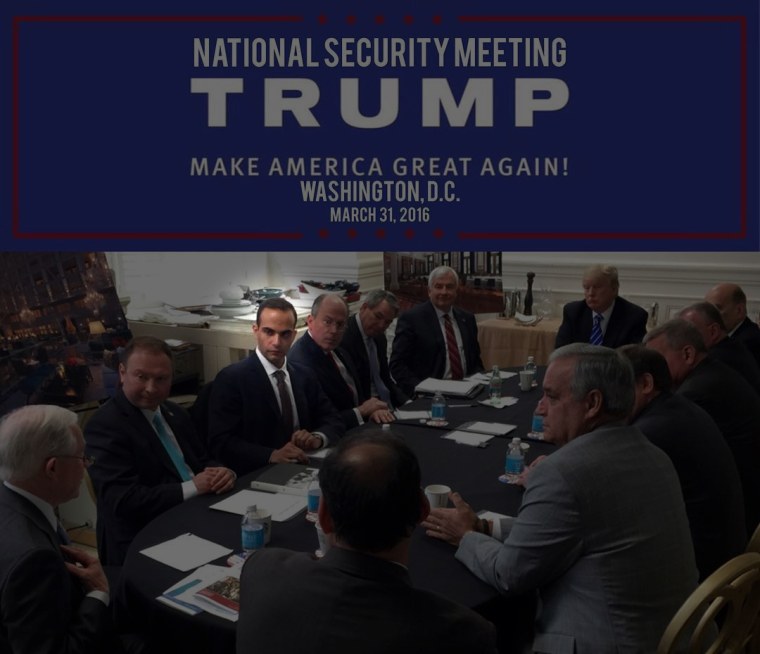 The professor introduced Papadopoulos to a Russian who said he was close to officials at the Russian Ministry of Foreign Affairs. That contact, identified by the Washington Post as Ivan Timofeev of the Russian International Affairs Council, then spoke with Papadopoulos over Skype about laying the groundwork for a meeting between the campaign and officials in Moscow, prosecutors said.
The Russian woman — whom Papadopoulos mistakenly described in an email as the niece of Russian President Vladimir Putin — also tried to arrange a meeting between the Trump campaign and Russian government officials, the documents say.
Frank Figliuzzi, a former head of counterintelligence at the FBI, said on MSNBC's Andrea Mitchell Reports that the Papadopoulos complaint portrays an effort by people likely connected to Russian intelligence to infiltrate the Trump campaign.
"He may not have actually understood who he was dealing with, but this has the fingerprints of Russian intelligence all over it," Figliuzzi said.
Papadopoulos communicated with a "campaign supervisor" about his attempts to broker a meeting with the Russians to discuss U.S.-Russia ties during a Trump presidency, the court papers say.
"Great work," the supervisor, who was not named in the documents, told him in an email.
After he was first questioned by the FBI, Papadopoulos deactivated a Facebook account that had information about his communications with the foreign nationals, and he also got a new cellphone number, prosecutors said.
Papadopoulos, who spent 11 months on the Trump campaign after working for Ben Carson's campaign, was arrested in July 2017 when he got off a plane in Washington. The DePaul University graduate pleaded guilty on Oct. 5.
His plea agreement says the government will inform the sentencing judge of his "efforts to cooperate with the Government, on the condition that your client continues to respond and provide information regarding any and all matters as to which the Government deems relevant."
Papadopoulos' attorneys said in a statement that they would have no comment.
"We will have the opportunity to comment on George's involvement when called upon by the Court at a later date," the statement said. "We look forward to presenting all the facts that led to the events that resulted in this charge."
Mifsud, the London-based professor, did respond to inquiries from NBC News. He had previously told the Washington Post that he had "absolutely no contact" with the Russian government. Timofeev also could not be reached for comment. In an earlier interview with a Russian news outlet, he said Papadopoulos initiated contact and that he asked for an official letter of request for a meeting.
"We did not take the proposal itself too seriously," he said. "Besides, hardly any of our colleagues or even any of us expected Trump to win."