Stephen Bannon's appointment as chief executive of Donald Trump's campaign has drawn scrutiny to his personal history, including a 1996 arrest in a domestic-violence case that was ultimately dismissed.
Court records show that Bannon was charged with three misdemeanors in Santa Monica, California, on Feb. 22, 1996, after his then-wife claimed he attacked her.
During a legal battle more than a decade later, after the couple divorced, Bannon's ex-wife also claimed in court papers that he objected to their daughters attending a Los Angeles school because of the number of Jewish students there. A personal spokesperson for Bannon denied the claim Friday.
In the police report regarding the alleged 1996 domestic violence incident obtained by Politico and confirmed by NBC News, she claimed that during a New Year's argument about finances, she spat at Bannon and he "reached up to her from the driver's seat of his car and grabbed her left wrist."
"He pulled her down, as if he was trying to pull [her] into the car, over the door," the report said, adding that Bannon also "grabbed at [her] neck" and that she struck at his face to get free.
As his wife, the mother of infant twins, dialed 911, Bannon "jumped over her and the twins to grab the phone from her," the report states. "Once he got the phone, he threw it across the room."
Police said they saw red marks on her wrist and neck and that she told them three or four previous arguments had also become physical.
Bannon was charged with misdemeanor domestic violence, battery and dissuading a witness.
He pleaded not guilty to the charges — and about six months later, the case was dismissed after prosecutors said they could not find his wife, court documents show.
Police now say the report was mistakenly made available to Politico.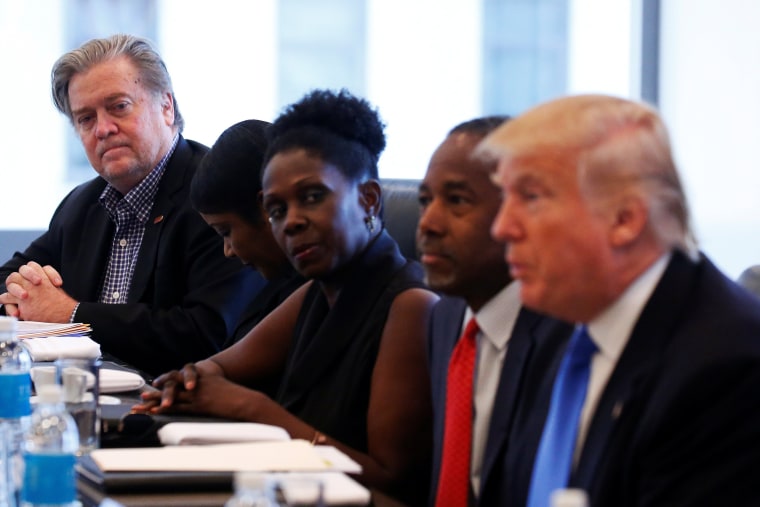 The couple divorced in 1997. In a court filing after the divorce, Bannon's ex recounted the alleged domestic violence incident, saying that Bannon "became physical with me and grabbed me by the throat and arm."
"I took the phone to call the police and he grabbed the phone away from me throwing it across the room, and breaking it as he screamed that I was a 'crazy f-----g c---t."
According to Bannon's ex-wife, police arrived and photographed her neck and arm "and took a police report."
She claimed that Bannon and his defense attorney then told her to leave town so she couldn't testify against him.
"Respondent told me I had to leave town. That if I wasn't in town they couldn't serve me and I wouldn't have to go to court. He also told me that if I went to court, he and his attorney would make sure that I would be the one who was guilty."
In the 2007 filing, which involved a modification to their divorce agreement, she said she left town with their two children and didn't return until "the attorney phoned me and told me I could come back."
"Because I was not present at the trial, the case was dismissed."
Bannon's ex-wife also claimed in that filing that that Bannon objected to his daughters attending a prestigious West Los Angeles prep school because, she said, "he didn't want the girls going to school with Jews."
Bannon's personal spokesperson, Alexandra Preate, denied the claims Friday in an email to NBC News.
"At the time, Mr. Bannon never said anything like that and proudly sent the girls to Archer for their middle school and high school educations," Preate said. Preate is not affiliated with the Trump campaign.
Steve Mandell, the lawyer who represented Bannon in the domestic violence case, denied telling the woman to stay away.
"I did not say that to her. I would not have said that to her or to any victim of a criminal case in which I was the defendant's attorney," Mandell said.
Mandell — who said he didn't realize he had represented the Trump campaign CEO until reporters called — said he could not discuss why she was out of town, citing attorney-client privilege.
Asked about the old charges — which were first reported by Politico and the New York Post — Preate, Bannon's spokeswoman, noted they had been dismissed.
"Mr. Bannon and his ex-wife and his children have a great relationship," Preate, said.
The Trump campaign did not respond to a request for comment on the case.