President Donald Trump surprised both military and civil-rights leaders Wednesday with his tweet declaration that transgender people would no longer be allowed to serve in the U.S. military citing "tremendous medical costs."
Yet a reputable study shows that transgender medical costs are fairly negligible for the cash-flush Pentagon.
"Our military must be focused on decisive and overwhelming ... victory and cannot be burdened with the tremendous medical costs and disruption that transgenders in the military would entail," Trump declared in an early morning tweet storm.
Related: Trump's Tweets May Leave Transgender Service Members 'In Harm's Way'
Trump's argument doesn't pass muster according to a 2016 study conducted by the RAND Corporation, which states that the additional costs of transgender medical care would only be a drop in the bucket for a Pentagon elevated by a supportive Congress.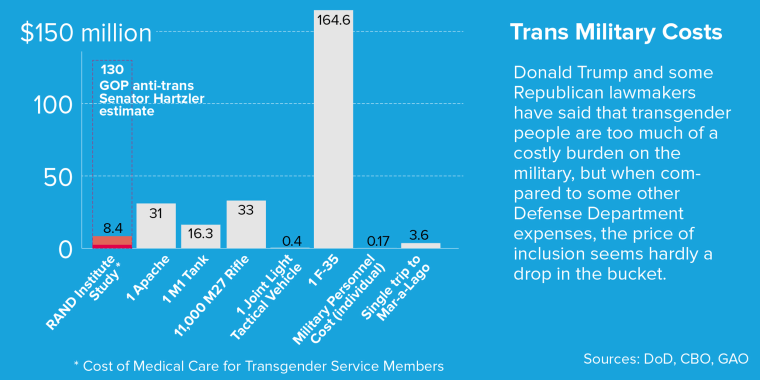 The RAND study estimated some 1,320 to 5,530 transgender service members on active duty with an addition 1,500 on reserve. The study claims that not all transgender individuals opt for a medical transition, finding that between 30 and 140 service members would seek hormone therapy and 25 to 130 personnel would pursue surgical treatment.
Pentagon officials in June told the Associated Press that approximately 250 members of the military applied to change their gender in the military's personnel system, though that does not mean they would all pursue surgery.
Related: Trump Bans Transgender People Serving in the Military
RAND used private health insurance data to find the costs of transition treatments and concluded that the Military Health System would only see an increase in $2.4 million and $8.4 million per year.
Whichever number you take, it is a small amount for the Pentagon to shell out considering the House of Representatives passed a National Defense Authorization Bill that would raise defense spending to $696 billion in fiscal year 2018. At the high end, transgender health spending would account for .01 percent of the Department of Defense' budget.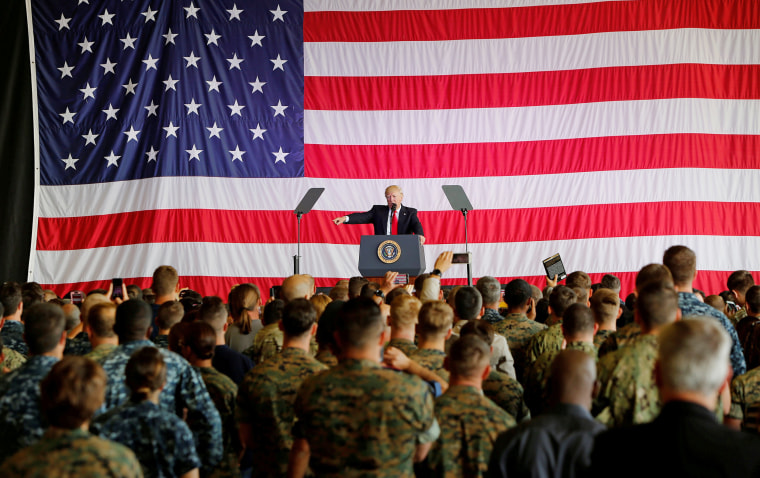 To put that in perspective, the military paid:
$16.3 million for an M1 tank, according to the FY 2015 DoD budget
$164.3 million for an F-35, according to a DoD release to Congress
Up to $33 million for the Marine Corps February request for 11,000 M27 Infantry Automatic Rifles
$31 million for an Apache helicopter, according to the FY 2015 budget request
$400,000 for a Joint Light Tactical Vehicle, per the DoD Inspector General's Office
$170,000 for a per-person personnel cost, according to the Congressional Budget Office.
And the government shells out $3.6 million each time Trump travels down to Mar-a-Lago for the weekend, according to the Government Accountability Office.
But critics insist the cost of transgender personnel is much higher.
Congresswoman Vicky Hartzler, R-Mich., has led the charge in the House of Representatives, even adding an amendment to the annual defense policy bill that would have barred the military from spending money for medical treatments related to medical treatments.
The measure was shot down 214-209 on July 13, with 24 Republican members of Congress joining forces with Democrats in opposition.
Hartzler celebrated Trump's announcement in a statement on Wednesday.
"With the challenges we are facing across the globe, we are asking the American people to invest their hard-earned money in national defense," she said. "Each dollar needs to be spent to address threats facing our nation. The costs incurred by funding transgender surgeries and the required additional care it demands should not be the focus of our military resources."
Hartzler claimed that a "policy of providing and paying for transgender surgeries" could cost billions of dollars over the next 10 years in her statement. She then cited "other studies" that projected it would cost more than $3 billion over a decade.
NBC News contacted Hartzler's office to identify and quantify the veracity of the initial claim and the "other studies." Her office did not respond to multiple requests for comment or for citations.
One of the potential studies cited is from the conservative Christian group the Family Research Council, which claimed the total cost would fall between $1.88 billion and $3.7 billion over 10 years, though that includes "potential lost time of deployable service."
But only .1 percent of the military force would seek "transition-related treatment" that would affect deployment, according to the RAND study.
And RAND points to 2015 as an example in which 14 percent of active forces were considered ineligible to deploy because of legal, medical or administrative reasons.