The terrorist attacks of September 11, 2001 have become something akin to a partisan football, throughout the 2016 primaries — during which eventual GOP presidential nominee Donald Trump pointedly questioned the Bush administration's handling of the event — and now in the general election.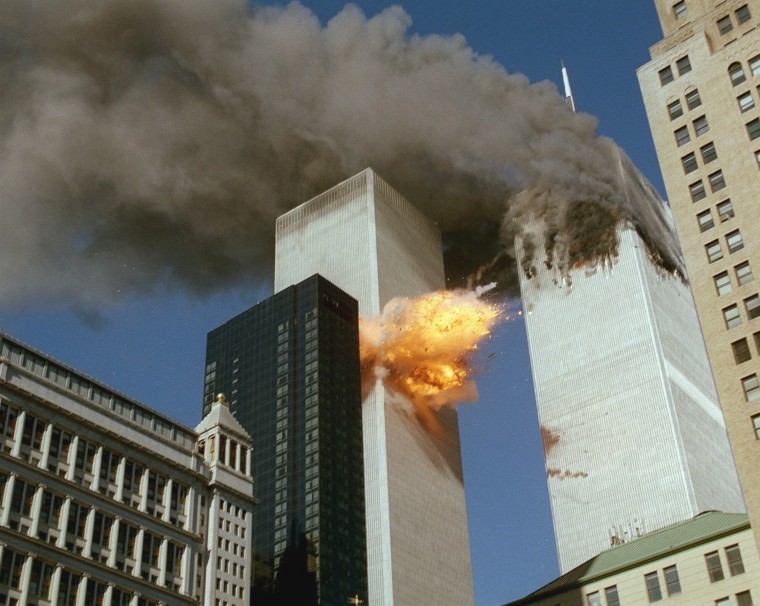 Most Americans are familiar with the fairly unprecedented fact that both major party's nominees strongly identify as New Yorkers — Trump is a native, born outside Manhattan in Queens, whereas Democratic standard bearer Hillary Clinton adopted the city and state as her home when she became its U.S. senator in early 2001.
But what did both candidates do on that day and in the period that followed, and what, if anything, does it tell us about how each potential commander-in-chief would respond to a crisis?
Clinton has long been keen to remind voters she was representing New York when it was attacked. She was among a number of lawmakers who were forced to steer clear of Congress that day amid security concerns. But she still joined her colleagues on the steps of the Capitol building in Washington, D.C. for a show of solidarity and an impromptu rendition of "God Bless America."
The New York Times would report the following day that she was in tears.
She gave an interview on CNN that evening pledging loyalty to President George W. Bush, asking for support for NYC, and calling for some form of "retaliation" against the terrorists.
On September 12, she and every other senator signed a resolution that condemned the attacks, and she delivered an address, during which she said: "We are rebuilding and reconstructing and making clear that just as our military might is unchallenged and un-cowed so is our economics, our social, our political values epitomized by New York." She later appeared alongside then New York City Mayor Rudy Giuliani and fellow NY Sen. Chuck Schumer at Ground Zero.
"It was just a scene out of Dante's Inferno. It was as close to hell as I can imagine any of us experiencing," said Clinton during a 2014 benefit for 9/11 Health Watch. "All you had to do is be there, and you knew that there were going to be consequences to the people who had survived."
Related: Giuliani Accused of Forgetting About 9/11
Clinton would later say that the attacks hardened her stance on national security issues, and in the coming months she would cast controversial votes in favor the Patriot Act and the authorization of force in both Afghanistan and Iraq, as well as support military tribunals over traditional trials for terrorist suspects.
Clinton has been heavily criticized for invoking 9/11 during a 2016 debate to defend her ties to Wall Street, and for exaggerating how close her daughter Chelsea was to the attack, but she has been — for the most part — praised for her efforts to secure relief funds for New York City and its first responders.
Even Giuliani, who has a penchant for personal attacks on the former Secretary of State, has conceded that she was "enormously helpful" to the recovery effort.
"For that, I would give her credit," the former mayor told the Washington Post in July. "I would also say she should share that credit with Senator Schumer, Senator Gillibrand, Pete King, me, Mayor Bloomberg, and others people who were part of it. But she was part of it and she has a right to tell people that she worked hard on behalf of the 9/11 families. She did."
Meanwhile, not unlike his position on immigration — Donald Trump's story about his whereabouts and actions on and around September 11, 2001 has evolved.
At a Columbus, Ohio rally last November, Trump said he watched the towers fall from his New York City apartment. "Many people jumped and I witnessed it, I watched that. I have a view — a view in my apartment that was specifically aimed at the World Trade Center," Trump said. "And I watched those people jump and I watched the second plane hit ... I saw the second plane hit the building and I said, 'Wow that's unbelievable.'"
However if Trump was residing in Trump Tower, which reports around the time suggest he was, he would have been a full four miles away from the attacks.
Perhaps, Trump conflated footage he watched on television with something he viewed firsthand. Trump has admitted mistakenly interpreting news footage in the past — with regards to money being delivered to Iran — and he has infamously said he watched footage of Muslims in neighboring New Jersey celebrating that day, an assertion that has been repeatedly discredited.
According to footage unearthed by Politico, Trump did call into WWOR on 9/11 and offered his perspective on how he'd be handling the crisis were he the president.
"I'd be taking a very, very tough line. I mean, you know, most people feel they know at least approximately the group of people that did this and where they are. But boy would you have to take a hard line on this. This just can't be tolerated," he said.
Later, Trump volunteered that his property on 40 Wall Street "actually was the second-tallest building in downtown Manhattan, and it was actually, before the World Trade Center, was the tallest—and then, when they built the World Trade Center, it became known as the second-tallest. And now it's the tallest."
Trump, who spent the previous night at a Marc Jacobs fashion show, had planned to promote the building of a new skyscraper on September 11th in Chicago, albeit not in person. Architect Adrian D. Smith was going to headline a press conference, alongside other Trump representatives, to announce the Trump Chicago, which would have been roughly 125 stories and 2,000 feet height, eclipsing Kuala Lumpur's Petronas Tower in Malaysia as the world's tallest building. Then Chicago based writer and editor Charles Shaw told PolitiFact in February that 9/11 "was a dark day for Chicago architecture."
"The original design for Trump Chicago was beautiful and elegant," he said. "It would have been the man's crowning achievement, of a decidedly different aesthetic than anything that previously bore his name."
A relatively scaled down Trump Chicago tower was eventually built (reportedly fear of another 9/11 type attack was a motivation for reducing its size) and it currently ranks as the fourth tallest building in the U.S. and it boasts the highest residence in the world.
"Simply by virtue of standing there — and by being the tallest American building built since the 1974 completion of Sears (now Willis) Tower — Trump confounds those who predicted after 9/11 that iconic skyscrapers would never be built again," wrote Chicago Tribune architecture critic Blair Kamin in 2011.
Related: Watch Donald Trump Refer to 9/11 as '7-Eleven'
Besides missing out on his dream of building the world's tallest building, Trump has also said he lost "hundreds of friends" in the attack on the World Trade Center.
Again, this may be a case of hyperbole, as it is unlikely that the real estate mogul personally knew roughly one out of every 10 people who died that day. Multiple news outlets have not been able to determine if Trump actually knew anyone who passed away in the attack and his campaign hasn't disclosed any names.
"If he has hundreds of friends, he should be able to tell us about them," an unidentified Port Authority police officer told The Daily Beast in February. "If he can tell us about the hundreds of friends he lost, who they were, what kind of person they were, I might have some respect for him."
Following the attacks, Trump has also suggested that he helped in the massive clean-up efforts.
"Everyone who helped clear the rubble — and I was there, and I watched, and I helped a little bit — but I want to tell you: Those people were amazing," Trump said in an April speech in Buffalo. "Clearing the rubble. Trying to find additional lives. You didn't know what was going to come down on all of us — and they handled it."
It's unclear whether Trump personally pitched in but he was spotted on the scene two days after the attack. He gave an interview with German television on September 13th, which curiously made no reference to Muslims cheering or the alleged incompetence of the Bush administration.
"Well, I have a lot of men down here right now," Trump told a reporter. "We have over 100 and we have about 125 coming. So we'll have a couple of hundred people down here... We will be involved in some form in helping to reconstruct."
However, The Smoking Gun reported last year that Trump never contributed to any 9/11 charities after the attacks, unless you count the $1,000 he gave to a "controversial Scientology program that administered treatment to firemen who inhaled toxins while working on the World Trade Center pile."
This past April, Trump donated $100,000 to the 9/11 Memorial Museum, and his campaign spokeswoman, Hope Hicks, has maintained that thousands of dollars in donations he's made over the last few years to the American Red Cross and the Marine Corps Law Enforcement Fund were in direct response to 9/11, in addition to a "total of $102 million donated to hundreds of charitable foundations over a relatively short period of time."
But Associated Press has concluded that most of the $102 million figure was made up from "land-related transactions" and that roughly one tenth of that sum actually went to cash donations.
"A possible multimillion dollar beneficiary of Trump's gift: Donald Trump," they wrote last month. "Easements — contractual limitations which formally devalue the land, even if they require no changes in its use or ownership — provide an avenue for federal tax write-offs."
Meanwhile, throughout the 2016 campaign, Trump has been pilloried for accepting $150,000 in federal recovery funds intended for small businesses for purported damage (both physically and economically) to the Trump Building on 40 Wall Street, which was less than a mile away from the attack.
While Trump did say in his Sept. 13 interview with German television that his property "wasn't, fortunately, affected by what happened to the World Trade Center," he may have had a legitimate grievance on the economic front.
"The company received this small amount of money after qualifying, given the limited number of employees working at the property," Trump told The New York Times in May. "For many months, I allowed people to stay in the building, use the building and store things in the building. I was happy to do it and to this day I am still being thanked for the many people I helped. The value of what I did was far greater than the money talked about."