In reducing two national monuments by a total of two millions acres this week, President Donald Trump pleased small government and business proponents in Utah — but touched off what promises to be a furious court fight over whether he overstepped his presidential authority.
His opponents include many of the country's most powerful environmental groups and five Native American tribes.
Trump's unprecedented action Monday sharply reduced, reconfigured and renamed the Bears Ears and Grand Staircase-Escalante national monuments in southern Utah. A total of 3.25 million acres that had been protected by monument status were reduced to a total of 1.23 million acres, in what will now be five smaller monuments, named Indian Creek, Shash Jaa, Grand Staircase, Kaiparowits and Escalante Canyons.
The president said his action was designed to reduce what he said had been a massive overreach by previous Democratic presidents and to return more control over the rugged, sparsely populated region to local officials. His administration has argued that plenty of other protections still exist to prevent misuse of what are some of the West's last great open spaces.
Opponents, however, said the reduction would open sandstone canyons, red rock monoliths, sacred Native American lands and forested highlands to incursions by oil and gas drillers, coal and uranium miners and to a flood of off road vehicles.
And environmentalists were bracing for further rollbacks at other monuments Tuesday, after Interior Secretary Ryan Zinke released a report on his review of all the nation's monuments. The recommendations suggested possible future paring back of the nearly 300,000-acre Gold Butte National Monument in southeastern Nevada and of the 100,000 acre Cascade-Siskiyou National Monument on the California Oregon border.
Related: Trump announces reductions to Bears Ears, Grand Staircase monuments
Zinke also proposed three new monuments, including one in the Lewis and Clark National Forest in his home state of Montana.
But that did nothing to mollify opponents of Trump's much larger reduction of monument protections at the two southern Utah locations. A coalition of five native tribes immediately filed suit to stop Trump's reduction of Bears Ears to less than 23 percent of the area prescribed for protection by President Barack Obama, shortly before he left office.
Two other lawsuits, by a total of 13 environmental organizations, have also been filed to block the redrawing of the Grand Staircase-Escalante, an action that reduced the monument from 1.9 million acres to just over 1 million acres.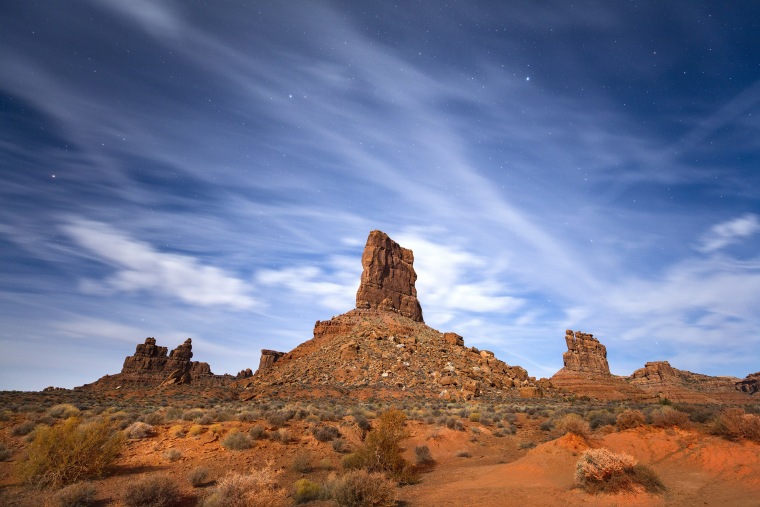 Boundaries of national monuments have been modified more than 80 times since Congress created the special protective designation in 1906. But most of those were minor, incremental fixes.
Opponents of the Trump action say that only Congress has the power to acquire and dispose of public lands and to make rules and regulations to govern them. Congress created the national monument designation to allow presidents narrow authority to protect areas that contained objects of scientific and historic importance, said Kate Desormeau, a staff attorney with the Natural Resources Defense Council, one of the groups suing to block the Trump action.
"The Antiquities Act delegates power to the president to create national monuments," said Desormeau. "It doesn't delegate any power to presidents to destroy national monuments."
The only example of a massive reduction of a national monument came in 1915, when President Woodrow Wilson slashed more than 300,000 acres from the Mount Olympus National Monument in Washington state.
It's expected that lawyers from the Interior Department will argue that Wilson's action created precedent for Trump's much larger reduction of the Utah monuments.
But environmentalists and Indian tribes will argue that the 20th Century retrenching is not pertinent today. Congress's preeminent power over public lands was reaffirmed in 1976 with its passage of the Federal Land Policy and Management Act. That law made it clear that only Congress could alter boundaries for public lands and that presidents had no implied authority on the subject, Desormeau said.
Environmental groups believe their position is further strengthened by the fact that President Wilson's reduction of Mount Olympus (later Olympic National Park) was never ratified by the courts. "It was illegal then and it's more illegal now," Desormeau said.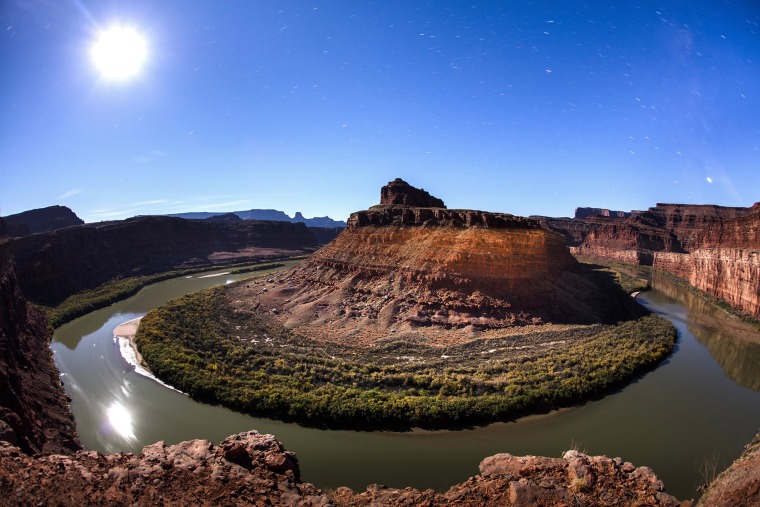 Interior Secretary Zinke said following Trump's action that none of the land dropped from the two monuments will be removed from the public domain. Instead, he said, it will be managed by the Bureau of Land Management and protected under Wilderness or National Forest designations.
"There's not one square inch of federal land that doesn't remain under federal control," Zinke said. "There's not one square inch of an antiquity that loses protection." Rather than a massive opening for oil, gas and other "extractive" industries, Zinke — who has previously supported coal mining and expressed skepticism about man-made climate change — insisted the national monument changes are more about supporting grazing, timber management, recreation and four-wheel-drive use.
The Trump Administration has received some support from individual Native Americans. But five tribes — the Navajo, Hopi, Zuni, Ute and Ute Mountain Ute — filed the lawsuit this week opposing the reduction of Bears Ears. (The name comes from a rock formation that resembles a bear's ears. The re-designation invokes its Navajo name: Shash Jaa.)
The five tribes had gone to President Obama, pleading for protection of areas that they consider sacred and that contain cliff dwellings, burial grounds, petroglyphs and native plants used for medicinal purposes.
"Walking on those lands is like walking into a museum, but one that is still out there in its natural environment," said Shaun Chapoose, a member of the Ute tribe's business committee. "Our culture has a deep connection with our past. And we have an obligation to protect it. It's an identity for each and every one of us." Chapoose added: "We and the other tribes are ready to stand and to fight, to stand and protect our sovereignty and our rights as native tribes."
Another of the environmental group's opposing the changes, the Southern Utah Wilderness Alliance, said there is plenty of precedent for mining and drilling companies to extract oil, gas, coal, uranium and other materials from the areas that had been subject to protection.
Stephen Bloch, legal director of the southern Utah group, noted that President Bill Clinton formed the Grand Staircase-Escalante National Monument, in part, because of a fight to keep mining company Andalex Resources from opening a coal mine in the sensitive ecosystem.
"One of the first things we may see is a push to open these lands to coal leasing and development," Bloch said. "And that runs smack into the protection of resources ... including the wild nature of that place."
Bears Ears areas that were protected before the Trump action are also dotted with dozens of uranium mining claims, which could be reasserted because of the reduced level of protection, Bloch noted. "These are dark days, but we are highly motivated and we are working hard every day to right the ship," Bloch said.
And there is concern that the loss of monument status could lead to creation of many new roads in areas that had previously been unspoiled and "a huge amount of uncertainty about management of the land going forward," said Bobby McEnaney, senior land and wildlife analyst at the NRDC.
Much of the political establishment in Utah cheered Trump's action. Steve Lyman, a county commissioner in San Juan County deemed himself "extremely happy" with the reduction of the Bears Ears monument, which lies entirely within the county. He said the president "listened to the people here in our county, people who live next to the monument."
Lyman accused Obama of designating the area in "retribution" after local residents would not go along with his plans for a massive protected area. (The commissioner has been active in opposing federal oversight in the area, and was convicted in 2014 of leading a protest ride on roads closed to the public by the U.S. Bureau of Land Management.)
Ethel Branch, attorney general for the Navajo Nation, said she believes Obama's review before setting the Bears Ears boundaries was "painstaking." She said the five native tribes backing the designation actually called for 1.9 million acres to be set aside, far more than Obama finally made part of the monument.
The tribes will join with the environmental groups (which also include the Sierra Club, the Wilderness Society and the Center for Biological Diversity) in arguing that Trump overstepped his constitutional and legal authority. They will also argue that he ignored a commission of native tribes established to oversee administration of Bears Ears.
"There was no consultation with the commission, absolutely none," said Branch. She said history has shown that the areas, left unprotected, will be subject to vandalism and desecration of important native sites. "You have people taking shotguns and shooting at rock art," Branch said. "It's a desecration. It's damage that is irreparable."