When Dubai developer Hussain Sajwani recently told NBC News that he was hoping to enhance his business relationship with the Trump Organization, he wasn't kidding.
President-elect Donald Trump revealed at his press conference Wednesday that Sajwani tried to make a $2 billion deal with him just last weekend.
"And I turned it down," Trump said.
"I didn't have to turn it down, because as you know, I have a no-conflict situation because I'm president," he added. "It's a nice thing to have, but I don't want to take advantage of something."
Trump has claimed before that presidents cannot have a conflict of interest. That's technically true, since Congress did exempt the president and vice president from conflict of interest laws.
Sajwani's company, DAMAC, confirmed to NBC News that there were discussions in recent days about "a variety of different property deals," but the proposals were rejected.
Sajwani is already a Trump business partner; they collaborated on the Trump International Golf Club, where luxury villas have racked up almost $2 billion in sales, according to Sajwani. At Trump's New Year's Eve party at his Mar-a-Lago estate in Florida, he gave Sajwani and his family, who were in the audience, a shout-out — calling them "beautiful people."
Related: Dubai Billionaire Ready to Do More Deals With Trumps
After Trump's election, the desert-kingdom developer gave NBC News a tour of the resort and talked about his interest in doing more deals, even as ethics experts were raising concerns about the financial ties Trump family already has to overseas businesses that sometimes have strong links to foreign political leaders.
"I would love to enhance the relation with the Trump Organization," said Sajwani.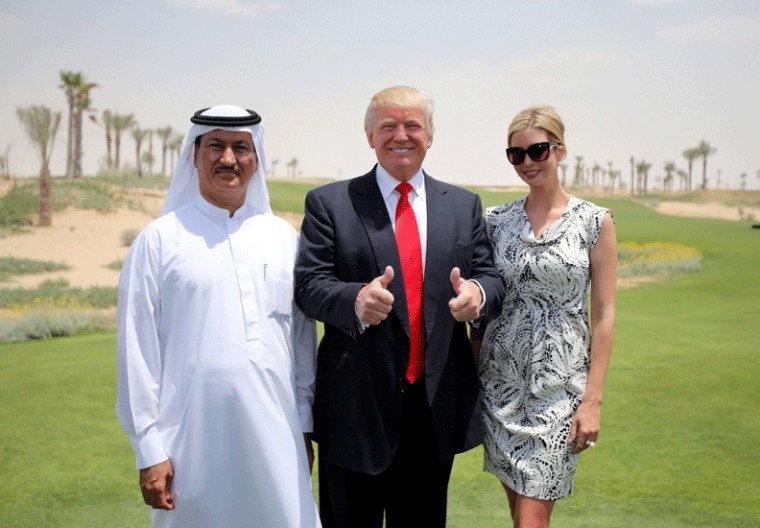 Sajwani, who is close to the emir of Dubai, spoke in particular about his dealings with Trump's children.
"All his three children are very much involved, and I think under their leadership we will have no issue in expanding and growing and maintaining our business relation," Sajwani said in the interview.
"My wife and Ivanka are very good friends," he added. "They send emails. She's been here to my house. We've been in New York having lunch and dinners with them regularly. And, you know, you enjoy working with somebody — it's not only cold business relation."
Ethics experts have expressed concern about potential conflicts of interest in sensitive areas like the Middle East. Sajwani brushes off those concerns.
He says there's no reason to be worried about the nexus of his close relationship with the emir of Dubai and his financial links to the next occupant of the Oval Office.
"I am not involved in any political issues or positions," Sajwani said. "My relation with my highness is purely as a citizen of this country."
But Danielle Brian, executive director of the Project for Government Oversight, a nonprofit accountability organization, said that, such assurances aside, Trump's international money-makers and his family's continued involvement in the company mean the new president "is going to have divided loyalties."
"He's now going to be pursuing U.S. foreign policy, with an eye to the fact that it may be impacting his family's financial interests," Brian said. "And this is not only a case of what we perceive. It's going to be what the rest of the world is perceiving."
Trump announced at Wednesday's press conference that his sons, Eric and Donald Jr., will run his business while he is in office. His daughter, Ivanka, whose husband has been named a senior advisor to the president, will remove herself from management of the business, it was announced.
Trump also pledged that his company will no longer make any foreign deals.
"We're in many, many countries, and I'm very proud of it," he said.