WATERLOO, Ill. — As Tim Bardole surveyed his farmland, the soil too wet to plant corn or soybeans because of a recent downpour, he remarked that there are few rays of hope for most American farmers these days. While the weather continues to hamper the planting season, the news over the weekend that the United States and China had only moved further away from a trade deal was seen by the farmers as another blow.
Bardole runs a 2,400-acre farm near Rippey, Iowa, with his father, brother and son. This time last year, they figured the trade dispute between China and the U.S., which had already created an economic nightmare for farmers, would be over by harvest time in the fall. Now, it appears there is no end in sight.
"We just keep hunkering down and doing what we can to reduce costs as much as possible, and digging into reserves, and borrowing more money and using up equity," Bardole said over the phone, adding that the entire industry is doing the same.
"We really need some sort of resolution," he added. "Farmers live and die on trade."
China announced Monday that, beginning June 1, it would impose tariffs on $60 billion of U.S. goods. That caused stock markets in the U.S. to tumble, and left farmers to face a future that looks financially bleaker than the historically tough years they have recently faced.
Because of the Trump administration's trade tactics, the Congressional Research Service concluded in a report published in December that national net farm income dropped by more than $9 billion, or 12 percent, in 2018.
"It's one of those deals that hindsight is 20/20," Bardole said. "If I knew a year ago what I knew now, I would've done things different. Maybe the administration's negotiators would say the same thing."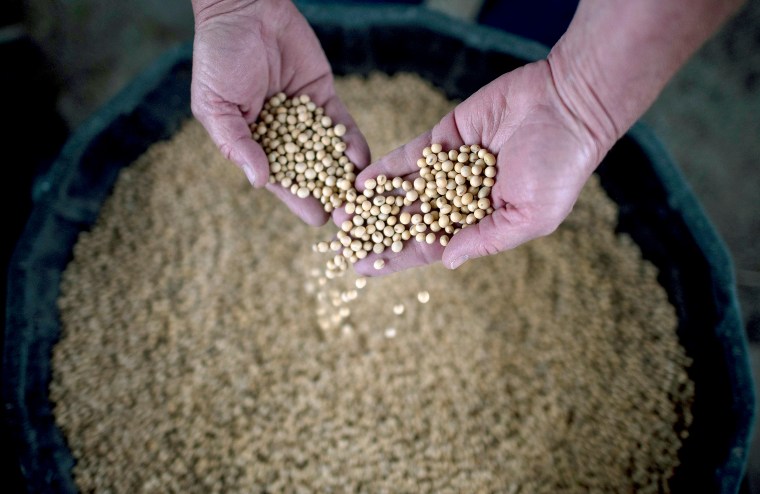 Things looks like they could get much worse as the trade dispute continues.
With the most recent news of the intensifying tensions between the U.S. and China, the price of soybeans has dropped below $8 a bushel for the first time since 2008, which comes as many Midwest farmers are facing rampant flooding on their land during the planting season.
At this point in the year, around 60 to 70 percent of crops should be planted, John Newton, the chief economist of the Farm Bureau, said. Most expect the USDA to soon announce that, because of flooding and other difficulties, American farmers are only 35 percent planted so far.
"In talking to some of the members across the country, it's a challenging time," Newton said. "They're not able to get a crop in the ground right now, so we need to see this trade dispute resolved and see it resolved quickly. That will give us certainty when we harvest that new crop and get prices up to a manageable level."
Despite the financial strain that farmers have been enduring while the White House's trade war continues, many had remained committed to the president and his negotiating tactics. Most farmers tend to agree that China is not an equal trading partner, so the common refrain is that they are willing to suffer short-term pain for long-term benefits.
But after years of hardship, confidence in Trump's negotiating tactics has begun to waver among some of his most ardent supporters.
Kenneth Hartman, a fifth-generation farmer in Waterloo, Illinois, said he's long been a Trump supporter and believes that China has undoubtedly taken advantage of the market. The agreement between the countries needs to be renegotiated to help American farmers, he said.
But, he added, farmers also need free trade and open markets or else the agriculture community will continue to erode. More than 160,000 farms in the U.S. disappeared from 2007 to 2017, according to the USDA Agriculture Census released in April.
"I think Trump was trying to do the right thing, but the price keeps dropping," Hartman said. "Soybeans dropped and corn dropped — market keeps going down."
Whether falling confidence in this particular trade negotiation will diminish Trump's very solid backing among farmers overall, however, remains unclear.
Scott Irwin, the Laurence J. Norton chair of agricultural marketing at the University of Illinois, said that support for the president among farmers has suffered few cracks so far, but his recent moves on trade could be a real test for many of his supporters after years of financial strain caused, in part, by Trump's aggressive approach.
"I think people were willing to ride with him for quite a ways, but there was real hope that it would finally be put behind us," Irwin said, referring to the trade dispute with China. "But now, unless something dramatically breaks, I think farmers are really reeling from the realization of where they're at today."
Last year, the White House and the Department of Agriculture announced they would provide $12 billion in aid to farmers affected by the trade war with China. For some, that meant 2018 was not as bad as 2017.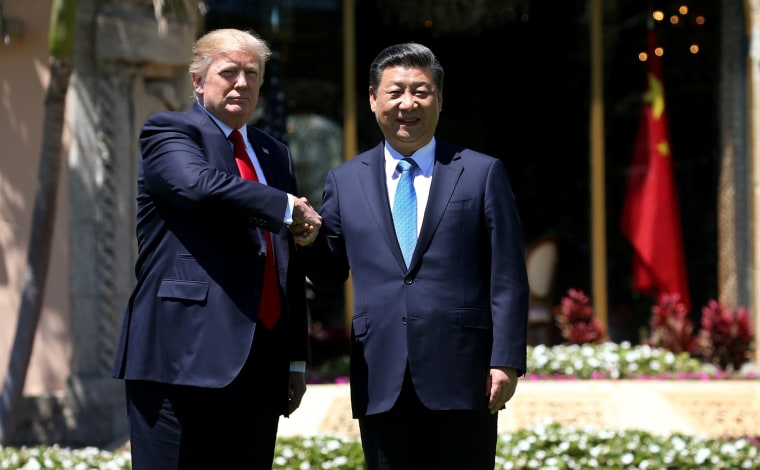 But that subsidy also came on the backs of taxpayers. Government payments to farmers in 2018 were up almost 18 percent because of the trade dispute, making up a large portion of the $13.6 billion provided to farmers last year. That is the most money the government has paid out to farmers since 2006, according to the Congressional Research Service.
This year could be another record. The president appeared to float the idea of $15 billion of additional subsidies to farmers in a tweet Friday.
"Nobody wants handouts," Bardole said. "We want to make our money by producing some of the best crops in the world and selling them to customers around the world. Last year was definitely a time that you couldn't make it doing that. I'm really hoping that changes."
Nevertheless, Irwin said the White House should prepare a large sum from the recently announced tariffs if it wants to soften the blow among farmers.
"Trump's going to have to come through with a major cash infusion to not have his support erode in the very near future," Irwin said.
But it's not only the farmers who will getting walloped because of low commodity prices; the tariffs themselves will also hurt consumers across the country.
Don Heberer, the fourth generation of his family to run Rathbone Hardware in St. Louis, Missouri, said that most of the goods and products he sells are imported from China. When the tariffs go up, so do the prices for his customers.
"I don't like charging my customers more when they come in, but there's not a whole lot I can do about it," he said.
Vaughn Hillyard reported from Waterloo, and Phil McCausland from New York.