WASHINGTON — Revelations of a meeting last summer between a Russian lawyer and senior members of the Trump campaign team have raised this question: Is collusion, in and of itself, a crime?
To be clear, not enough is known about the meeting to call it an example of collusion between the Trump campaign and Russia. The lawyer, Natalia Veselnitskaya, says she has no formal ties to the Russian government, and by some accounts, she met with Donald Trump Jr., Paul Manafort and Jared Kushner at Trump Tower to press her side in a dispute about sanctions on Russia and their effect on adoptions.
But even if the lawyer was somehow representing Russia, and even if she passed on national security information, legal practitioners told NBC News that it would be difficult to see a prosecutable case.
That has become a talking point among right-wing pundits, but it's a view also shared by Democrats who are legal experts.
"I just don't see an easy crime to prove here," said Amy Jeffress, a former top Justice Department national security lawyer in the Obama administration. "Collusion is wrong, but I'm not sure it's a crime."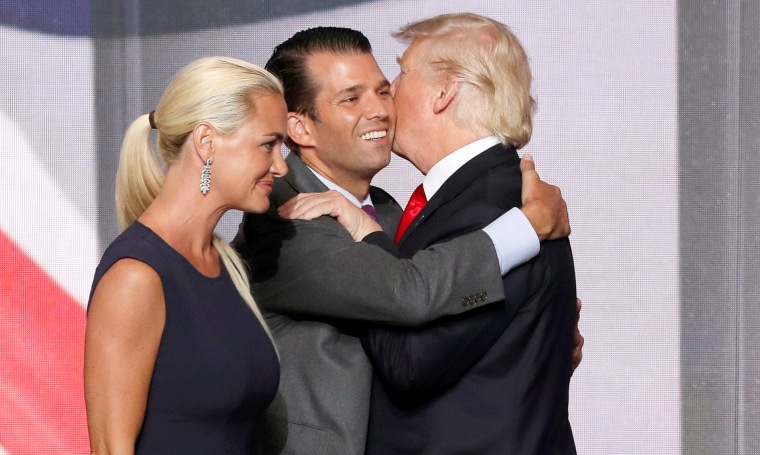 Some experts disagree, arguing that assistance by the Russian government to the Trump campaign could amount to an illegal campaign contribution by a foreign principal.
"The law prohibits foreign nationals from providing 'anything of value ... in connection with' an election," Bob Bauer, a former White House counsel under President Barack Obama, wrote on the Just Security website. The hacking of Clinton campaign manager John Podesta's emails, "which were then transmitted to WikiLeaks for posting, clearly had value, and its connection to the election is not disputed," Bauer wrote.
But as a legal matter, "that's stretching it," said Craig Donsanto, who spent more than 40 years working on election-law cases at the Justice Department before he retired. "Where is the contribution?"
Another national security law expert agreed but asked not to be named in order to speak candidly.
Providing secrets to a foreign government is espionage, and representing one for money without registering might violate the Foreign Agents Registration Act, he said. But accepting information from a foreign government that might be helpful to your campaign is not illegal, he added.
Still other legal experts — who tend to be professors, not practitioners — have argued that collusion itself could run afoul of some anti-corruption statutes.
John Coates, a professor at Harvard University Law School, told the Politifact web site in May that collusion could violate the provision of the fraud statute making it a crime to conspire with anyone, including a foreign government, to "deprive another of the intangible right of honest services."
"That would include fixing a fraudulent election, in my view, within the plain meaning of the statute," he added.
Such prosecutions have proven difficult under the best of circumstances, and in 2010 the Supreme Court limited the statute to cases involving bribes and kickbacks.
The hurdles to prosecuting collusion may be why the FBI is looking hard at the finances of various Trump aides, one legal expert said. Collusion may not be illegal, but money laundering, tax evasion, bank fraud and wire fraud certainly are.
Legal experts say it may be more likely that crimes could have been committed in covering up alleged collusion. It is illegal to lie to the FBI and to omit material information from security clearance forms, for example.