The man Donald Trump wants to be his top national security adviser is a decorated retired general with a history of shaking things up.
In 2010, Michael Flynn, then an Army major general, co-authored a scathing report arguing that military intelligence was failing in Afghanistan, and largely irrelevant to the counterinsurgency campaign being waged there.
The well-received expose propelled Flynn's rise to become the head of the Defense Intelligence Agency in 2012, serving as a senior figure in an intelligence apparatus ultimately reporting to President Barack Obama.
But two years later, Flynn was forced out — accused, by officials speaking not for attribution, of being a bad manager who left a chaos in his wake. Initially quiet but increasingly embittered, Flynn ultimately hitched his wagon to Donald Trump and began to appear at rallies complaining of Hillary Clinton's "criminal activity" in stark language that stunned many of his former colleagues.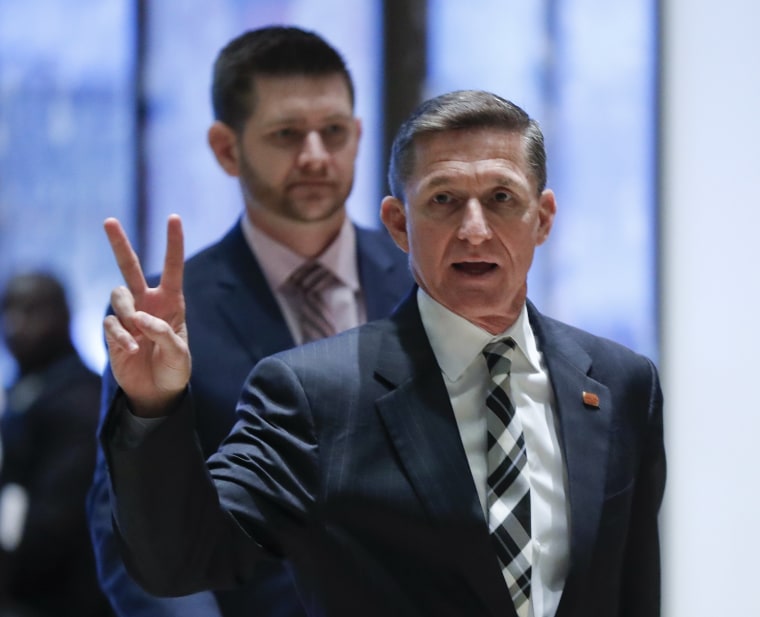 Now, Flynn, a 57-year-old decorated combat veteran who retired with three stars, has been asked by Trump to serve as his national security adviser, a senior transition official told NBC News. The news was first reported by the Associated Press.
One transition official told NBC News that Flynn has accepted Trump's offer, but the Trump campaign has said no appointments are official until Trump himself announces them.
It's the president-elect's first offer for a national security position and, given his lack of experience in foreign affairs, perhaps his most important.
Stephen Hadley, who served as national security advisor for George W. Bush, described the job as follows in an April paper for the Scrowcroft Institute:
"You get to spend more time with the President than any other member of the President's national security team. You are the first to see the President in the morning when the President shows up for work in the Oval Office and the last person to see the President before he or she makes any major foreign policy or national security decision … You run the interagency process that analyzes issues, develops options, and then presents them to the President. And then you oversee the process by which the President's decisions are implemented by the various departments and agencies of the federal government."
Flynn's comments over the course of the campaign suggest a maverick temperament that tracks closely with that of his boss, which may thrill those who want to shake up Washington, but unnerve others who think the most important quality in making good foreign policy is a calm and steady hand.
"I would be worried about an impulsive president with an impulsive security adviser," said Rep. Adam Schiff of California, the ranking Democrat on the House Intelligence Committee.
But Schiff's GOP counterpart, intelligence chairman Devin Nunes, told the Washington Post, "This is a guy who has the president's trust, has credentials with the military, credentials with the intelligence community and credibility with Congress."
Flynn served as the top intelligence officer for the Joint Special Operations Command under Stanley McChrystal, one of the most celebrated generals of his generation. He fought in Afghanistan and Iraq. His decorations include the defense Superior Service Medal, the Legion of Merit and the Bronze Star. Some Democrats were cautiously optimistic.
Sen. Jack Reed, the ranking Democrat on the armed services committee — and a Rhode Islander like Flynn — issued a statement praising the retired general, whose brother, Charles Flynn, is also an Army general.
"General Flynn served honorably throughout his 33-year military career," Reed said. "I respect him and deeply admire his family's legacy of military service. It is pretty remarkable to have two brothers rise to the rank of General like Mike and Charlie Flynn."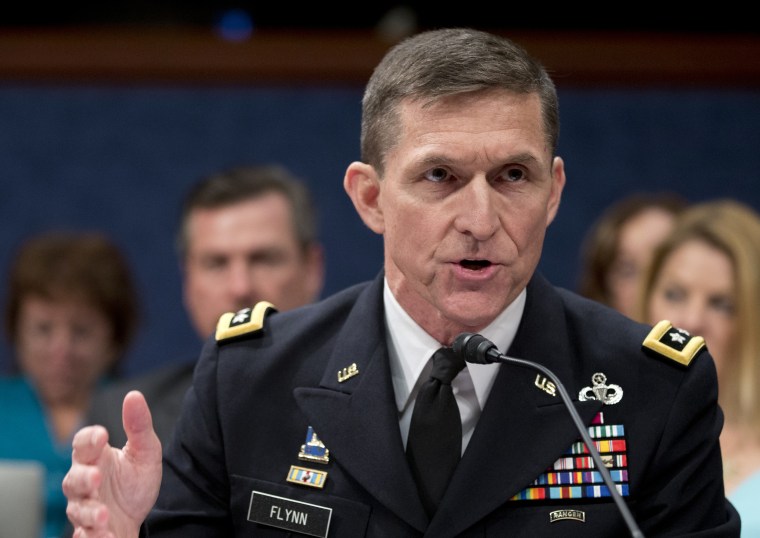 Reed said he had concerns about some of the statements he made in the heat of the campaign, but that now he is "taking on a very different and challenging new civilian role. He is familiar with the complex set of security challenges we face. And President-elect Trump does not have a wealth of experience in this arena."
Flynn did not respond to an email request for comment. His friends and backers praise him as an innovator who has tried to shake up sclerotic bureaucracies. At the DIA, he tried to establish a larger corps of human spies who would serve the Pentagon more directly than the CIA, which is the premier spy agency.
"There are very few of us who can say that we have made a difference that spans an entire organization," Navy Adm. Michael S. Rogers, now the NSA director, said at Flynn's 2014 retirement ceremony. "There are even fewer who can say that we have made a difference that spans an entire profession or discipline. And for intelligence, Mike has done just that."
His critics see a man who engages in undisciplined rhetoric, such as when he lead chants of "Lock her up," during campaign rallies, urging the imprisonment of Hillary Clinton.
In a tweet on Feb. 26, Flynn said, "Fear of Muslims is RATIONAL."
"General Flynn has also made inflammatory remarks regarding Islam, and not always distinguished between a faith practiced by millions of Americans and important allies around the world, and the perversion of that faith by the likes of ISIS and Al Qaeda," Schiff said in a statement. "These statements only feed jihadi propaganda by reinforcing their false narrative that the West is at war with all of Islam."
Some of Flynn's rhetoric makes military people "very uncomfortable," retired Army Gen. Barry McCaffrey said on MSNBC's "11th Hour" late Thursday.
But Flynn is "the best intelligence officer of his generation," McCaffrey said. "He's a good guy. He's objective. He's tough."
"He and General Stan McChrystal and Dave Petraeus are the reason we haven't had a dozen 9/11s since then — they've just been relentless in confronting the global jihadist community," McCaffrey said.
There is also the matter of Flynn accepting payment — he won't say how much — from Russia's state broadcaster, Russia Today, for appearing on its air.
"Why would you go on RT, they're state run?" he was asked in an interview by the Washington Post's Dana Priest this summer.
"Well, what's CNN?" he replied.
"Well, it's not run by the state. You're rolling your eyes," Priest said.
"Well, what's MSNBC? I mean, come on ... what's Al Jazeera?" Flynn said.
Flynn also took criticism for attending a December 2015 dinner in Moscow during which he sat next to President Vladimir Putin.
"Some interesting characters. I found it a great learning opportunity," he told Priest. "One of the things I learned was that Putin has no respect for the United States leadership."
In August, when Flynn sat with Trump during the candidate's first intelligence briefing, Flynn repeatedly interrupted the briefers until New Jersey Gov. Chris Christie intervened, intelligence officials told NBC News.
Both Christie and Flynn denied the officials' version of events, with Flynn calling the report "total b__s___" and Christie calling it "a complete work of fiction."
After his retirement, Flynn founded a consultancy, the Flynn Intel Group. In September, the company registered to lobby Congress for a Dutch company, Innovo BV, that is owned and operated by a Turkish businessman who holds a top position on Turkey's Foreign Economic Relations Board.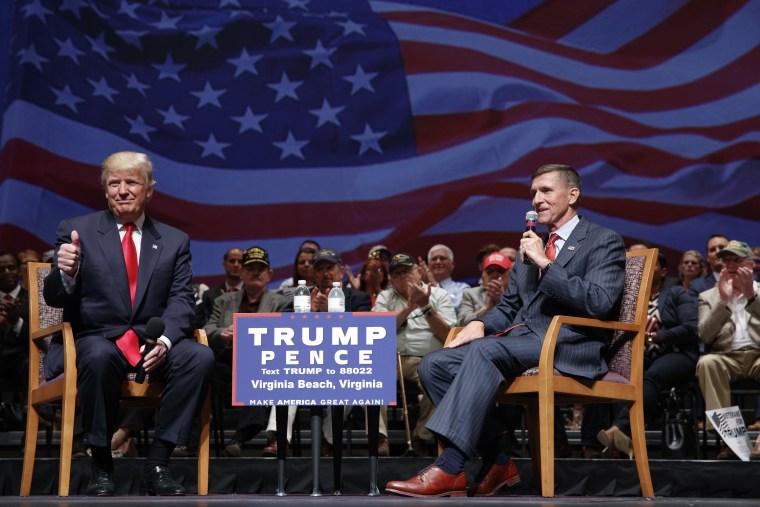 Robert Kelley, the chief counsel to the Flynn Intel Group, read a statement from Flynn to Yahoo News on Thursday, promising that "if I return to government service, my relationship with my company will be severed, in accordance with the policy announced by President-elect Trump."
On Election Day, Flynn authored an op-ed in the Hill, a Washington newspaper, in which he lambasted Fethullah Gülen, a Turkish cleric residing in Pennsylvania who is blamed by the Turkish government for fomenting a July coup attempt there.
In an interview with NBC News, the businessman, Ekim Alptekin, acknowledged that he is a longtime opponent of the Gulen movement, but he disputed that the Flynn article was written as part of his lobbying agreement with Flynn. He also argued that he was not an agent of the Turkish government.
"What raised so many eyebrows was how sharply the op-ed diverged from Flynn's previous positions and how it appeared to be in complete conformity with the Turkish government's positions," wrote Michael Rubin, a conservative scholar with the American Enterprise Institute.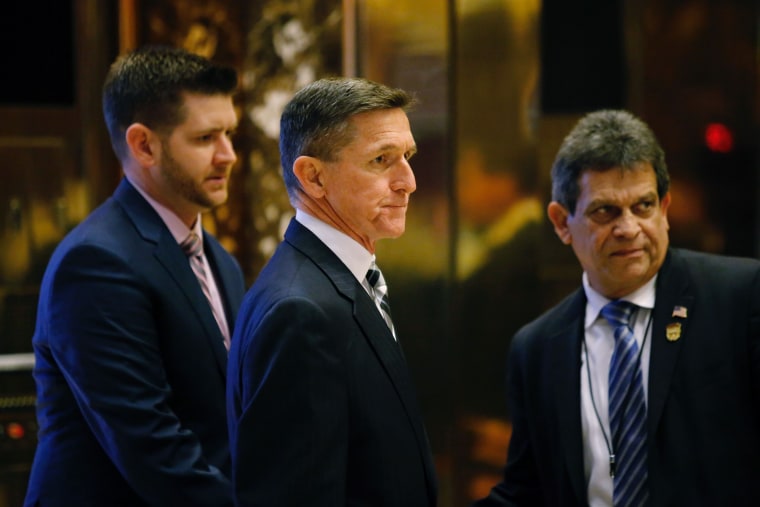 Rubin charged that Flynn committed an ethics lapse by failing to disclose his financial interest wrote the article.
Alptekin disagreed. "If this was an article written to please the Turkish government, it could not have been written the way it was," he said.
But David Phillips, a former State Department official who directs the Program on Peace-building and Rights at Columbia University's Institute for the Study of Human Rights, accused Flynn of being "bought."
"He got caught with his hand in the cookie jar," Phillips told NBC News. "The fact that he published that article on Election Day tells us he never thought his candidate was going to win."
His candidate did win, and now Flynn is poised to steer American national security policy.
"If someone had asked me five years ago if I would be surprised to find myself where I'm standing today, absolutely I would have been surprised," Flynn told Politico last month.