NEW ORLEANS — Vice President-elect Mike Pence traveled to Louisiana's largest city Saturday to endorse Republican John Kennedy for U.S. Senate — a last-dash visit ahead of the state's runoff election in one week.
"I'm really here to say thanks, but we have one more race to win this year," Pence told a crowd of supporters from inside a New Orleans airport hangar.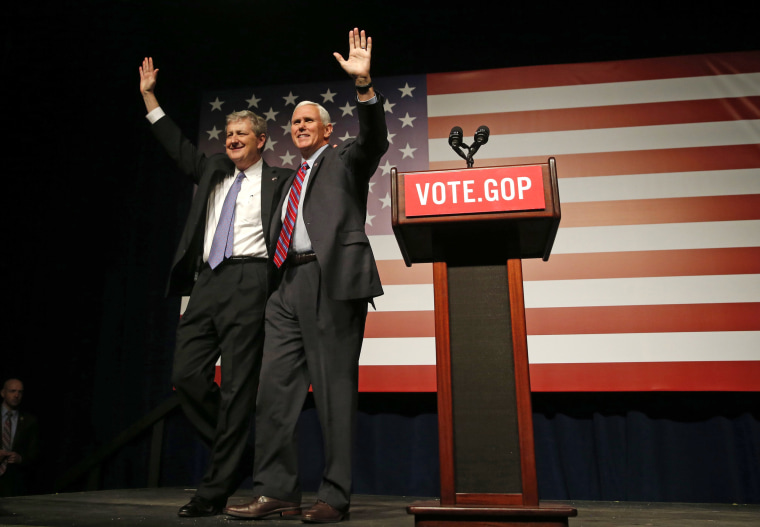 As the Indiana governor looked to capitalize on the GOP's victories this election, including capturing the White House, President-elect Donald Trump also gave Kennedy his stamp of approval via Twitter.
"State Treasurer John Kennedy is my choice for US Senator from Louisiana. Early voting today; election next Saturday." He added minutes later in a follow-up tweet that Kennedy would be "a tremendous help to us in Washington."
Kennedy, the five-term state treasurer, is gunning for the Senate seat currently held by retiring Sen. David Vitter, R-La. It's the final outstanding Senate race in the country because no candidate got the majority in the Nov. 8 election.
Democrats are hoping to cut into what will be a Republican majority in the Senate next year, lending their support to former Louisiana state senator Foster Campbell, the Democrat taking on Kennedy in the runoff.
If Republicans hold onto Louisiana's seat, they will maintain a 52-48 advantage in the Senate.
Related: Trump Pledges 'America First' in Speech on Victory Tour
Pence said he spoke with Trump before exiting his plane for the afternoon rally.
"He said, 'I have one more thing to ask, and that's to send John Kennedy to the United States Senate,'" Pence said. The runoff is slated for Dec. 10.
Two days after he helped kick off a "thank you" tour alongside Trump with stops in Indianapolis and Cincinnati, Pence told the New Orleans gathering of several hundred that Trump is "working around the clock" to build out the next administration's cabinet.
The vice president-elect did not comment on Trump's controversial phone call this Friday with the president of Taiwan.
Related: Trump's Call With Taiwan's Leader Exposes China's Strained Relations
Instead, Pence — flanked by U.S. Sen. Bill Cassidy, R-La., four congressman, the state attorney general and lieutenant governor — homed in on tying his own campaign's energy to the final week of Kennedy's bid.
Trump beat Hillary Clinton in Louisiana by a margin of 58 percent to 38 percent.
Pence reiterated the administration's need for help in pushing its legislative agenda, focusing on immigration and health care. He vowed to "build the wall" along the U.S.-Mexico border and repeal Obamacare. And he suggested the next president could nominate up to three U.S. Supreme Court justices — all of whom Senators would have to confirm.
"We need one more push," Pence pleaded, adding: "You're going to put an exclamation point at the end of a great American victory in 2016."