President-elect Donald Trump has chosen retired Marine Gen. James Mattis to head the Department of Defense, a move that could signal the incoming administration's tougher positioning with nations such as Iran.
Trump made a surprise announcement of the expected appointment during a rally in Cincinnati on Thursday night, as the crowd cheered wildly.
"We are going to appoint Mad Dog Mattis as our secretary of defense," Trump said theatrically.
He then added: "But we're not announcing it 'til Monday, so don't tell anyone — Mad Dog. He's great. He is great."
Mattis is a tough talking retired Marine general who during the U.S. invasion of Iraq in 2003 famously led the 1st Marine Division's rapid drive into Baghdad. Among his peers, Mattis has a reputation as a blunt military strategist.
During a 2005 panel discussion in San Diego, Mattis once said that he enjoyed "brawling" and enjoyed killing the enemy in war.
Related: Who Is Mad Dog Mattis, Trump's Pick for Defense Chief?
"Actually it's quite fun to fight them, you know. It's a hell of a hoot," Mattis said. "It's fun to shoot some people. I'll be right up there with you. I like brawling."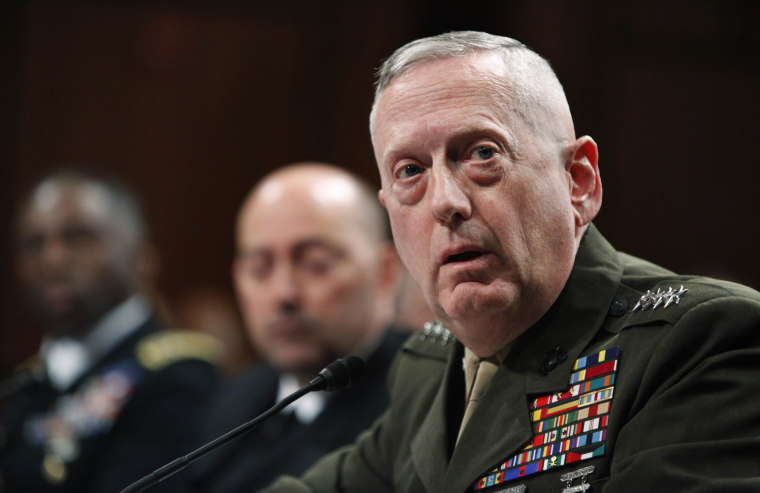 Mattis, a former commander of U.S. Central Command, which covers the Middle East, is considered a hardliner on Iran. His confrontational style on the matter was frowned up by the Obama administration, U.S. officials told NBC News.
He once accused "the highest levels" of the Iranian government of being involved in an assassination plot against the Saudi ambassador at a Washington, D.C. restaurant.
"On Iran, General Mattis takes a very hard line view," said James George "Jim" Stavridis, a retired Navy admiral and the current dean of the Fletcher School of Law and Diplomacy at Tufts University. "He would say we need to use hard power to prevent Iran from ever having a nuclear weapon.
He is also considered a "warrior monk," who thinks deeply about military strategy. He once told his Marines "The most important six inches on the battlefield is between your ears."
Senator John McCain, R-Ariz., who serves as the Chairman of the Senate Armed Services Committee, said he was "pleased that the President-elect has selected General James Mattis to be his nominee for Secretary of Defense."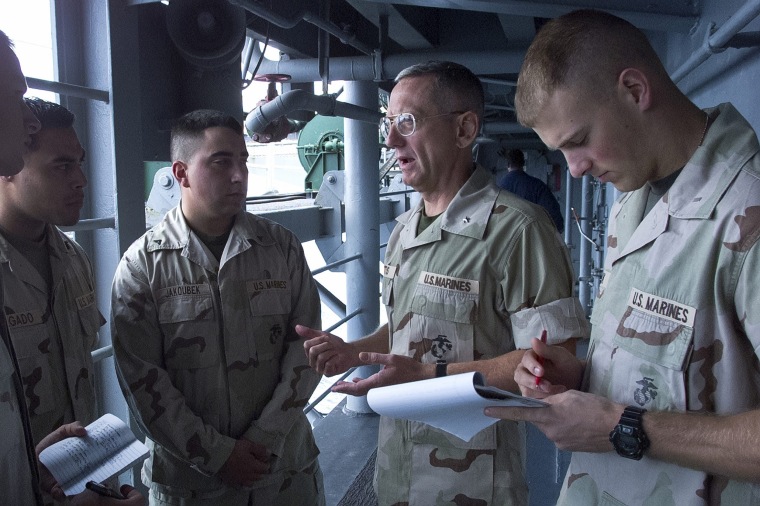 "As Chairman of the Senate Armed Services Committee, I look forward to moving forward with the confirmation process as soon as possible in the new Congress," McCain said in a statement Thursday night.
"I have had the privilege of knowing General Mattis for many years," he added. "He is without a doubt one of the finest military officers of his generation and an extraordinary leader who inspires a rare and special admiration of his troops."
Mattis' confirmation by the Senate is not assured. Only three years out of uniform, he would also need a Congressional waiver for a 1947 law that requires a seven year wait.
Democratic New York Senator Kirsten Gillibrand, a ranking member on the Senate Armed Services Subcommittee on Personnel, came out against voting for an exception for Mattis in a statement Thursday evening.
"While I deeply respect General Mattis's service, I will oppose a waiver," she said. "Civilian control of our military is a fundamental principle of American democracy, and I will not vote for an exception to this rule."
Democratic Rep. Adam Schiff of California, the ranking member of the House Permanent Select Committee on Intelligence, strongly endorsed Mattis, saying he admired his service, knowledge, experience and leadership."
But Schiff also urged careful consideration of waiving the 1947 law, given "the precedent we would be setting and the impact it would have on the principle of civilian leadership of our nation's military."