WASHINGTON — President Trump will push for a privatization of the country's air traffic control system — an ambitious overhaul which he said would help usher in an era of more modernized and improved travel for the world's most complex airspace.
"It's about time," Trump said on Monday before signing a letter outlining the plan, adding that the change would herald an "air travel revolution."
"Today we're proposing to take American air travel into the future — finally, finally," he said, flanked by Transportation Secretary Elaine Chao.
His comments come as the heavy summer travel season gets underway — air traffic control oversees 70,000 takeoffs and landings a day more than two million passengers.
Aviation experts warn that there are concerns about dramatically changing air traffic control and privatizing the safest aviation system in history.
With staffing at 28 year lows, the nation's air traffic control system is stretched and under pressure. Controllers work mandatory overtime, six day weeks and often use decades old radar technology other nations have abandoned.
Related: Both Parties Say Trump's Infrastructure Plan Needs Repair
Under the president's plan, the FAA would focus solely on safety while the airlines, passengers and general aviation would pay to create a non-profit company similar to the NAV Canada system, to more quickly introduce new satellite tracking technologies.
Trump said the proposed changes will shorten those long waits and improve efficiency.
"Our plan will get you where you need to go more quickly, more reliably, more affordably and yes, for the first time in a long time, on time," Trump said.
The announcement is part of a week-long discussion of President Donald Trump's infrastructure wish-list.
"Infrastructure week," as it has been dubbed, will lay out the White House's views on infrastructure, which both Republicans and Democrats have interest in accomplishing, but will likely not yield much in the way of specifics. It will then give way to a focus on workforce development next week, White House officials told told reporters on Monday and stressed the need to "rebuild America and retrain America."
"The FAA has been trying to upgrade our nation's air traffic control system for years. After billions and billions of tax dollars spent and many years of delays, we are still stuck with an ancient, broken, antiquated horrible system that doesn't work," Trump said.
He also criticized the previous administration for spending $7 billion to try to upgrade the system, a move he called a "failure" and "a total waste of money."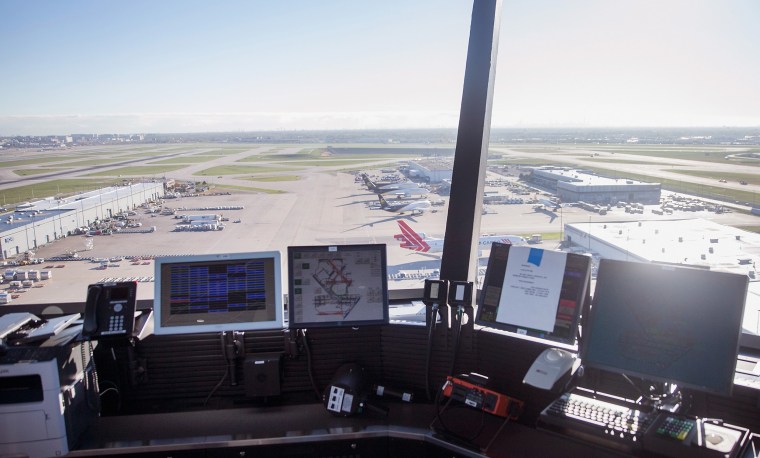 The plan is not new.
Rep. Bill Shuster, R-Pennsylvania, pushed a similar plan last year and was praised Monday for doing a "good job" pulling a package together. What's different now, Gribbin said, is Republican control of the White House and both houses of Congress.
That "unified nature" of the GOP is something the White House will rely on to move this legislation, Gribbin said.
However, that Republican control has yet to yield broader legislative gains since Trump took office, specifically on healthcare and the long-promised Republican repeal and replace of Obamacare.
Related: Trump's Trillion Dollar Pledge to Fix Bridges and Roads Could be Challenging
Senate Minority Leader Chuck Schumer took to the floor on Monday to express his concern that that privatizing air traffic control — and infrastructure more broadly — would ultimately prove costly for consumers. The airlines would potentially have a very big role in a new non profit company that oversees air traffic control, he said.
"This would put the same airline companies who have added baggage fees, change fees and shrunk leg room in charge of the air traffic control system," Schumer said. "Worse still, it would let the airlines charge consumers even more. "If air traffic control is privatized, where are the protections for consumers? What will prevent cost of flying from going way up? Under a private system, what stops airlines from raising fees and taxes on consumers?"
The FAA is already rolling out upgrades to GPS satellite based navigation.
And while GPS technology is already used during airline approaches and departures, flying point-to-point using that technology has been delayed by inconsistent congressional funding.
"We need the modern GPS satellite based navigation, and we need that soon for us to keep up with the growing demand for air traffic," said Capt. John Cox, a NBC NEWS aviation analyst.
The nation's airline lobbying group is applauding the president's plan.
"Flight delays cost the economy $25 billion last year, and our antiquated ATC system is responsible for almost half of those delays," said in a statement.
However, controllers are cautious about handing the skies to a private company and ensuring rural America is still served.
"We need to ensure that we don't disrupt the system, that we don't break anything as we're trying to fix it," said Patricia Gilbert, vice president of the Air Traffic Controllers' Union.
Some in the aviation community see the president's proposal as "a huge power grab for the commercial airlines" and questioned whether that sector could effectively run air traffic control.
"Not only is the President's proposal a huge power grab for the commercial airlines, but the notion that the airlines can run anything better, let alone air traffic control, is laughable" Selena Shilad, executive director of the non-profit Alliance for Aviation Across America said in a statement. "These are the same airlines that can scarcely get through a week without beating up their customers or throwing them off of flights, they have reduced service by over 20 percent to small towns, and they have about a major technological outage a week."
The administration's move on infrastructure comes amid heightened international security concerns after the British capital of London suffered its third terror attack in as many months. Trump has both offered his support for America's ally, while also lashing out at the city's mayor and using the fresh scrutiny of radical Islamic terror to push for his own domestic agenda.
"Infrastructure week" will also compete with the highly-anticipated testimony of former FBI Director James Comey, who Trump fired unexpectedly amid the ongoing FBI investigation into alleged collusion between Russia and Trump's 2016 campaign.