President Donald Trump's just-disclosed hourlong meeting with Russian President Vladimir Putin during the G-20 summit — using a Kremlin translator, with no national security staff present — may have damaged U.S. interests, according to some national security experts.
With no other witness or note-taker of the sort normally present on the American side, there's no guarantee that Trump or Putin's words were translated correctly — or that Trump didn't give away more classified information, as he did when top Russian officials came to the White House in May.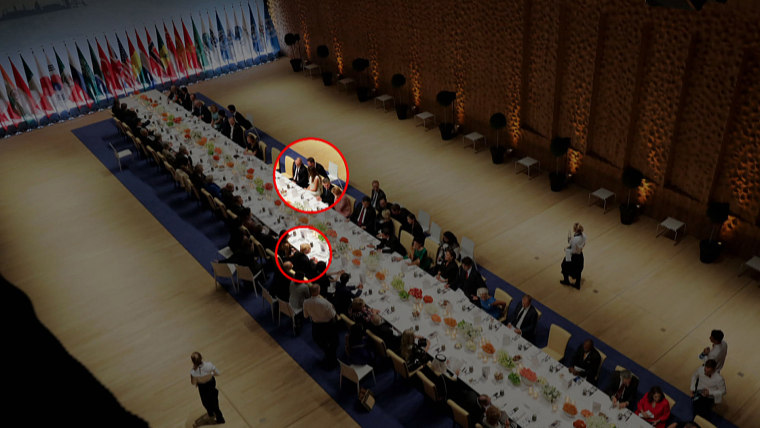 Experts who spoke to NBC News also said the impromptu tête-à-tête in Germany, while not unprecedented, represented a break with protocol.
Presidential historian Michael Beschloss said it was rare for a U.S. president to let a Russian handle translation duties — but Richard Nixon did so in a May 1972 summit with Soviet leader Leonid Brezhnev. Nixon, said Beschloss, wrote in his memoirs that he thought Brezhnev would "speak more freely."
Still, said Beschloss, it's "very bad practice." He said that such an impromptu meeting "raises the question of what was said between the two leaders that was so explosive that it could not be heard at the time by the secretary of state and/or the president's national security advisor."
Other nations could not help but notice, said Michael McFaul, the former U.S. ambassador to Russia.
"In spending so much time with Putin he was not spending time with other leaders. Both regarding substance and symbolism, that's important," said McFaul.
Trump attended the July 7 dinner closing the summit in Hamburg with more than 30 world leaders and their spouses. At one point, he left his seat next to the Japanese prime minister and headed for an open chair next to Putin.
Although the two had formally met for two hours earlier in the day, they spent "roughly an hour talking privately and animatedly," joined only by Putin's own translator, according to Eurasia Group President and CNBC analyst Ian Bremmer.
Bremmer broke the news of the meeting on Tuesday, and the White House then confirmed it happened, while Trump took to Twitter to downplay the face-time.
World leaders will often engage in "pull-asides" — short discussions with translators and note-takers present or nearby — but they are usually well-orchestrated.
"It is not unprecedented, just rare," McFaul, who was ambassador from 2012 to 2014, said of Trump's one-on-one with Putin.
"Obama used a Russian interpreter a few times for pull-asides," he said. But, he added, "Obama always prepared for pull-asides. In a 'prebrief' beforehand, we would discuss what to say, what to watch for, what to push."
There's no indication that Trump did any preparation. During an appearance on MSNBC Wednesday, former Acting CIA Director John McLaughlin said he was worried that Trump's general unfamiliarity with intelligence procedures would also put him at risk in an unmonitored meeting.
"If you remember that meeting that he had in the Oval Office with a couple of Russian diplomats where he slipped on some intelligence and revealed some sources that he shouldn't have revealed — I'm not sure if he is familiar enough with sources and methods on intelligence to have sort of a brief conversation with a Russian president at this point."
Experts who spoke to NBC News said another issue is that Trump allowed Putin's translator to handle such a lengthy conversation without any U.S. diplomatic presence.
"This puts the U.S. government at a significant disadvantage because we have no record of what transpired conversationally between the president and Putin," said retired Adm. James Stavridis, former NATO commander.
"Who knows what happened during that 60-minute meeting," Sen. Chris Murphy, D-Conn., a member of the Foreign Relations Committee, told MSNBC. "But without people like [National Security Advisor] H.R. McMaster and Secretary [Rex] Tillerson, it's quite possible that some really bad deals were cut there."
McFaul agreed. "It's important to have someone taking notes so that the U.S. government knows what commitments the president made to Putin," he said. "Whatever the president says becomes policy, and is very difficult to walk back. But it's hard for lower level officials to follow that policy if they don't know what he said."
David Cohen, a former deputy director of the CIA, said it's possible parts of the discussion were lost in translation.
"Trump has no way of knowing whether what he said was accurately translated. Nor does he know whether what Putin told him was accurately translated," Cohen said.
Daniel Hoffman, a former CIA official who worked inside Russia for five years, noted that Putin "uses highly descriptive Russian, which sometimes does not translate precisely into English."
"A U.S. translator would have been able to perceive the nuances," he said.
Putin's translator was not a neutral figure, Hoffman said. His job was to "assist Putin with assessing POTUS' approach to the issues they discussed."
What those issues were is anyone's guess, but the analysts said the length and tenor of the Trump-Putin talk sent a message that other nations and Americans at home are left to interpret.
McFaul noted that in moving his seat, Trump left behind Japan's Shinzo Abe, whose country is crucial to resolving the biggest national security crisis affecting the United States — North Korea's nuclear weapons development.
"It's aggrandizing to Putin," Juan Zarate, who served as deputy assistant to the president for counterterrorism in the George W. Bush White House, told Andrea Mitchell on MSNBC. "And it's problematical because it's another piece of the scandal."
The fallout, said Stavridis, bleeds into domestic politics, fueling the firestorm over Trump's relationship with Putin and Russia.
"Worst of all, this further divides our politics and injects confusion [and] thus places us at significant risk as a result," he said.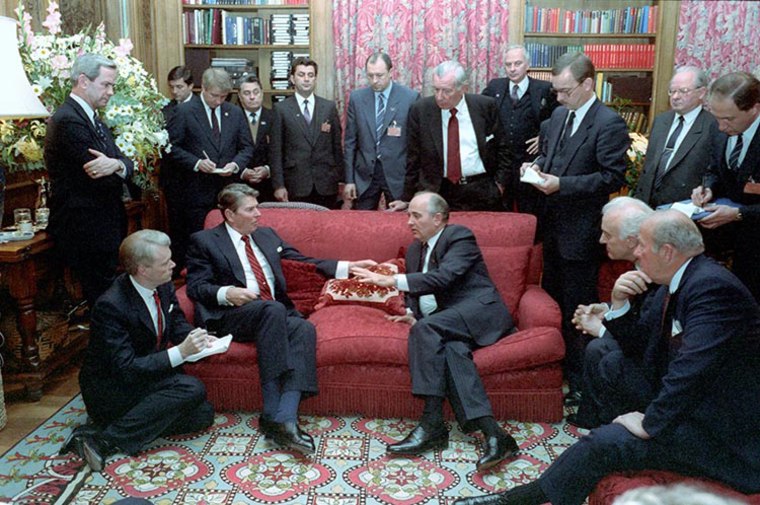 Retired Navy Capt. William Harlow, who had senior positions in George H.W. Bush's National Security Council and the CIA, said the breach of long-established protocol raises questions about whether this is the new normal in Trump administration diplomacy.
He recalled President George H. W. Bush's meeting with Soviet General Secretary Mikhail Gorbachev aboard a Soviet cruise ship anchored in the harbor of the Maltese town of Marsaxlokk.
"A U.S. translator was hovering behind '41... and down the table was General (Brent) Scowcroft, the national security advisor," Harlow said. "This seems to be the typical arrangement — at least until 2017."
McFaul, Stavridis, Cohen, and Zarate are NBC News analysts.