With the stroke of a pen, President Donald Trump reinstated a controversial rule that blocks foreign aid for family planning services.
Known as the "Mexico City policy" or the "Global Gag Rule," the policy bars foreign aid or federal funding for international programs that provide abortions — or even information about the procedure.
Under the rule, USAID would be unable to provide funds to non-governmental organizations that provide referrals or counseling for abortion services, or advocate for the same. NGOs that provide abortions — except in the case of rape, incest or life endangerment — would also be ineligible for aid.
Related: What Will Trump Presidency Mean for Women's Health Abroad?
Much of the agency's family planning aid is aimed at reducing maternal and infant mortality, both through preventing unintended pregnancies and allowing families to better space childbirths.
Established in 1984 by President Ronald Reagan, the global gag rule has since become a political football that has been repeatedly rescinded and revived depending on which party controls the White House.
Democratic President Bill Clinton nixed it. Republican President George W. Bush brought it back. Democratic President Barack Obama threw it out almost immediately after his inauguration. And now, Trump has reinstated it as part of what critics fear will be a broad effort to undermine reproductive rights at home and abroad.
"We do expect it to cost women their lives."
Abortion rights groups see the law's return as a step backwards after years of progress. Serra Sippel, president of the Center for Health and Gender Equality, said that in addition to reducing women's access to contraceptives and safe abortions, the measure could hamper HIV prevention efforts abroad and force health clinics in developing countries to close their doors.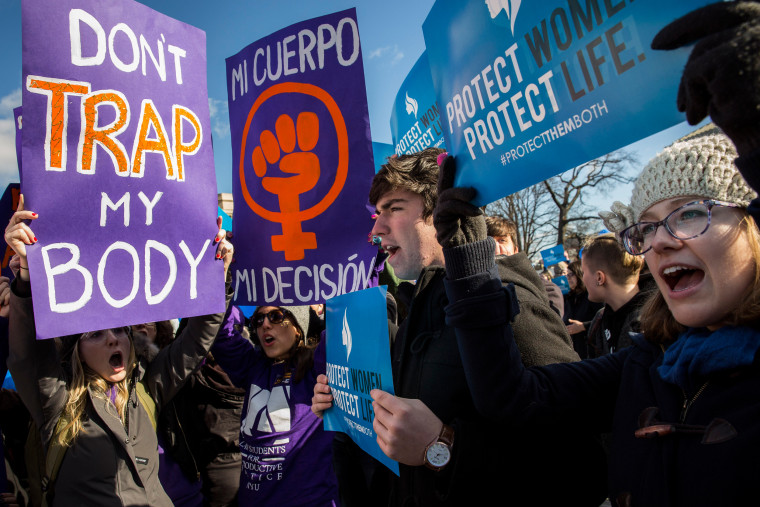 "This isn't just a reinstatement of an existing policy," Sippel said. "I think how we're looking at it is: This is President Trump taking us back to 1984, and the world has changed very much since then. This is Trump's global gag rule, and we do expect it to cost women their lives."
Planned Parenthood told NBC News that the additional language in Trump's executive order that was not in George W. Bush's version could mean even broader restrictions.
The key language is a new reference to restricting "global health assistance furnished by all department of agencies."
That is broader than the previous rule, which governed the category of family planning and abortion, not all "health assistance."
Planned Parenthood's Ericka Sackin said she interpreted the language to mean "for first time ever, groups working only on HIV/AIDS, CEDA, are also subject to this requirement."
Anti-abortion rights groups, on the other hand, applauded the rule's return. Carol Tobias, president of National Right to Life, cited polls that showed a majority of Americans did not support the use of tax dollars for abortion services.
Related: Pregnant Refugees Face Uncertain Future
Among others, a July 2016 poll conducted by Marist College and commissioned by the Catholic Group Knights of Columbus found that 62% of Americans opposed or strongly opposed using tax dollars to fund abortions. Of the poll's respondents, 51% said they were in favor of abortion rights.
"For 40 years, the Hyde amendment has prevented the use of tax dollars from paying for abortion in the United States," Tobias said in a statement to NBC News. "It is inconsistent with the Hyde Amendment to fund, with taxpayer dollars, organizations that perform abortions and promote the killing of unborn children in other countries."
"It is inconsistent with the Hyde Amendment to fund, with taxpayer dollars, organizations that perform abortions..."
The majority of U.S. family planning aid is disbursed by the United States Agency for International Development, which for 2017, has allocated $544 million of its $2.9 billion Global Health Programs budget to family planning and reproductive health services.
USAID estimates there are 222 million women in the developing world without the ability to plan their families. According to the agency, the gap results in 53 million unwanted pregnancies each year.
The majority of aid provided by USAID through the Global Health Programs is directed to countries in Africa and Asia, though a smaller number of European and South American nations receive aid as well.
The law's renewal comes on the eve of the 44th anniversary of Roe v. Wade, the landmark Supreme Court decision that legalized abortion under federal law.
On the campaign trail, Trump repeatedly said he would appoint conservative justices who would overturn Roe v. Wade. In an interview with MSNBC's Chris Matthews, Trump said that should abortion be outlawed, he would support punishment for women who undergo the procedure. He later walked back the remark.