President Dwight D. Eisenhower showed off state-of-the-art weapons after his first inauguration. President John F. Kennedy did, too. President George H.W. Bush welcomed thousands of troops to Washington after the U.S. triumphed in the Gulf War.
And now President Donald Trump wants a military parade of his own.
But several Democratic lawmakers, some historians and at least one former senior military official swiftly panned Trump's request for a celebration in the streets of Washington.
"Parades like this remind me of that old Texas saying about a braggart, saying he was 'all hat and no cattle.' We are the best military in the world and don't need a North Korea-style parade to prove it," said retired Adm. James Stavridis, a former head of NATO and an NBC News analyst.
U.S. military parades have traditionally been held after era-defining triumphs, like the U.S. victory in World War II. Trump's desired parade, on the other hand, would not necessarily be tied to a recent battlefield success.
Related: Lawmakers balk at potential cost of Trump's parade
"There's no reason to do it aside from bolstering Trump's ego," said Thomas E. Ricks, a military historian and veteran national security reporter.
The Washington Post first reported Tuesday that Trump expressed his desire for a military parade at a Jan. 18 meeting with top generals. The president, a senior administration official told NBC News, has "given the directive to begin the planning, so the planning has begun."
Trump was reportedly awed by last year's Bastille Day procession in Paris, a beloved annual event he attended as a guest of French President Emmanuel Macron.
"The president wants to do something that highlights the service and sacrifice of the military and have a unifying moment for the country," said an official quoted by The Washington Post.
Amid the criticism of Trump's request, some commentators suggested a high-profile celebration of men and women in uniform could be a welcome tribute after years of brutal conflict in Iraq, Afghanistan and other fronts of the war on terror.
"If you give Trump the benefit of the doubt, then this is an opportunity to recognize the troops, who have been under an enormous amount of stress since 9/11," said Brian Linn, a history professor at Texas A&M University.
In the Cold War era, inaugural parades doubled as festive advertisements for American military hardware, Linn said. Eisenhower, for example, touted the prototype of an atomic cannon at his inaugural procession — along with hundreds of horses, three elephants and an Alaskan dog team.
And in earlier historical periods, legions of triumphant soldiers marched through American streets. After the Allies defeated the Axis powers in World War II, for example, thousands descended on New York for a joyous procession.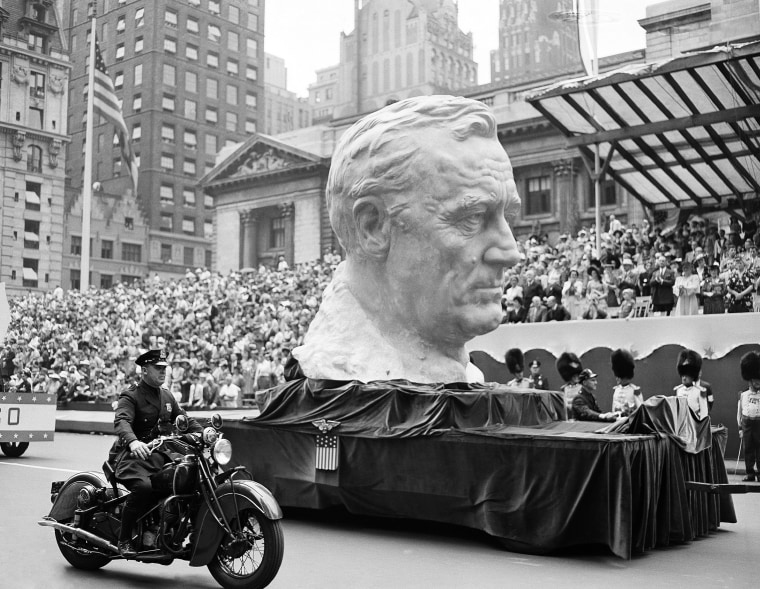 But without an occasion as clear-cut as the defeat of Nazi Germany, a large-scale pageant in the nation's capital might call to mind the nationalistic displays in the former Soviet Union, modern-day Russia or the North Korea regime.
"This makes me a little queasy," New York Times columnist Nicholas Kristof tweeted. "I've seen too many military parades like that in China and North Korea and Russia. I'm all for celebrating troops, but not with spending millions to celebrate tanks."
It was not immediately clear how much the possible parade would cost. President George H.W. Bush's parade on June 8, 1991, reportedly cost $12 million — roughly $21 million in today's dollars.
Trump has previously discussed his fondness for public displays of military might.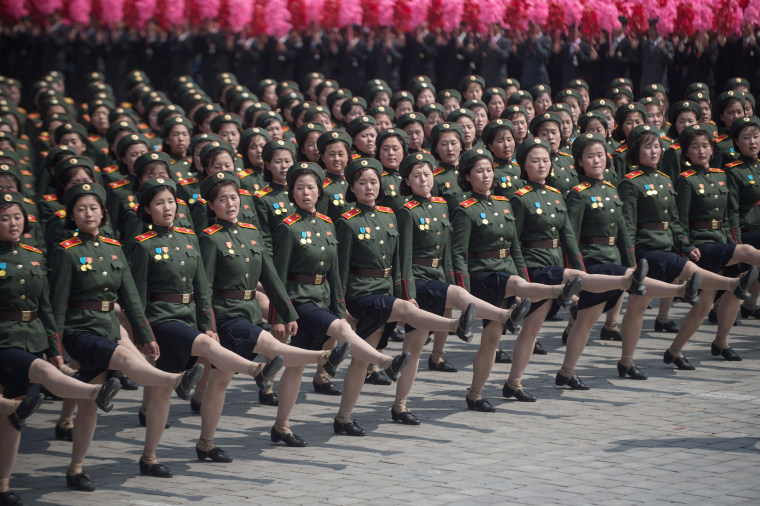 "Being a great president has to do with a lot of things, but one of them is being a great cheerleader for the country," Trump told the Washington Post in January 2017. "And we're going to show the people as we build up our military, we're going to display our military."
White House spokeswoman Sarah Huckabee Sanders on Wednesday said the parade "hasn't been locked in stone," telling reporters: "We haven't made a final decision."
But in the eyes of some critics, the potential price tag and loaded political optics were bad enough.
"Naturally, I like recognition for our troops," said Stavridis, who is the dean of the Fletcher School of Law and Diplomacy at Tufts University. "But a wasteful, expensive, showy parade like North Korea or Russia isn't part of how we do that. And it is a lot of work for the troops putting it on."