President Donald Trump's foray into trade protectionism heartened a handful of manufacturers in a deeply challenged industry but upset a much larger group of thriving downstream businesses that say they will lose sales and shed employees during what should be a boom time.
The steel and aluminum business? No, that's the response to Trump's first major tariff — the one he imposed in late January on solar cells and panels made overseas. Companies that have been thriving installing rooftop solar panels say the 30 percent levy on imports has dealt their businesses a heavy blow.
The tariff may help a handful of surviving U.S. companies that make photovoltaic cells and the panels made of the cells, allowing them to compete with much cheaper imports from China and elsewhere. In one twist on the Trump policy, though, the American subsidiary of a Chinese solar giant may be one of the first clear beneficiaries of the policy.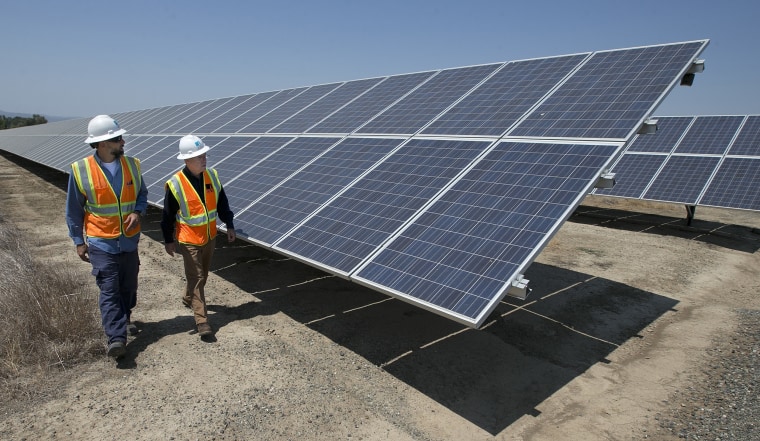 Companies that use the solar cells and panels for residential and business installations say that although the tariff took effect just last month, the higher costs have already forced them to scale back. Some projects have been put on the back burner. Workers have been laid off. And the prospects are murky for later this year, when inventories of cheap, foreign-made solar cells and panels dry up.
The sun power industry has estimated that the increased costs could cost 23,000 jobs, while predicting that a "negligible" number of jobs will be added by American companies that build photovoltaic cells and panels.
Trump's approval of a 25 percent charge on steel imports and a 10 percent charge on aluminum imports on Thursday caused some in the solar industry to renew their objections to the earlier solar tariff. Abigail Ross Hopper, CEO of the Solar Energy Industries Association, reiterated this week "that the net loss of jobs and the cancellation of projects as a result of his solar tariffs are real and causing damage to America's energy economy."
Several companies that build solar installations confirmed that assertion.
"We haven't been able to grow at the pace we otherwise would have," said Jonathan Port, CEO of PermaCity, a Los Angeles-based firm that has installed some of the largest commercial rooftop projects in the country. "We've had projects delayed, some because we can't get the supply [of solar panels] and some of them because the economics don't make sense because of the increased cost."
Grid Alternatives, a nonprofit organization that brings sun power to low-income communities, said that in anticipation of higher costs, it shut down operations in the New York-New Jersey-Connecticut area, laying off 24 people. The organization not only brings clean power to economically disadvantaged areas, it also trains workers from those neighborhoods for solar jobs.
"It throws a wrench into plans that we had and into an industry that is really trying to address climate change," said Michael Kadish, executive director of Grid Alternatives in greater Los Angeles. "If we are trying to shift to more clean energy, we just made it harder to do that with this tariff."
Trump's foray into trade protectionism has disturbed even some within his own party. His chief economic adviser, Gary Cohn, resigned this week after Trump announced the steel and aluminum levies. Conservative groups like the Heritage Foundation and the American Legislative Exchange Council earlier spoke out against the solar tariffs.
California companies said the tariffs come on top of reduced government rebates for solar in the state, which means it takes consumers longer to recoup the cost of installations. "We had a steadily lowering cost of solar, and to reverse that is absolutely the wrong direction to go," said Bernadette Del Chiaro, executive director of the California Solar and Storage Association.
Del Chiaro said the federal tariffs would add $600 to $700 to the cost of the average home solar system. That might dissuade some investors, but will amount to only a temporary setback. "It's not going to knock the legs out from under the solar industry," Del Chiaro said. "We will adjust. We will move on."
The charges Trump imposed fell short of the 50 percent tariff two U.S. manufacturers had requested. For U.S.-based cell and panel makers, "the tariff is not going to be enough to make them price- competitive," predicted Kadish. "This is more a talking point than an effective economic reality."
But representatives of America's struggling solar manufacturers cheered Trump for striking back against foreign interests. They said the competitors, particularly the Chinese, have stolen American technology and then cornered the market by using their government subsidies to lower their prices to predatory levels.
"It's important to put our foot down, and this is the place to do it," said Greg Autry, assistant professor of clinical entrepreneurship at the University of Southern California's Lloyd Greif Center for Entrepreneurial Studies. "We can't let our technology just be transferred to other countries and used to undercut our own industries. That is just not a sustainable model for our country." Autry called it "obscene" for U.S. installers to object to the Trump tariff and assuming that they should benefit from cheap technology pilfered from the U.S.
About 30 U.S. solar cell and panel makers were driven out of business by cheap foreign imports, said one of the surviving manufacturers, SolarWorld Americas. SolarWorld's plant in Hillsboro, Oregon, employed 1,300 people before its German parent company went bankrupt in 2017. It's now at less than 400 workers but is "ramping up" hiring, following the imposition of the tariff, said Tim Brightbill, a lawyer who represents the company. The firm's goal is to double production to 184 million solar cells a year and almost four million 3-by-5-foot solar panels.
A second U.S. manufacturer, Suniva, also fell into bankruptcy and its future remains unclear. Representatives could not be reached for comment.
Industry publications have named another firm poised to take advantage of the increased cost of imports: JinkoSolar. The company has said it plans to build a factory in Jacksonville, Florida, to make solar cells and panels. About 200 jobs are promised. The parent company, one of the world's biggest solar manufacturers, is based in China.