WASHINGTON — President Donald Trump said he is "very close" to choosing a new FBI director, but there will be no announcement Friday.
Speaking to reporters at an off the record lunch, and reiterating the comments on camera moments later, Trump called former Sen. Joe Lieberman his top pick. Multiple officials tell NBC News that Lieberman is the current "frontrunner" for the job and some had suggested there was the possibility of an announcement by the end of the week. However, at midday Friday, the White House said there would be no announcement.
Trump previously promised that the process to replace former FBI director would go "very quickly," and the White House had been aiming to make a decision before the president departs for his first trip abroad on Friday.
On Wednesday, Trump met with Lieberman, acting FBI Director Andrew McCabe, former Oklahoma Governor Frank Keating, and former top FBI official Richard McFeely. Lieberman demurred when asked by MSNBC if he would accept the job should it be offered.
Comey's abrupt firing came as a shock last week, with competing explanations from the White House and the president as to what spurred the dismissal. Trump contradicted his top aides — who credited a memo from Deputy Attorney General Rod Rosenstein for the presidents decision — telling NBC's Lester Holt that he would've fired Comey "regardless."
Related: McCabe, Sen. Cornyn Among 8 Interviewed in FBI Search: Sources
On the surface, Trump picking Lieberman to be FBI director could get votes from senators John McCain and Lindsey Graham, who are close to the former Democratic politician. Lieberman backed McCain over Obama in 2008.
On "Meet the Press" this past Sunday, Graham said it was important for the FBI pick to come from "within" the FBI ranks or who has "no political background."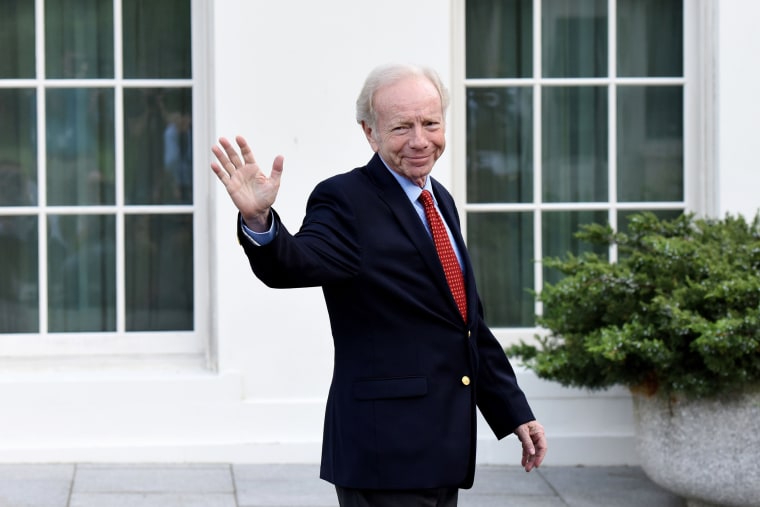 It was a sentiment echoed by Sen. Chris Murphy, D-Connecticut, who holds Lieberman's old Senate seat, who said on "Morning Joe" that he respects Lieberman but many people want someone for FBI Director who doesn't come from a political background.
"I hold Senator Lieberman's seat, he's no pushover, as both parties know. He's been a pain in the butt to both Republicans and Democrats during his time both in and out of the Senate," Murphy said. "I think the question is whether you want someone with a political pedigree or whether you want someone with a law enforcement pedigree. And I think there's a lot of people on both sides of the aisle that are looking for someone who doesn't come from the political realm."