President Donald Trump will name his son-in-law, White House senior adviser Jared Kushner, to lead a new office responsible for streamlining and overhauling the federal government on Monday, the White House told NBC News on Sunday night.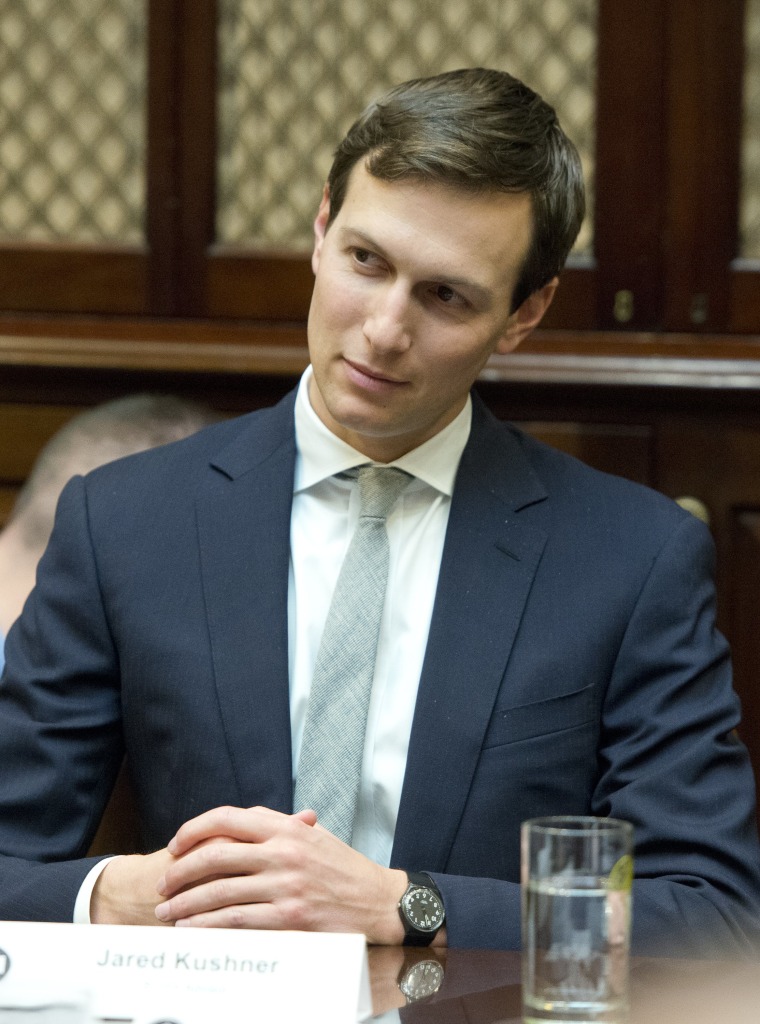 "All Americans, regardless of their political views, can recognize that government stagnation has hindered our ability to properly function, often creating widespread congestion and leading to cost overruns and delays," according to a statement issued Sunday in Trump's name.
"I promised the American people I would produce results, and apply my 'ahead of schedule, under budget' mentality to the government," the statement said.
Plans for the new structure, to be called the White House Office of American Innovation, were first reported Sunday by The Washington Post. The Post reported that Trump's chief strategist, Stephen Bannon, a highly controversial figure, would have no formal role in the operation.
"We should have excellence in government," Kushner told The Post in an interview Sunday. "The government should be run like a great American company. Our hope is that we can achieve successes and efficiencies for our customers, who are the citizens."
Kushner, 36, is married to Trump's daughter Ivanka. He was an influential figure in the presidential campaign and was appointed as a senior adviser to the new president in January.
Before his White House appointment in January, Kushner was a successful real estate developer in New York City and owner of The New York Observer, a weekly newspaper.
Kushner divested himself of many of his businesses and worked closely with the Office of Government Ethics to ensure that he wouldn't run afoul of federal ethics regulations, according to emails obtained last month by MSNBC.
The Associated Press reported that National Economic Council director Gary Cohn, Dina Powell, senior counselor to the president for economic initiatives and deputy national security adviser, Chris Liddell, assistant to the president for strategic initiatives, and Reed Cordish, assistant to the president for intragovernmental and technology initiatives would also be involved in the effort.
Federal anti-nepotism laws prevent relatives from being appointed to government positions. But the Justice Department's Office of Legal Counsel recently said the president's "special hiring authority" allowed him to appoint Kushner to the West Wing staff.