Donald Trump Jr., the eldest son of the president, acknowledged Sunday that he met with a woman who turned out to be a Kremlin-connected lawyer during the 2016 presidential election — after being told she allegedly had information that could help his father's presidential campaign.
Moscow said Monday, however, that it was unaware of who the lawyer is.
The New York Times first reported on Saturday that Donald Trump Jr. met with the lawyer, Natalia Veselnitskaya, prompting him to respond with a short statement confirming that the meeting occurred.
He said he attended "a short introductory meeting" with Veselnitskaya, where the topic of conversation was primarily about adoption. He added that the topic was not a campaign issue at the time and that there was no followup conversation.
"I was asked to attend the meeting by an acquaintance, but was not told the name of the person I would be meeting beforehand," he added in Saturday's statement. According to Donald Trump Jr., the meeting occurred in June 2016, and Jared Kushner, the president's son-in-law, and Trump campaign chairman Paul Manafort also attended.
Then on Sunday, The Times reported that Donald Trump Jr. attended the meeting after having been told that the person there had information that would be damaging to Hillary Clinton's campaign. The Times article, which was based on conversations with three anonymous White House advisers, said news of the meeting represented the first public indication that members of the 2016 Trump campaign were willing to accept Russian help.
Related: Lawyer Probing Russian Corruption Says His Balcony Fall Was 'No Accident'
Donald Trump Jr. then released a more detailed statement after the report Sunday.
"I was asked to have a meeting by an acquaintance I knew from the 2013 Miss Universe pageant with an individual who I was told might have information helpful to the campaign," Trump Jr. said in Sunday's statement. "I was not told her name prior to the meeting."
He added that he asked Kushner and Manafort to attend but that they knew "nothing of the substance."
"After pleasantries were exchanged, the woman stated that she had information that individuals connected to Russia were funding the Democratic National Committee and supporting Ms. Clinton," he said. "Her statements were vague, ambiguous and made no sense."
Donald Trump Jr. said that Veselnitskaya did not provide any details or information that related to Hillary Clinton and that the topic of conversation turned to U.S. adoption of Russian children.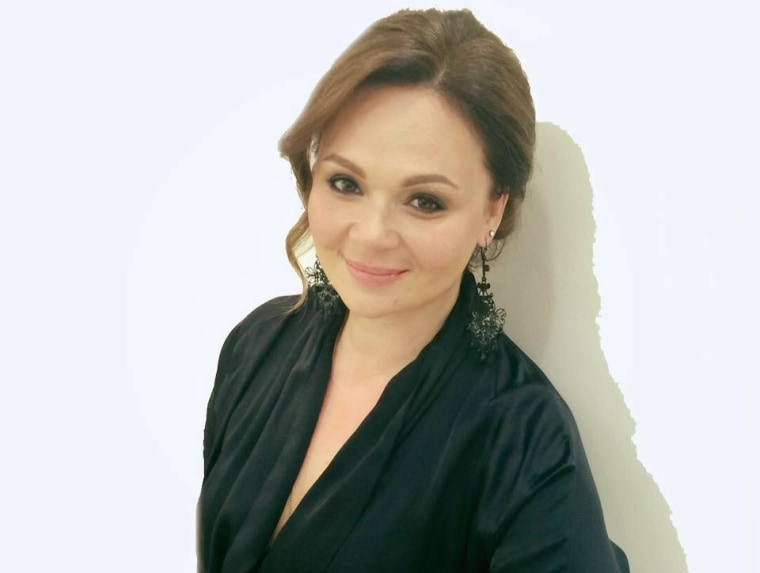 He claimed that the conversation continued to revolve around adoption and the Magnitsky Act, a 2012 law that barred Russian human rights abusers from entering the country. In response, the Russian government stopped U.S. families from adopting Russian children.
"It became clear to me that this was the true agenda all along and that the claims of potentially helpful information were a pretext for the meeting," Donald Trump Jr. said in Sunday's statement. "I interrupted and advised her that my father was not an elected official, but rather a private citizen, and that her comments and concerns were better addressed if and when he held public office."
The meeting took about 20 to 30 minutes, he added.
He tweeted Monday, "Obviously, I'm the first person on a campaign to ever take a meeting to hear info about an opponent... went nowhere but had to listen."
He then followed up with a tweet to a New York Post article with a headline that said, "The Times 'exposé' on Donald Trump Jr. is a big yawn."
On Monday, the Kremlin said that it was unaware of the meeting and did not who the lawyer is, according to the Associated Press.
It said that Russian President Vladimir Putin's spokesperson, Dmitry Peskov, told reporters that the Kremlin "cannot keep track" of every Russian lawyer and their meetings in Russia or abroad.
The Times had previously identified the lawyer as Veselnitskaya, a Russian national known to push the Kremlin's agenda and its continued battle against the Magnitsky Act.
Music publicist Rob Goldstone told The Washington Post on Sunday that he "arranged the meeting at request of a Russian client and had attended it along with Veselnitskaya." Goldstone has been involved with the Miss Universe pageant and worked for one of its sponsors, according to The Post.
Donald Trump Jr. said his father did not know about the meeting.
"The President was not aware of and did not attend the meeting," President Trump's legal team said in a statement.
Manafort and Kushner did not respond to NBC News' requests for comment, though Kushner's attorney confirmed on Saturday that the meeting did occur.
Kushner did not initially include the meeting on his national security questionnaire, which his lawyer, Jamie Gorelick, said was filed prematurely.
"Mr. Kushner has submitted additional updates and included, out of an abundance of caution, this meeting with a Russian person, which he briefly attended at the request of his brother-in-law, Donald Trump Jr.," Gorelick said. "As Mr. Kushner has consistently stated, he is eager to cooperate and share what he knows."
The U.S. intelligence community has concluded that Russia was the mastermind behind a series of hacks and propaganda campaigns to interfere with the 2016 election. NBC News has reported that senior intelligence officials believe — with a "high degree of confidence — that Russian President Vladimir Putin was personally involved.
On "Fox News Sunday," White House Chief of Staff Rience Priebus called the meeting a "big nothing-burger."
Special counsel Robert Mueller is leading a team of investigators that is looking into whether the Trump campaign coordinated with the Russian government's campaign. The House and Senate intelligence committees are also looking into Russian interference in the election.
Trump and his campaign have maintained that there was no collusion.
The president and Secretary of State Rex Tillerson met with Putin and Russian Foreign Minister Sergey Lavrov at the G-20 summit in Hamburg, Germany, on Friday, discussing the election and Russian-linked cyber-attacks.
Lavrov told reporters after the bilateral meeting that Trump had accepted Russia's denial of interference in the election, which would differ from the consensus reached in the U.S. intelligence community.
Related: Feds Suspect Russians Behind Cyber-Attacks on Power Plants
On Air Force One later that night, senior White House officials did nothing to push back on the allegation when asked about Lavrov's claims. Instead, national security adviser H.R. McMaster and Treasury Secretary Steve Mnuchin praised Trump for opening a dialogue with Russia.
"I think it's very important that President Trump had a very substantive dialogue with his counterpart on this," Mnuchin told reporters. "And it is very clear that there are many issues we need to open a dialogue on. And I think President Trump handled it brilliantly."
Muchin then deferred to the president when asked to comment about Trump's alleged acceptance of Russia's claims.
Trump wrote Sunday on Twitter that he had twice pushed Putin on whether Russia interfered in the election. Putin denied it both times.
"I strongly pressed President Putin twice about Russian meddling in our election. He vehemently denied it. I've already given my opinion ..." Trump said in a tweet that trailed off.
The day before he met with Putin in Germany, Trump said at a news conference in Poland that he believed it could have been Russia or "it could well have been other countries."
"Nobody really knows," he said. "Nobody really knows for sure."
"Now it is time to move forward in working constructively with Russia!" Trump added in a followup tweet.
A member of Trump's own party, Sen. Lindsey Graham, R-South Carolina, blasted the president for the meeting, calling it "disastrous."
"He is literally the only person that I know of that has any doubt about what Russia did in 2016," Graham said.