This story was originally published by The Center for Public Integrity, a nonprofit, nonpartisan investigative news organization in Washington, D.C.
DALTON, GA. — Beneath the "Buy American" roadside signs here, a globalist heart beats in this mostly rural corner of Northwest Georgia.
In the late 1980s, factories began eagerly hiring Mexican immigrants to help fuel a boom in the so-called Carpet Capital of the World. Automation and the 2008 recession went on to pare a lot of jobs. But plants of all sizes are back at it again, producing about half the world's carpeting as well as hard-surface flooring, a new signature product. Other shops nestled in the foothills of the Blue Ridge Mountains churn out everything from auto parts and appliances to goods made from chemicals, metal, wood and rubber. A sense of recovery is in the air.
Global investments flow in. Domestic sales and exports flow out. And just as many factories here turned to immigrants for manpower, they've also grown accustomed to foreign sources of materials — from Asia, Europe, Latin America — to make flooring and all kinds of other goods.
Click Here to Read the Full Version of This Story
"If I want to make something with quality," and an import helps, "I'm going to get it. I have to. I want to make money. That's the point," said veteran flooring worker Eduardo Osegueda, part of a migration that's brought the world into Dalton, a city of 34,000 that sits along Interstate 75.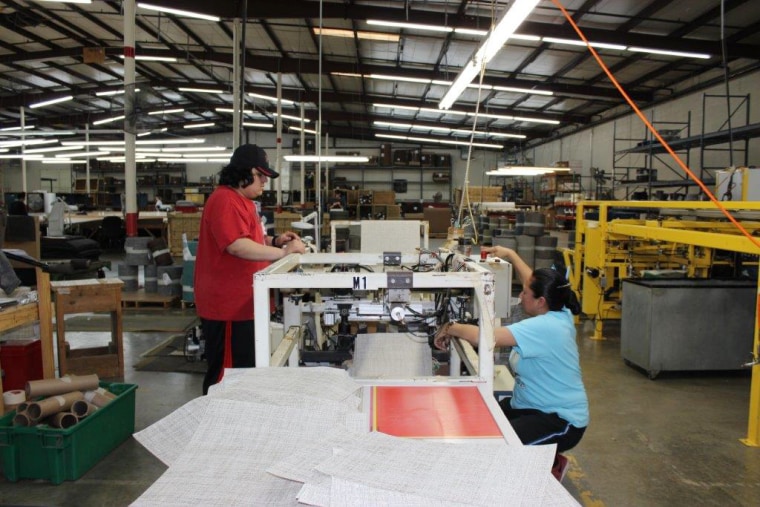 While most of the flooring made here is sold domestically, for housing and commercial space, carpet can also end up installed in vehicles, ships and aircraft bound for export. The Dalton area also directly exports more carpeting than anywhere else in the United States, primarily to Canada and Mexico. There's no doubt that global trade helps grease the wheels of the economy here.
And therein lies the irony.
Because this is Trump country. In a five-county region surrounding Dalton, three-fourths of voters cast their ballots for the former New York real estate developer. And yet, if the new president follows through on one of his frequent campaign promises — to get tougher with our trading partners — some economists believe that Northwest Georgia wouldn't become a beneficiary, but a victim.
Big time.
As he crisscrossed the country last fall, Donald Trump stoked populist passions of voters by vilifying other countries, especially Mexico and China, for "stealing our jobs." He vowed to both boost U.S. exports and "bring back millions of jobs" to the States. He threatened to slap hefty tariffs on imports coming from China and Mexico, two countries that account for a quarter of U.S. international trade. Just in the past month, he's banged the trade-war drum even harder, starting the process to renegotiate the North American Free Trade Agreement, NAFTA, with Mexico and Canada, and slapping countries with targeted tariffs.
But if Trump were to squeeze Mexico and China as hard as he's threatened, the resulting disruption in cross-border trade would have an impact all over the country, even for businesses that don't export themselves. In fact, Northwest Georgia would get hit with some of the worst job losses in the nation, from manufacturing to retail, according to a complex data analysis based on Trump's threats by the Peterson Institute of International Economics, a nonpartisan Washington, D.C., think tank.
Five of the 12 counties with the largest percentages of private-sector job losses, the institute's modeling found, would be clustered here in Northwest Georgia, just south of Chattanooga, Tennessee — Catoosa, Gordon, Murray, Walker and Whitfield.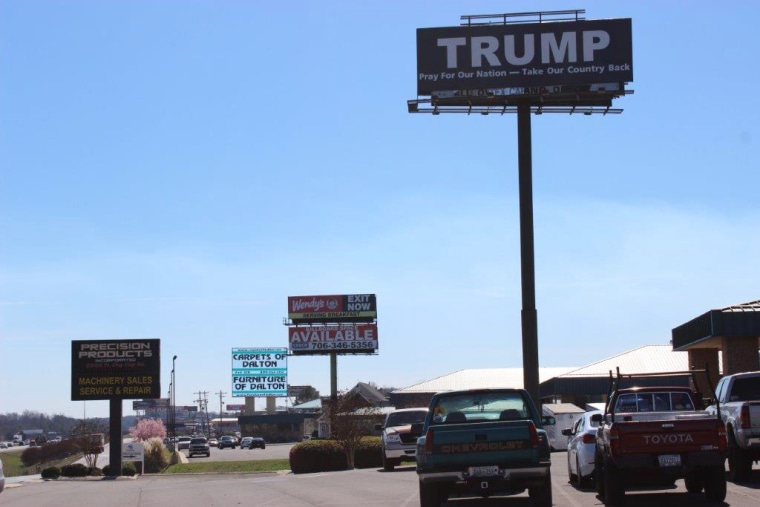 Murray County, population 39,315, would be the No. 1 loser nationally, with a crushing job loss of 18.3 percent in a trade war lasting more than a year. Whitfield, where Dalton is the county seat, would suffer a 12 percent slide in jobs, making it the No. 2 job loser.
"We're not talking Great Depression, but something as severe as anything experienced since," said study co-author Marcus Noland, an economist and Peterson vice president.
Winds of trade war?
Peterson's research didn't reverberate much beyond wonkish Washington, D.C., upon initial release last fall, but the forecast holds new currency now. Trump has started to hit countries with punishing tariffs — so far, narrow in scope — while aides prepare a broad list of trade terms the president might want to change.
Last month, Trump ordered the Commerce Department to investigate whether steel imports "threaten to impair the national security" — sparking Chinese official media to warn Trump to stick with using existing trade grievance systems or risk a trade war.
Trump also hit Canada with a new tariff of as much as 24 percent on softwood lumber imports. The president then sent shockwaves through Congress with a signal that he was poised to withdraw from the tariff-lowering North American Free Trade Agreement, NAFTA, with Mexico and Canada — only to suspend the threat hours later.
As a candidate, Trump made specific threats to hit Mexico and China with 35 and 45 percent import tariffs across the board. Trump — who has manufactured products in both countries — argued that stiff tariffs would drive up import prices, forcing U.S. companies to bring back factory work, and compel Mexico and China to acquiesce to trade reforms he'd want.
But Peterson's researchers argue that it's "fully plausible" that China and Mexico would react by slapping reciprocal tariffs on U.S. products. A trade war would ensue, and if it persists more than a year, the institute's model showed, 29 American counties would suffer job losses of 7 percent or more — and 20 states would suffer job declines of more than 4 percent.
"The U.S. economy is deeply integrated into the global economy, and to try to unwind that globalization would be enormously disruptive," Noland said.
Click Here to Read the Rest of This Story
The Center for Public Integrity is a nonprofit, nonpartisan investigative news organization in Washington, D.C.