President Donald Trump was overheard complimenting the first lady of France, saying she was "in such good shape," during a live video in Paris on Thursday.
After a photo-op, nearly an hour into a tour led by French President Emmanuel Macron, Trump turned to first lady Brigitte Macron.
"You're in such good shape," Trump remarked.
He then turned to French president to affirm that fact.
"She's in such good physical shape," Trump told him.
Trump then looks back at the French first lady and added, "Beautiful."
It is unclear what Brigitte Macron said in response.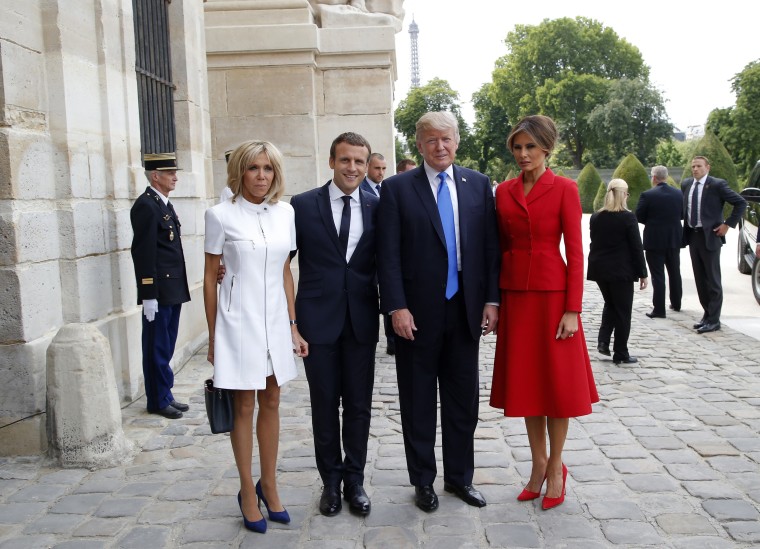 Trump then squeezed Melania's bicep and told her to "have a good time" before leaving her with the French first lady and departing with President Macron.
The entire exchange drew swift comparisons with previous remarks Trump has made about women's appearances.
Trump summoned over a female Irish reporter — Caitríona Perry, the Washington Correspondent and U.S. Bureau Chief for Ireland's state public-service broadcaster RTÉ News — to his desk last month as he spoke to Irish Prime Minister Leo Varadkar on the phone.
Trump praised her "nice smile" and told Vradkar on the phone that, "She has a nice smile on her face, so I bet she treats you well."
Critics at the time called the exchange inappropriate.
Related: Trump Defends Son's Meeting With Russian Lawyer
Earlier in the day, Trump and Brigitte Macron shared what much of social media labelled an "awkward handshake."
Some compared it to the long, white-knuckled shake Trump and President Macron shared in May.