President Donald Trump and his personal attorney are trying to get a lawsuit by adult film star Stormy Daniels transferred to federal court — and they claim she's on the hook for at least $20 million for violating a secrecy agreement signed just before the election.
An attorney for the actress accused the Trump team of "bullying tactics" for the legal maneuver, which is aimed at pushing the dispute into private arbitration.
"To put it simply, they want to hide the truth from the American people. We will oppose this effort at every turn," said Michael Avenatti, the lawyer representing Daniels, whose legal name is Stephanie Clifford.
Trump attorney Michael Cohen, with the consent of the president, filed a "notice of removal" on Friday that contends Clifford's suit should be moved from California state court to federal court because the parties live in different places and the amount at stake is more than $75,000.
Related: Another Trump lawyer signed Stormy Daniels gag-order documents
The new paperwork showed that Trump is being represented by Charles Harder, the high-profile attorney who won a $140 million verdict for Hulk Hogan against Gawker and who has also worked for Harvey Weinstein, Jared Kushner and a constellation of Hollywood stars. He also represented Melania Trump in her successful defamation suit against the Daily Mail newspaper.
Cohen and Harder did not respond to requests for comment from NBC News.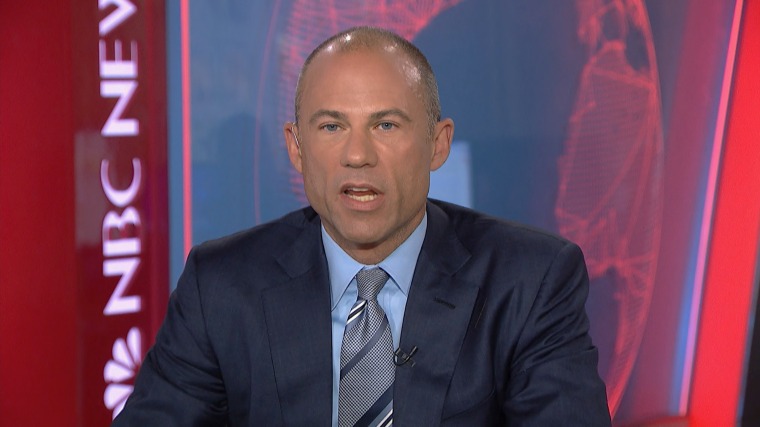 Clifford says in her lawsuit that she had an "intimate" relationship with Trump, who was married at the time, in 2006 and 2007. Trump denies the allegation.
In the fall of 2016, while Trump was running for president, Clifford signed a non-disclosure agreement in exchange for $130,000, the suit says. Cohen says he "facilitated" the payment with his own funds, through a company he created, and was not reimbursed by the Trump Organization or campaign.
Clifford's suit says that Trump never signed the agreement, making it null and void. She asked the Los Angeles Superior Court to declare it invalid, allowing her to speak with impunity.
Cohen had already secretly obtained a temporary restraining order against Clifford from a private arbitrator. He says the 2016 agreement specified that any dispute would be resolved through arbitration.
The removal notice says that the agreement calls for $1 million in damages for every breach and alleges that Clifford has broken it at least 20 times.
"This is simply more of the same bullying tactics from the president and Mr. Cohen," Avenatti said.
"They are now attempting to remove this case in order to increase their chances that the matter will ultimately be decided in private arbitration, behind closed doors, outside of public view and scrutiny.
"The fact that a sitting president is pursuing over $20 million in bogus 'damages' against a private citizen, who is only trying to tell the public what really happened, is truly remarkable — likely unprecedented in our history.
"We are not going away and we will not be intimidated by these threats."
The White House has sought to distance Trump from the Clifford dispute, while Avenatti has been highlighting ties between the president and the matter.
Cohen used his Trump Organization email to arrange for the transfer of funds before he wired the $130,000 to Clifford. And an in-house lawyer for the company also signed documents linked to last month's gag order.