President Donald Trump's tirade against NFL players who kneel during the national anthem received blanket news coverage, but that didn't help the ratings for NBC's "Sunday Night Football," according to Nielsen's early market data.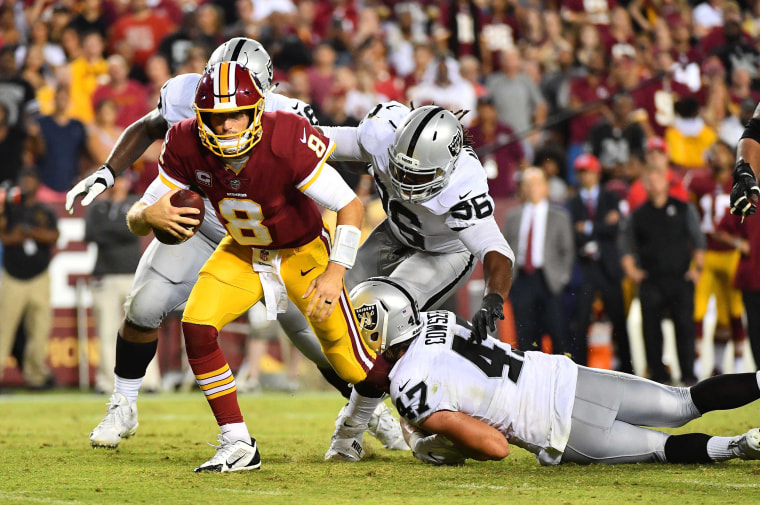 Sunday night's game, a 27-10 victory by Washington over Oakland, declined over the same week last year, when Chicago played Dallas. It had an 11.6 rating compared to last year's 12.9, and a 20 percent share, compared to 21 percent. (A rating is the percentage of all homes with televisions; a share is the percentage of viewers who were watching television at the time.)
CBS also took a hit to its national coverage of the Cincinnati-Green Bay game, which attracted a 13.8 rating compared to a 13.9 rating during its week-three coverage last year.
Related: Trump Cheers the NFL Fans Who Booed Players Taking a Knee
During last year's regular season, NFL ratings were off by 8 percent compared to the previous year, and during the first two weeks of this season, ratings were down 11 percent from the comparable period last year, according to Ad Age. The numbers this year may have been affected by hurricanes and politics, but they are also the result of a continuing drift away from live coverage of professional sports.
"In our minds, it's a trend that's ongoing with live TV in general," said Brian Hughes, a senior vice president of Magna, an advertising agency. "People are watching less and the thing people don't realize is that NFL's decline got a lot of attention last season but the decline was happening before that."
The latest numbers measure only metered markets and do not include data on live streaming to computers and mobile devices. Nielsen's numbers could change slightly later today.