President Donald Trump mocked the Democrats pushing the ongoing probe of his campaign's ties to Russia by posting a photo of Vladimir Putin having a doughnut and a coffee with New York Senator Chuck Schumer.
Calling the Democrat "a total hypocrite," Trump tweeted there should be "an immediate investigation" into Schumer and "his ties to Russia and Putin."
Schumer quickly tweeted back that he would be happy to talk about the 14-year-old Putin photo and challenged Trump and his team to talk "under oath" about their dealings with Moscow.
Schumer also clarified what exactly he and Putin were noshing on.
Schumer's spokesman Matt House also weighed-in with a dig at both Trump and Attorney General Jeff Sessions, who is under fire for not disclosing during his confirmation hearing that he met with the Russian ambassador during the presidential campaign.
A couple hours later, Trump fired off a series of tweets demanding that Rep. Nancy Pelosi, a California Democrat and the House Minority leader, also be investigated "for her close ties to Russia, and lying about it." He also posted a photo of Pelosi at a 2010 meeting with the Russian ambassador and other Democratic Party leaders.
Trump also misspelled the word "hereby" two times in his tweets, which he then deleted. The first time he rendered it as "hear by." The second time he spelled it "hearby." The president finally got it right in his third tweet.
In between the spelling-challenged tweets, Trump tweeted about how the U.S. education system is failing American children after visiting a Catholic school near Orlando, Florida.
Neither of the photos were exactly smoking guns. The Schumer photo was shot in September 2003 when Putin, who was the Russian president at the time, came to New York City to celebrate the expansion of the Russian-owned Lukoil gas stations. The event was covered by a number of news organizations. The Pelosi photo was of a meeting on Capitol Hill.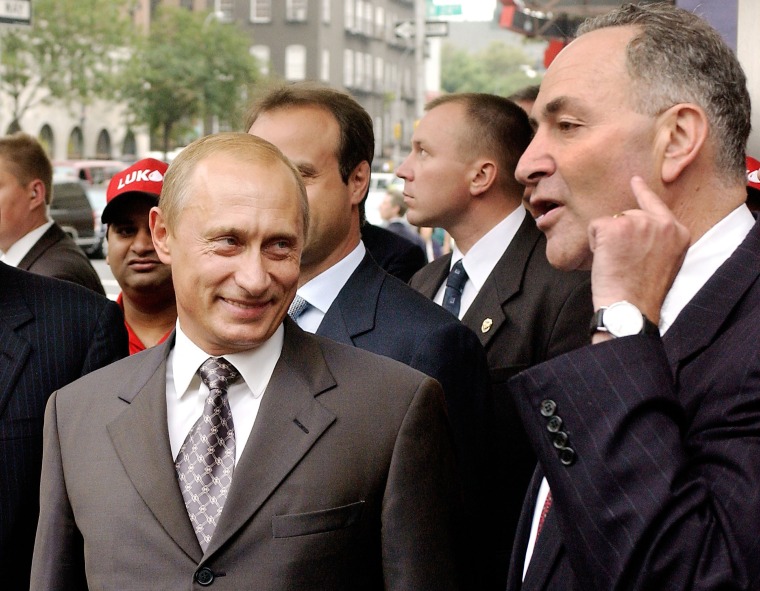 But several web sites, including The Drudge Report and Gateway Pundit, posted the Schumer/Putin picture after Sessions bowed to pressure and recused himself from any federal probe of Russian meddling in the presidential election.
Sessions has denied doing anything improper but conceded he should have told the Senate panel about the meeting with Ambassador Sergey Kislyak.
Trump has already repeatedly denied being in cahoots with Putin but has so far refused to reveal his tax records which could reveal any business dealings with Moscow.