President Donald Trump will participate in a separate private event at the new Civil Rights Museum in Jackson, Mississippi, on Saturday morning, rather than in the public ceremony. The decision came after the president's plan to attend the opening erupted into controversy.
The Mississippi Department of Archives and History and the White House agreed to have a separate event after a series of noteworthy civil rights leaders and speakers decided to boycott the event and local groups planned to protest.
Trump will tour the museum and speak at a private program in the morning, and the public ceremony will begin afterward.
"I think this was a diplomatic effort that will help solve this issue," said Mike Espy, a former Mississippi congressman and secretary of agriculture who served since the early 2000s on the state's committee to establish the museum.
Several people who worked on the museum told NBC News they had no idea that Mississippi Gov. Phil Bryant had extended an invitation to the president, and only found out when Trump accepted the offer earlier this week. Multiple people close to the situation have said staff at the museum scrambled to address the security surrounding Trump's arrival alone, but that disorder grew as speakers dropped out of the event.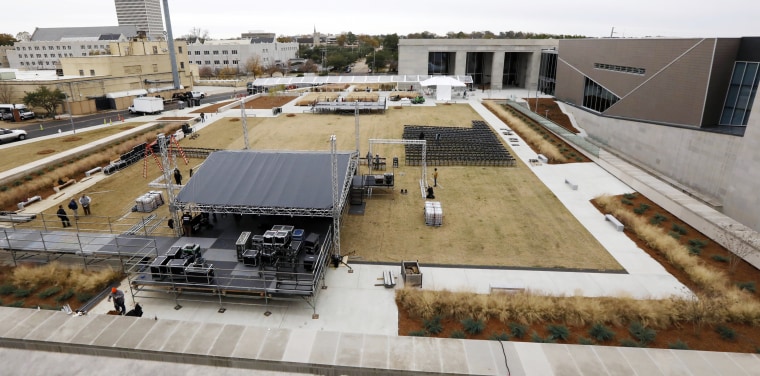 Espy, who said he made a few phone calls to help smooth out the situation, commended the work of the Mississippi Department of Archives and History for scrambling to help resolve the controversy.
"The fact that the governor of Mississippi invited him was sort of a surprise to us on the committee," said Espy. "We didn't find out that the president had agreed to come until two or three days ago."
Myrlie Evers-Williams, a civil rights activist and wife of activist Medgar Evers until his assassination by white supremacist Byron De La Beckwith in 1963, is one of the noted speakers who still plans to attend the public event, despite Trump's announcement. A source close to the Evers family told NBC News that Evers will attend the public ceremony, but will not take part in Trump's private event.
Related: Rep. Lewis: I Would Not Invite Trump to Selma
It is unclear whether she will address the controversy surrounding Trump's presence.
"Her intention is to speak from her heart about what the museum means to her, particularly during this period in American history," the source said.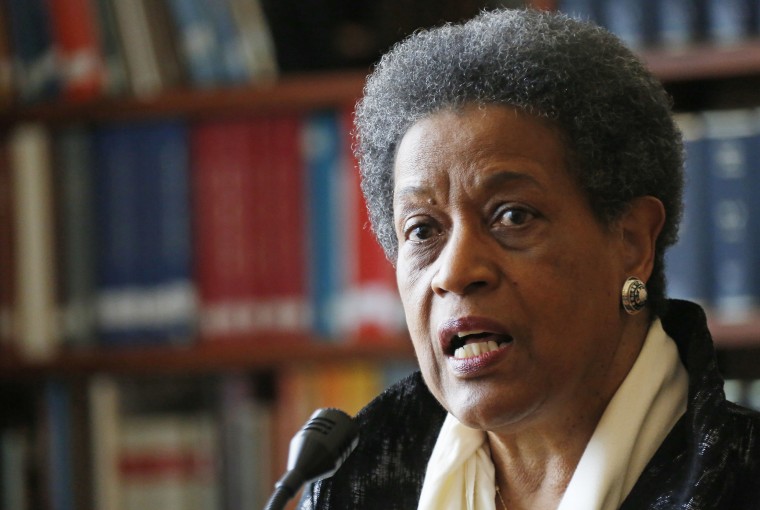 Despite her decision to attend, a growing number of speakers, noteworthy Mississippians and civil rights heroes who were to be honored have decided to boycott the event because they believe Trump to be a divisive figure who stands in direct opposition to the symbolism of the event.
Civil rights leaders and congressmen John Lewis, D-Ga., and Bennie Thompson, D-Miss., said in a joint statement on Thursday that they decided to boycott the opening of the museum because Trump had decided to participate. Mayor Chokwe Lumumba, the young progressive leader of Jackson, joined in the boycott on Friday, and former Secretary of the Navy and Mississippi Gov. Ray Maybus also said earlier this week that he would not attend because of Trump's perceived "support of white supremacists and racism."
Charles McLaurin, a noted leader in the civil rights movement who served as Fannie Lou Hamer's campaign manager when she ran for Congress in 1964, said he planned to be in Jackson with his wife on Saturday.
"I'm going to be in Jackson and I'm going to find out what's going with the black leadership, and I'll follow that lead," McLaurin said.
Espy, who became the first black man to represent Mississippi since Reconstruction when he was elected to Congress in 1986, said he does not think Trump should come to the opening, but added that he still planned to be at the museum on Saturday "to support the dignity of the event itself."
"The president is going to be here for however long he's going to be here, but this civil rights museum will be here in perpetuity," Espy said. "It is what it is. I just don't want it to be turned into a circus. It's a very cerebral and solemn event celebrating the contributions of civil rights heroes and it shouldn't be turned into a spectacle."