The Transportation Security Administration quietly changed its cannabis policy over the weekend to allow passengers to bring some forms of cannabidiol (CBD) oil, plus an FDA-approved marijuana based drug, on flights.
All forms of marijuana were previously prohibited in both checked and carry-on bags. But Sunday, the agency updated TSA.gov to reflect new regulations that allow FDA-approved medical marijuana and products that contain hemp-derived CBD oil. The CBD oil is allowed "as long as it is produced within the regulations defined by the law" under the 2018 Farm Bill, which federally legalized hemp and hemp derivatives. The development was first reported by Marijuana Moment on Monday.
Hemp derivatives contain little to no tetrahydrocannabinol, or THC, the psychoactive chemical in marijuana that produces a high.
The TSA's new rules still ban other forms of marijuana, including certain cannabis-infused products and CBD oils that have THC, which are still illegal under federal law. TSA officers are required to report any violations of that law. It is not clear how the TSA intends to check whether a product contains THC; a TSA spokesperson said that if there were questions of whether a substance was illegal under federal law, the issue would be referred to law enforcement for further adjudication, but that the TSA would not do the testing.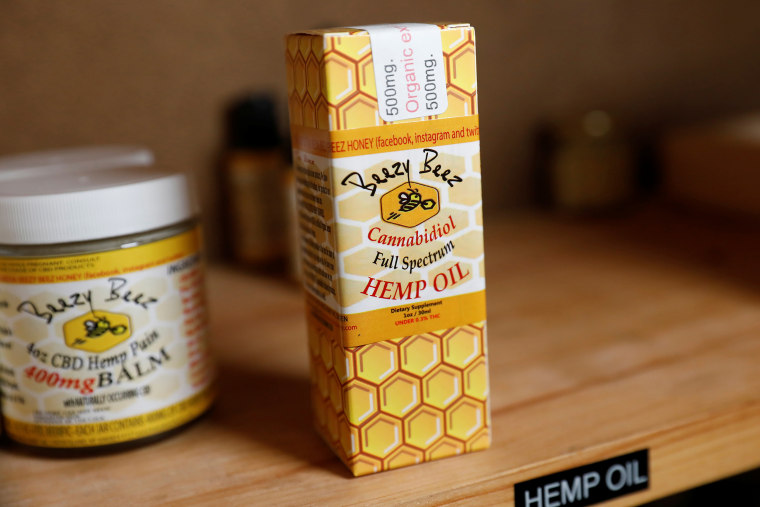 The change was prompted by the only Food and Drug Administration-approved drug that contains CBD oil, Epidiolex, which is used to treat seizures in children with epilepsy, the TSA said.
"To avoid confusion as to whether families can travel with this drug, TSA immediately updated TSA.gov once we became aware of the issue," the agency said in a statement to NBC News.
Epidiolex was approved by the FDA last June to treat severe, rare forms of pediatric epilepsy. The TSA spokesperson said the agency recently became aware of Epidiolex and updated its policy accordingly.
The TSA did not offer any other details on other CBD oil that its website says is allowed on flights now.
Regardless, the updated policy is welcome news for CBD advocates, especially after some passengers have been arrested for carrying CBD oil on planes — such as a 71-year-old woman who was arrested at Dallas Fort Worth International Airport earlier this month.
Ally Horner, the co-owner of Your CBD Store in Spring, Texas, 25 miles north of Houston, said questions about traveling with CBD products are common among her customers. She said she has always told them that it's not worth the risk, and instead advises them to take their CBD medication at home prior to their flight and then find a dispensary at their travel destination, or pay her store to ship them to them once they arrive.
"A lot of people are buying the CBD as an alternative to opiates, and having them be able to travel safely and not get into trouble would be huge for everybody."
Being able to bring CBD on flights with them, she said, "would be huge."
"A lot of people are buying the CBD as an alternative to opiates, and having them be able to travel safely and not get into trouble would be huge for everybody," she said.
Laws on marijuana, whether medicinal or recreational, vary by state. But federal transportation rules have always been strict: Previously, even passengers flying between two states where marijuana was legal were prohibited from bringing it on their flights.
Proponents say CBD offers a range of health benefits, both mental and physical. Research to support such claims is ongoing.
Horner, 26, started taking CBD oil for pain after she broke her leg in January. With a titanium rod and five screws in her leg, "I'm already going to set off a metal detector, so I'm already going to have anxiety about that" when traveling, she said.
"And not being able to take the CBD that helps with my anxiety and pain, that would send my anxiety through the roof," she said.