WASHINGTON — Airline passengers' carry-on bags are just too cluttered, so the Transportation Security Administration is testing new procedures that would require them to remove more stuff for separate screening at 10 U.S. airports.
The procedures are being tested because passengers are cramming so much into their carry-ons that TSA screeners have trouble spotting signs of explosives, the agency said Wednesday.
"It becomes a real challenge, because the more things you put in the bag, the harder it is for them to discern what is a threat and what's not a threat," John Halinksi, a former deputy administrator of the TSA, told NBC News.
The test sites include the nation's second-busiest airport, Los Angeles International, as well as other major hubs, like Detroit Metropolitan Airport and Logan International Airport in Boston.
Passengers already have to remove their laptop computers for separate screening, but now in the test airports, they'll also have to haul out all devices larger than a cellphone — including tablets and e-readers — said Darby LaJoye, the TSA's assistant administrator for security operations.
And "TSA officers may also advise travelers to place other carry-on items separately in a bin," LaJoye said — including food and books, which can obscure X-rays.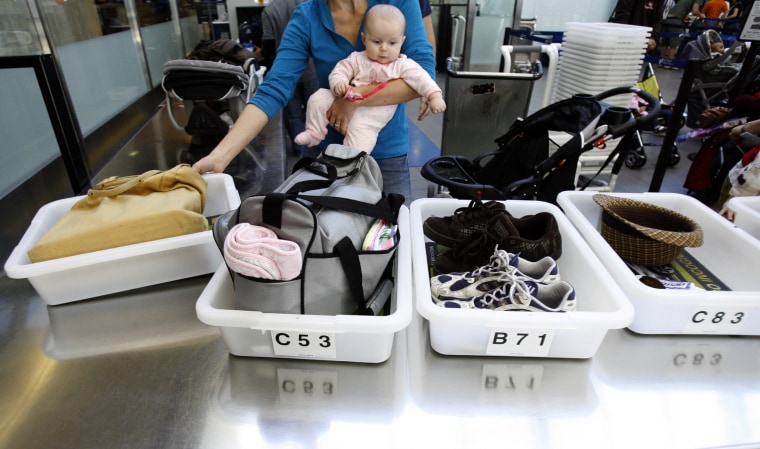 Passengers in the TSA's PreCheck program will not be subject to the new screening procedures, officials said.
The test is unrelated to reports that laptops could be banned on flights to the United States from Europe. Instead, normal screening of air passengers remains a monumental task, and there's no way around the inconvenience, Homeland Security Secretary John Kelly said recently in a speech.
"I think that is unavoidable until we can come up with a technology that you can just walk through and is perfect," Kelly said.
The TSA said Wednesday that while passengers are likely to undergo more bag checks, it is also "testing quicker and more targeted procedures" at the 10 airports.
It didn't say what those quicker procedures were. But if the test is successful, the new procedures could be rolled out nationwide, the agency said.
The 10 airports where the test is being run are:
Boise (Idaho) Airport
Colorado Springs Airport
Detroit Metropolitan Airport
Fort Lauderdale-Hollywood (Florida) International Airport
Logan International Airport in Boston
Los Angeles International Airport
Lubbock (Texas) Preston Smith International Airport
Luis Muñoz Marín International Airport in San Juan, Puerto Rico
McCarran International Airport in Las Vegas
Phoenix Sky Harbor International Airport