Transportation Security Administration whistleblowers told members of Congress Wednesday that poor leadership, a lack of oversight, low morale and widespread retaliation has led to a culture of fear at the beleaguered agency.
And all of this ultimately undermines the mission to help keep the nation's travelers safe.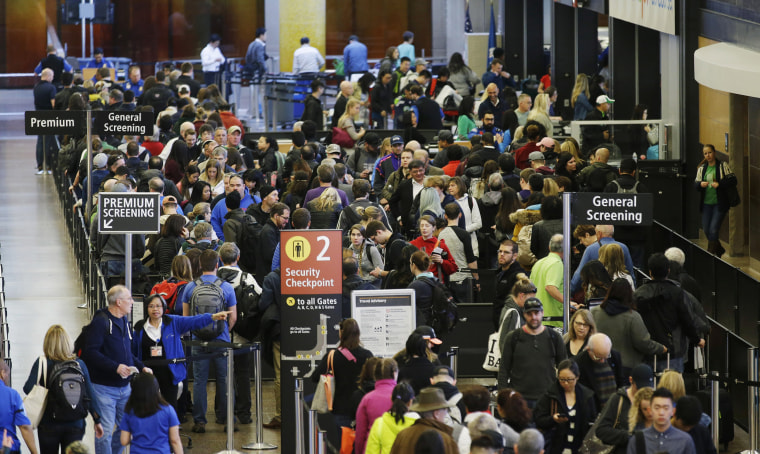 "If you tell the truth in TSA you will be targeted," Mark Livingston, a program manager with the TSA's office of risk management, told members of Congress. "I call it the Lord of the Flies —either attack or be attacked."
The House Oversight Committee is investigating allegations TSA officials gave hefty bonuses to supervisors who ignored security warnings and retaliated against employees who spoke up by reassigning them and giving them negative performance reviews. Dozens of TSA employees have come forward to speak with congressional investigators about abuses of power.
Related: TSA Chief: 'Chaos' of Brussels Attacks Motivates Agency Improvements
"I am concerned that TSA employees responsible for transportation security, intelligence and analysis fear their supervisors more than they fear a potential terrorist threat," Livingston told lawmakers.
Andrew Rhoades, an assistant federal security director for the TSA said he was told to profile Somali-American leaders and was accused by a supervisor of "going native" after attending a meeting at a Minneapolis mosque. Directions to profile members of that community also appeared in his midyear performance review with instructions to vet potential visitors with the agency's field intelligence officer.
"Going native…it's a disgusting, bigoted term," Rhoades said. "Those in the community in Minneapolis know I would never betray their trust with profiling."
The focus on TSA's practices comes as the agency faces stark criticism for long lines at security checkpoints, high employee attrition rates and allegations of waste, fraud and abuse. Last year, an inspector general testified that at TSA there are problems with technology, procedure and human errors and that "layers of security were simply missing."
Peter Neffenger, the TSA administrator who took over the role last summer, has issued policies clarifying roles, clamping down on abuse by more closely scrutinizing bonuses and reassignments and moving to address security lapses. Neffenger himself has said he inherited an agency with low morale.
"When you see someone doing something bad and it's not fixed it's demoralizing," Rep. Elijah Cummings told fellow lawmakers during Wednesday's hearing.
Despite Neffenger's efforts, work remains, Peter Brainard, a federal security director with the TSA, told members of Congress.
Related: TSA Chief Out After Agents Fail 95 Percent of Airport Breach Tests
"While the new administrator of TSA has made security a much needed priority once again, make no mistake about it, we remain an agency in crisis."
He added that part of the problem stems from a period between 2011 to early 2015 when the TSA chose employees to fill key senior leadership vacancies who were simply unprepared.
"TSA remains in crisis as a result of poor leadership and oversight of many of our senior leadership appointments which have taken place over the past several years, some of which still serve in key positions within our agency today," he said. "Our culture went into rapid decline after having gone unchecked by its leader and the various agencies and committees responsible for oversight, and for that reason we continue to have a crisis of leadership and culture."
And the disarray at TSA could mean lengthy delays for travelers.
"You remember the day after Thanksgiving," Brainard said. "That's going to be every day this summer."