The life and career of the white Oklahoma police officer who fatally shot an unarmed black man last week is now under a microscope.
Tulsa police Officer Betty Shelby, a five-year veteran of the force, has been charged with manslaughter for fatally shooting 40-year-old Terence Crutcher on a highway.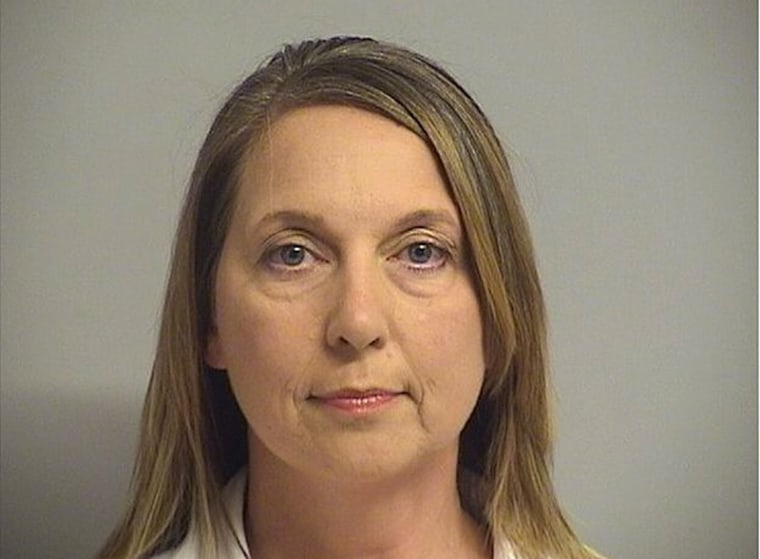 Cameras captured the deadly drama Friday after Shelby, 42, and other cops were called to a broken-down SUV in the middle of a road. And her husband, David Shelby, was at the controls of the helicopter hovering overhead and recording the confrontation, KRJH, the local NBC affiliate, reported.
Related: Terence Crutcher Remembered as a Church-Going Family Man
The latest fatal shooting of an African-American man by a police officer has infuriated the local black community and attracted the attention of Black Lives Matter protesters who are demanding greater transparency from the Tulsa Police Department.
Crutcher had his hands-up and was by the side of his SUV when Shelby fired with her gun while another officer simultaneously shot him with a Taser, police have said.
Shelby's lawyer, Scott Wood, insisted in an interview with NBC on Tuesday that Crutcher ignored his client's commands and appeared to be under the influence of narcotics, possibly the hallucinogen PCP that is also known as Angel Dust.
A vial of PCP was found in the SUV, police said.
This is what we know about Shelby and the fatal shooting.
A helicopter pilot that circled the area during the time of the shooting called Crutcher dangerous
The Tulsa Police Department on Monday released aerial video of the incident which includes unidentified pilots telling each other that they believed the "black dude" in the scene was dangerous and "needed to be Tasered" for not following commands.
Sgt. Shane Tuell, a Tulsa police spokesman, later said Shelby did not hear those remarks about Crutcher because they weren't made over shared radio communications. And while Shelby's husband was in the chopper, it's not clear if he made any of the recorded remarks.
Crutcher family lawyer Benjamin Crump insists the SUV's windows were up, so Crutcher could not have been reaching inside as Wood contends. Also, police have confirmed that no weapons were found on the victim or in his SUV, Crump said.
In addition, Shelby was also armed with a stun gun but reached instead for her gun, The Associated Press reported.
Shelby is a drug-recognition expert and has admitted to previously using marijuana.
Before she joined the Tulsa police in 2011, Shelby was a deputy for the Tulsa County Sheriff's Office.
In her 2007 application — which was publicly disclosed Monday — she circled "yes" when asked whether she had "possessed and used illegal drugs" in the past. The sheriff's office released a letter in which Shelby described using marijuana twice at age 18 during social gatherings.
Shelby has also completed drug-recognition expert training, police have said.
Shelby was in the Oklahoma Air National Guard before going into law enforcement.
Shelby, according to her police job application, worked at a QuikTrip convenience store before she signed up in 1999 for a trainee program with the Oklahoma Air National Guard.
In May 2000, she left the guard after spraining her knee.
Shelby also had a brief stint as a teaching assistant in Tulsa schools in 2001 and 2002 before pursuing a bachelor of science degree in biology at Northeastern State University in Oklahoma. She was hired by the Tulsa County Sheriff's Office in 2007.
Shelby had no disciplinary actions against her while working at the sheriff's office.
Her superiors said she and other deputies in 2010 pulled guns on a man who was trying to hide while a felony warrant was being served. But there was no record of disciplinary action against her, they said.
But in her job application with the sheriff's office, Shelby admitted to two domestic-related incidents involving the courts.
In 1993, she said, she and her then-boyfriend damaged each other's vehicles when they were breaking up. They had temporary restraining orders filed that were subsequently dismissed.
In 2002, she said, her ex-husband's new wife filed a protective order claiming Shelby made harassing phone calls to her. The protective order was later denied, Shelby said in her application: "The Judge saw that I was not guilty of the accusations made against me," she wrote.
Shelby has been praised for helping the community.
Tulsa police posted on Facebook when Shelby helped a couple locate their stolen property in August.
Shelby had "responded to gather information on the crime" and was able to retrieve the Joneses' unspecified stolen property and return it to them. The Joneses presented Shelby with a bouquet of flowers as a mark of their gratitude, police said.