Police arrested the daughter of Tulsa County District Attorney Steve Kunzweiler, who is accused of stabbing her father — the lead prosecutor in Oklahoma's second biggest county, authorities said.
Jennifer Kunzweiler, 30, remained in the hospital under police guard Wednesday, a day after she was arrested, Tulsa Police Capt. Richard Meulenberg said. When she is released, she will be booked on a single count of domestic violence with use of a dangerous weapon.
"Yesterday my family endured one of the toughest days in our lives," Steve Kunzweiler told reporters Wednesday. "Fortunately, my daughter is alive, I'm alive."
He said that although he was sore, he was doing fine. "I got some staples, but I'm doing fine." 
Kunzweiler, standing by his wife and younger daughter, appeared to fight back tears in recounting the attack.
"Mental illness is a terrible thing, and many families," he said before a long pause, "many families like ours have endured years of anxious-ridden concern for our affected loved ones. No one, no one wants to be mentally ill."
Police were called to Kunzweiler's home about 2 p.m. Tuesday "in reference to a disturbance and an assault related to his daughter," Meulenberg said in a statement Tuesday.
Kunzweiler and his daughter were taken to the hospital for non-life-threatening injuries after the "mental health crisis," Meulenberg said.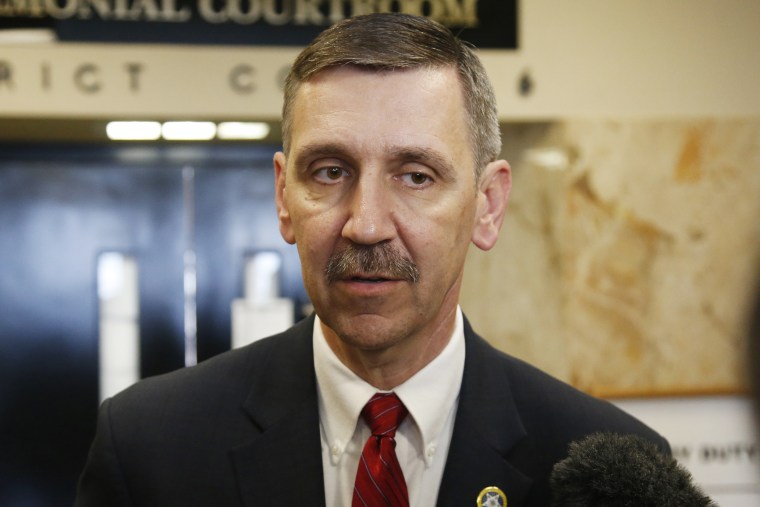 "What happened was his daughter and he got into an altercation of sorts where she had stabbed him," Meulenberg said. "The injury stemmed from a potential mental health crisis on the daughter's side, and then that led to the assault on her father."
Firefighters had to wrestle "with the daughter to get her under control," and the police department's "family violence unit and our crime unit are investigating this case like any other case," Meulenberg said.
The attack started with an act of self-harm, police said.
"She had cut herself first and then went on and attacked the DA," Meulenberg said Wednesday.
Steve Kunzweiler, who was first elected in November 2014, said he appreciated the fast work of first responders. He thanked firefighters, "who did what they had to do to intervene."
He decried the "exploding mental health crisis" facing the country and urged the state of Oklahoma to devote more funds to fighting the challenge.
Wagoner County District Attorney Jack Thorp has been assigned to the case, officials said, because of the conflict of interest created by members of the Kunzweiler family being both victim and suspect.