TULSA, Okla. — The traffic on Interstate 244 rumbled the ground as a crowd of about 200 gathered between the highway and the historic Vernon AME Church on Monday to commemorate the day a century ago that the church was nearly destroyed.
The Rev. Robert Turner, who serves as pastor of the church — one of the only structures to partly survive the race massacre in Tulsa's Greenwood neighborhood in which a white mob killed hundreds of Black residents in 1921 — dedicated a prayer wall to the massacre's victims.
"This is the largest crime scene in America that has never been investigated," he said.
Turner's address, alongside other religious leaders, was part of a series of ceremonies marking the centennial of the massacre in a community once known as Black Wall Street, which is getting new national attention.
Even though the anniversary is a somber one, many here said they are determined to celebrate the culture and community that Black Tulsans built — while using this moment to demand reparations for all that has been taken from them.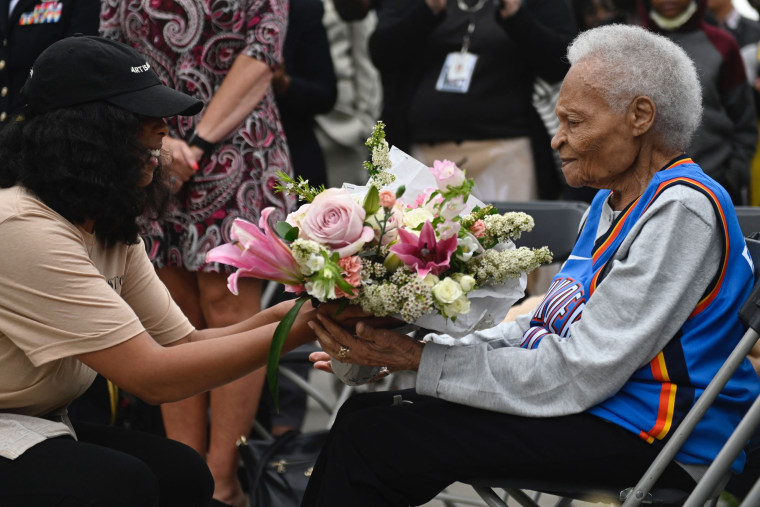 Mayor G.T. Bynum, standing on the sidewalk along Greenwood Avenue to watch Monday's commemoration, told NBC News it was important to him that the city engage in a fair process to determine the future of Greenwood, where much of the land is now owned by the city. The city has faced criticism for not prioritizing the massacre's survivors and their descendants in the redevelopment of Greenwood.
"Whatever happens needs to be a community-driven effort," Bynum said. "It's incredibly important to us that whatever we end up seeing happen here, that the community has pride in it, just like the community had pride in Black Wall Street."
Monday's commemoration began with a solemn ceremony in which half a dozen large jars, each labeled "Unknown" to represent the victims of the massacre whose names were not recorded, were filled with soil by speakers and attendees.
"We like to think about the soil, the land, as one of the only really tangible reminders of what has happened," said Kiara Boone, deputy director of community education at the Equal Justice Initiative, a racial justice organization. "The terrain of Tulsa has changed in 100 years, but the resilience, the power, the love of this community has remained consistent."
By Monday afternoon, most of the booths selling art and memorabilia had gone, as the rain intensified. But a crowd still gathered underneath the awnings of Greenwood's businesses, and more people lined up under the interstate overpass to get a plate full of barbecue. Among them was Harold Dorsey, who came back to Tulsa, where he had spent many years of his life, for the centennial.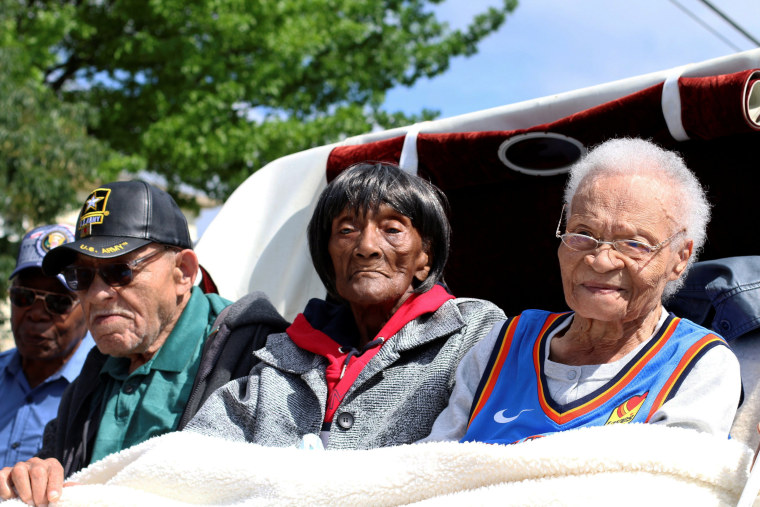 Dorsey, who is Black, recalled how the Greenwood of his childhood in the 1960s thrived before the highway choked much of it out. Money could change hands in the neighborhood a dozen times, he said, because everything you needed was within walking distance. "Things were just on the go, on the move. You could come down here and see just about anybody and everyone you wanted to, and there were theaters right over there," he said. "It was kind of like family."
You can't ignore what the highways did to Greenwood, Dorsey said, and he worries that it won't be possible for the neighborhood to return to what it once was. Dorsey said there are a lot of young Black entrepreneurs in Tulsa who would want to build businesses here — if the city gives them the opportunity. "It will take a lot more investment," he said.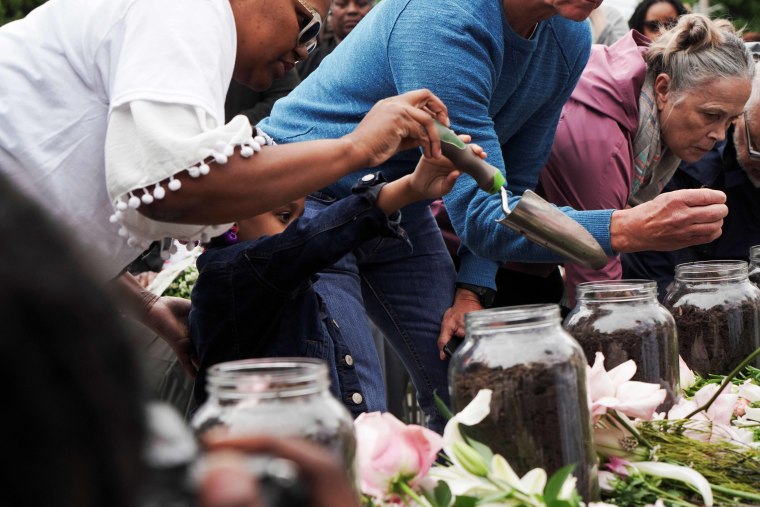 A couple hundred people gathered at Greenwood Avenue and Archer Street in the chilly night air for a vigil to commemorate the moment 100 years before from the moment a white mob pillaged the prosperous Black neighborhood, murdering hundreds of people and displacing thousands more. The violence stretched into the next day, culminating in the looting of Black homes, with armed white mobs rounding up survivors and placing them in an internment camp.
At 10:30 p.m. Monday, the street lamps on the block went dark as a gentle chorus of "hallelujah" that spread through the crowd turned into one of "Greenwood rising." The rain continued to trickle down, as it had for most of the day, causing many to turn to the person next to them for help keeping their light going.
Linda Parker Hall grew up in Greenwood in the 1950s and 60s. Standing on the corner, Hall said the sense of community and resourcefulness in the neighborhood during that time was really special. She wants to see continuous business growth here today, as well as affordable housing. But she's less certain that it will come from the government, local or federal.
"We can't wait for the government to do it for us, we're going to have to do ourselves ourselves," she said. "When Tulsa was destroyed, who put it back together?"
President Joe Biden will visit Tuesday, the day that officially marks the centennial. While Biden's visit is not expected to be public, he will tour the Greenwood Cultural Center across the street from Vernon AME Church.
On Monday, Biden signed a White House proclamation declaring a day of remembrance, which called upon Americans to remember those who were killed as well as those who survived, and to "commit together to eradicate systemic racism and help to rebuild communities and lives that have been destroyed by it."
Former Georgia gubernatorial candidate Stacey Abrams and musician John Legend had been scheduled to headline a "Remember and Rise" event Monday, but it was canceled because of a disagreement between the event's organizers and representatives of massacre survivors and their descendants over funding for reparations.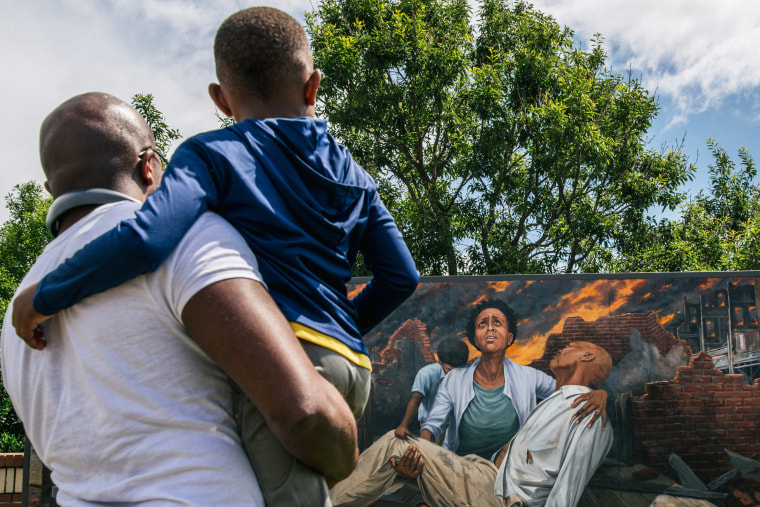 A state commission in 2001 found that the damages to Greenwood in 1921 would equal nearly $30 million. However, no reparations have been paid to survivors or their descendants, and no people or entities have been held criminally liable. That has left many here skeptical that anything will change in Tulsa, a city that remains largely segregated.
"The proof is in the pudding," said Guy Troupe, co-owner of the Black Wall Street Liquid Lounge, a coffee shop south of the one remaining block of businesses in historic Greenwood, on Friday. "What matters is what happens six months, a year, two years from now," he said, referring to the discussions about equity and reparations.
Like many others here, Troupe sees how little input the descendants of Greenwood have in the future of the land. He is among many asking Tulsa's leaders to acknowledge the city's culpability in the massacre and the subsequent decades of redlining and urban renewal that destroyed the strong community and businesses Black residents had rebuilt. As the city redevelops Greenwood's vacant lots and buildings, Troupe is also among many residents asking that the city take this history into account when deciding who can lease the land it now owns in Greenwood.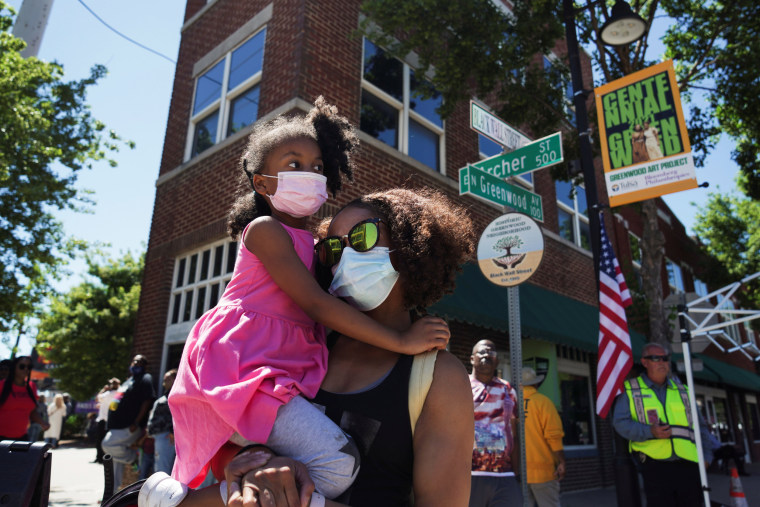 Monica Smith, 59, a Black resident, said she had little expectation that the city of Tulsa would commit to make Greenwood prosperous again.
"They need to stand by their word," she said.
Smith said she came out to Greenwood on Saturday to show her support for Black pride and organizing. "This is amazing," she said before she joined in a chant of "I love being Black!"
Graham Lee Brewer reported from Tulsa; Elizabeth Chuck reported from New York.