A Turkish gold trader who has become a star witness in a U.S. sanctions-busting trial testified Tuesday that he paid $45,000 in bribes to a New York federal prison guard for alcohol and use of a cellphone.
But that was just pocket change for Reza Zarrab. He also told the court that he made up to $150 million in commissions for secretly moving Iranian oil and gas money through American banks in violation of U.S. sanctions.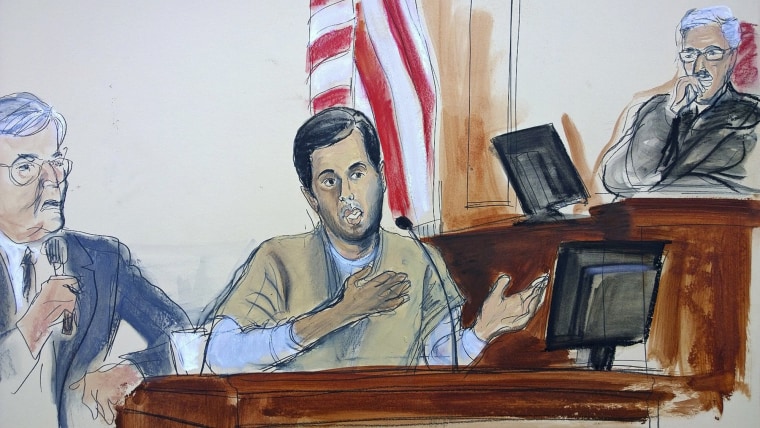 The details emerged as Zarrab, in his fifth day on the stand in federal court in Manhattan, was cross-examined by a defense lawyer for Turkish banker Hakan Atilla, who is on trial.
The jury had already been told that Zarrab was caught bribing a guard, but on Tuesday they learned how much was paid and that Zarrab's Turkish attorney served as the go-between. Zarrab also said that he smoked synthetic marijuana while in prison.
Zarrab, 34, was jailed for more than a year before he cut a deal with prosecutors and agreed to testify against Atilla, his former co-defendant.
On Tuesday, he was asked about his hiring of Rudy Giuliani, the former New York mayor, and Michael Mukasey, the former U.S. attorney general, to find a "political" resolution after prosecutors initially rebuffed his bid for a cooperation agreement.
Related: Zarrab consulted fortune tellers about U.S. trial
"Within the bounds of law, they did make efforts," Zarrab said.
"You believed this was going to work for a year, correct?" the banker's defense lawyer, Cathy Fleming, asked Zarrab.
"I thought it may become possible," Zarrab said.
Fleming pressed him: "And in fact you are furious with people in Turkey that it did not work. Is that true?"
Zarrab denied it. "I don't have any anger towards anyone, ma'am," he said through a translator.
It was previously known that Giuliani and Mukasey traveled to Turkey and met with officials on Zarrab's behalf after he was arrested in Miami on his way to Disney World in March 2016. Zarrab indicated they were trying to work out some kind of U.S.-Turkish prisoner exchange for his freedom.
He said that his lawyers tried to ink a plea deal with prosecutors in August 2016, but prosecutors weren't interested. But in August 2017, after Atilla was arrested on a business trip to the U.S., prosecutors restarted talks.
In her cross-examination, Fleming underscored that Zarrab had lied to FBI agents when he was first arrested and will likely get a reduced sentence for testifying against Atilla.
"You have very much wanted to be out of jail since you were arrested?" she asked.
Related: Did Giuliani try to cut deal for Iranian's freedom?
"That is absolutely correct," Zarrab said, conceding that he has discussed the possibility of being freed on bail after the trial is over but before he is sentenced.
The defense says that Atilla was a dupe in the money-laundering scheme and that the real villains are Zarrab and others named in the indictment who are not on trial because they are still in Turkey. Zarrab admits he never paid Atilla bribes, had just a few meetings with him and didn't have him listed in his phone contacts.
By contrast, Zarrab says he paid $60 million in bribes to the former economic minister of Turkey, and court records show that he was in close contact with the head of Halkbank, Atilla's boss.
In the most dramatic moment of the trial, Zarrab implicated Turkish President Recep Erdogan in the sanctions-evasion operation.
Erdogan, who asked both the Obama and Trump administrations to drop the case, denies wrongdoing and says the trial is a conspiracy by the U.S. to weaken Turkey. Turkish authorities, meanwhile, have begun tightening the screws against Zarrab since the trial started, detaining 17 of his associates and announcing plans to seize his assets, according to the state-run news agency.
Zarrab, who is married to a famous Turkish singer, is fabulously wealthy, according to court documents, which detailed how he was building a yacht longer than a football field with three personal submersibles. Fleming also asked Zarrab if his chauffeur was stopped at the Turkish border with $150 million in cash in 2007, which he denied.