Hollywood writers and producers negotiated past a midnight Monday deadline into the early hours of Tuesday, trying to avoid a strike that threatens to slow production of television shows and movies for the first time in nearly a decade.
The contract for the Writers Guild of America (WGA) expired at midnight, Pacific Time. Without a settlement with the Alliance of Motion Picture and Television Producers (AMPTP), about 12,000 WGA members could walk off the job as soon as Tuesday.
The guild's instant "pencils down" policy would mean that shows that work on a quick-turnaround — notably day-time soap operas and late-night talk programs like "The Tonight Show Starring Jimmy Fallon," "The Late Show with Stephen Colbert" and "Jimmy Kimmel Live" – would be out of topical material immediately.
While episodic dramas and comedies have some episodes in the bank, they would also run out of new shows in fairly short order. Previous strikes by entertainment writers have typically dragged on for months. The Hollywood scribes walked out most recently in late 2007 into early 2008, a 100-day strike that forced hit shows like "E.R.," "Breaking Bad" and "30 Rock" to shorten their seasons.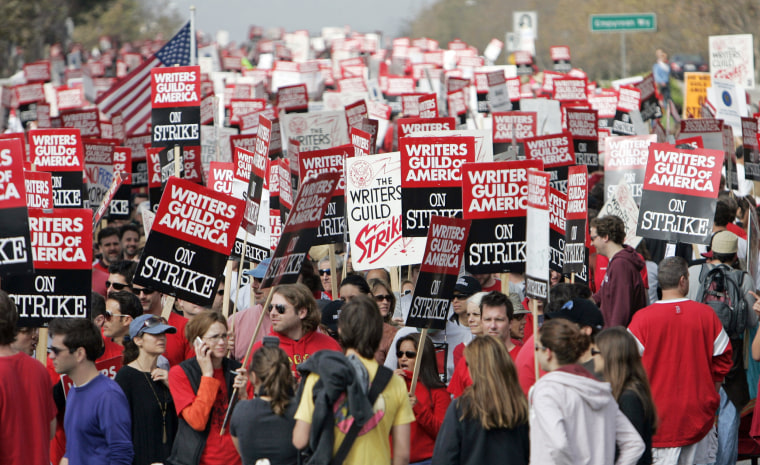 Industry analysts said the last strike also cemented the rise of unscripted or "reality" programming, with shows like "The Amazing Race" and "Big Brother" filling scheduling holes left when scripted shows went dark.
Representatives of the two sides negotiated through last weekend and into the day Monday, looking for a resolution, as writers demanded increased support from the studios for their health care plan, as well as improved rules to shore up their compensation. A particularly ripe issue was how writers should be treated when they work for television and streaming shows shoot fewer and fewer episodes per season.
Official representatives of both sides adhered to an official "no comment" period Monday. But union activists — many of whom participated in a pro-labor May Day March in Los Angeles Monday — said they were willing to hit the picket lines, if necessary, but also terrified at the prospect of a protracted impasse.
"I genuinely do not know how this is going to end," said one union activist, who declined to give his name, because the union had ordered writers not to speak to the press. "They have told us we have to be prepared and that is scaring the bejesus out of everyone. We are in a heavy-duty game of chicken right now with the producers."
Though a previous strike authorization vote mean picketing could begin Tuesday, union representatives said they expected their negotiators to present management's final offer to the guild to members, before asking them to walk off the job.
The writers argue that they are entitled to a bigger share of the revenues being produced by the big six entertainment conglomerates — CBS, Comcast, Disney, Fox, Time Warner, and Viacom. (NBCNews.com is a unit of NBCUniversal, which is a member of the AMPTP.)
The six companies banked nearly $51 billion collectively in operating profits in 2016, more than double what they earned in 2005, according to the WGA.
Trying to up the pressure on the producers' AMPTP, the WGA in recent days has said via Twitter that writers want $1 out of every $500 in profit the big media companies haul in. The WGA said its demands would cost the studios a total of $103 million to fulfill, a figure the guild said is a fraction of the nearly-$320 million paid to the CEOs of the big six conglomerates in 2016.
"Who's GREEDY and who's REASONABLE? You decide. #WGAUnity," concluded the WGA's tweet.
A spokesman for the producers alliance did not respond to a request for comment.
Writers have become distressed in the last few years by the collateral impacts that have come with a new era in episodic entertainment. More and more programs are shifting to cable and streaming services, which often order up a dozen or fewer episodes per year, compared to the 22 or more shows once standard for network programs.
Some of the production companies making those shortened series want to keep writers tied up on contract for the old contract periods, so they can make the programs at their own pace and allowed flexibility scheduling "talent" — the actors and directors who often migrate between multiple projects.
The impact is that the writers are paid less per episode, a couple of writers said in interviews with NBC News. They said one solution would be to put tighter limits on the amount of time they can be locked up making short-form series.
Three writers interviewed by NBC News said they preferred to remain on the job. All three are currently working on episodic programs, said they are making solid money and can't afford a strike. Though they sympathize with the goals of the WGA, they worry about going without a paycheck.
The writers hoped to increase their leverage over producers with their overwhelming vote one week ago to authorize a strike, in the event of failed contract talks. Some 96 percent of those who voted said they were prepared to stop working, if need be.
An internal memo between union organizers, quoted by Variety, predicted that negotiations could go "down to the wire". The memo, between union captains planning for the possible strike, suggested talks could be extended "for a few days after May 1."
A Hollywood agent who represents many writers said his clients who are working uniformly oppose a strike.
But in a cyclical business that includes many down periods in between work, other screenwriters don't have jobs right now. The agent said he was "terrified" that those unemployed writers would be more inclined to push for a strike, one that the agent predicted would hurt both sides.
A union activist disputed that notion, saying that the WGA's negotiating team was made up of seasoned writers, who would not push for a strike just to "send a message" to producers or the entertainment conglomerates.