Television broadcasting legend and former NBC chairman Grant Tinker died peacefully at his home in California on Monday at age 90.
The Television Hall of Fame inductee was the former husband of actress Mary Tyler Moore, and their union helped produce MTM Enterprises, which in its heyday not only spawned the hit "Mary Tyler Moore Show," but also genre favorites like "Rhoda," "The Bob Newhart Show," "St. Elsewhere" and "Hill Street Blues."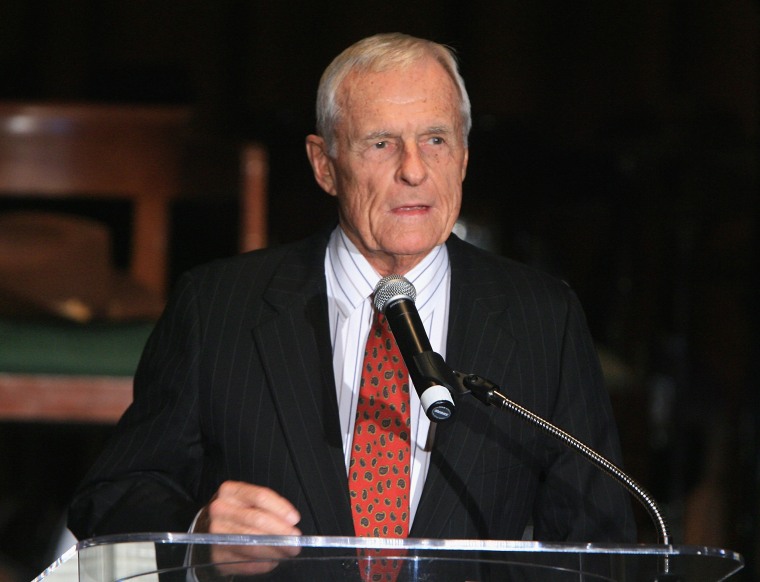 Tinker may have made his most lasting mark on entertainment during his time at NBC.
When he took over the peacock network in 1981, it was routinely finishing a distant third to competitors ABC and CBS. Tinker, embracing his mantra of "first be best, then be first," led NBC back to prominence alongside the late head of NBC's entertainment division Brandon Tartikoff, with a formidable run of blockbuster shows including "Cheers," "The Cosby Show," "Family Ties" and "The Golden Girls."
"Grant Tinker was a great man who made an indelible mark on NBC and the history of television that continues to this day," said NBCUniversal CEO Steve Burke. "He loved creative people and protected them, while still expertly managing the business. Very few people have been able to achieve such a balance. We try to live up to the standards he set each and every day. Our hearts go out to his family and friends."
Tinker, who leaves behind two sons, won a prestigious Peabody Award in 2004, when he was hailed as "a central figure in the world's electronic media" by the late "60 Minutes" anchorman Morley Safer.
"Getting paid to work in television is like stealing," Tinker said while accepting that honor. "It was just too damn much fun."