Twenty years ago, a truck bomb went off outside the Alfred P. Murrah Federal Building in Oklahoma City, Oklahoma, killing 168 people and injuring hundreds. Two convicts, a commander-in-chief seeking to comfort his nation, heroes and survivors emerged from the attack, which until Sept. 11, 2001, was the worst terrorist attack on U.S. soil and is the worst act of domestic terrorism in American history.
Here's a look at where key figures from that day are now.
Terry Nichols
The explosion was set off by Timothy McVeigh, an anti-government militant. McVeigh was executed in 2001 at an Indiana federal prison; his lethal injection was broadcast through a closed-circuit feed in Oklahoma so survivors and relatives of victims could see him put to death.
His co-conspirator, Terry Nichols, was convicted of 161 counts of first-degree murder, which included one count of fetal homicide for killing an unborn child, and other charges. A jury deadlocked on the death penalty, so Nichols, 60, is currently serving multiple life sentences with no possibility of parole at a federal penitentiary in Colorado.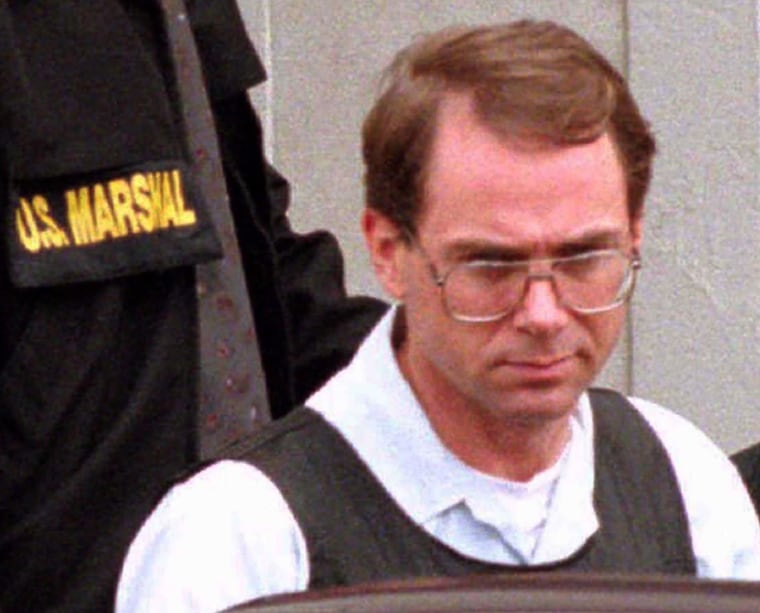 Bill Clinton
President at the time, Clinton declared a federal emergency in Oklahoma City while comforting Americans who were in shock over the attack.
"You have lost too much, but you have not lost everything. And you have certainly not lost America, for we will stand with you for as many tomorrows as it takes," he said in a moving speech from an Oklahoma City prayer service on April 23, 1995, four days after the bombing.
While Clinton's focus is now on the health, economic and climate change work he does through his foundation, he has paid tribute to Oklahoma City victims throughout the years. On the fifteenth anniversary of the bombing, Clinton wrote an op-ed in the New York Times about lessons learned from the attack. He will speak at Sunday's 20th anniversary remembrance ceremony in Oklahoma City.
The firefighter in the iconic photo
The tiniest victims were in a daycare center in the Murrah Building. Nineteen children died that day, including Baylee Almon, a 1-year-old who had her birthday just the day before.
In a photo that became the most symbolic image of the attack, Oklahoma City firefighter Chris Fields is seen cradling limp, bloodied Baylee, who's covered in soot.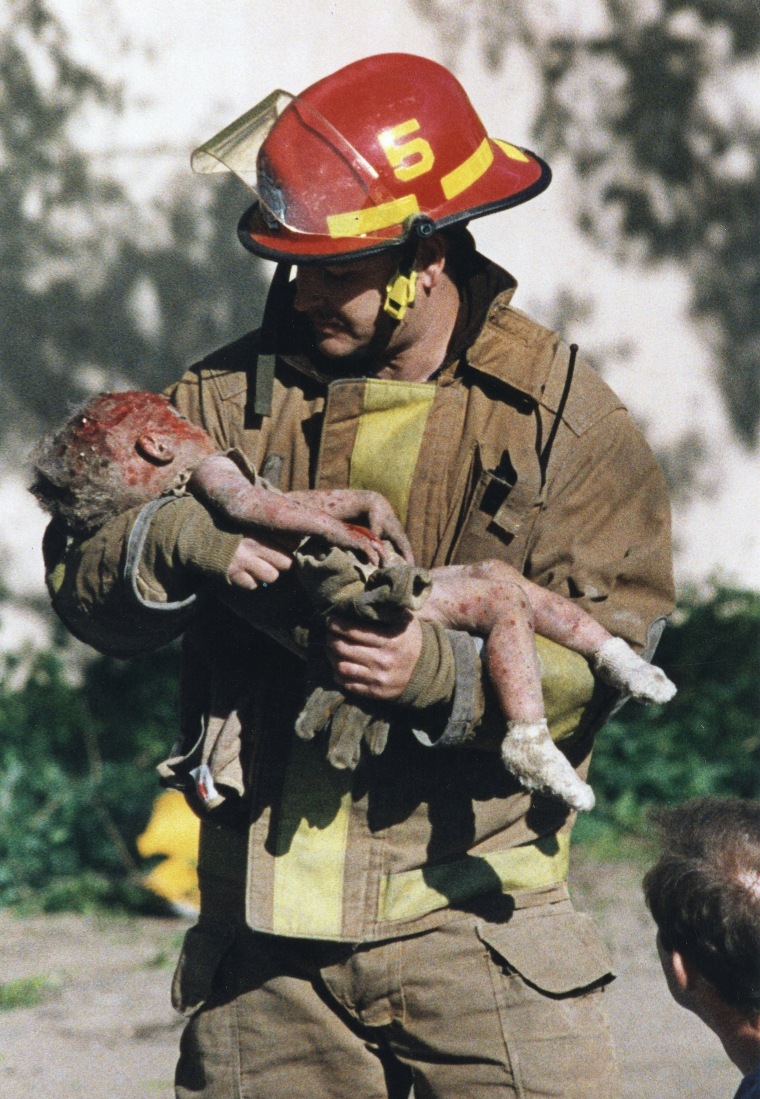 Fields is now approaching his 30th year as a firefighter and told NBC Nightly News that he took on a big brother role to Baylee's mother after the bombing.
"I was the last one to hold her baby," he said, his voice breaking. "It's still emotional to talk about it."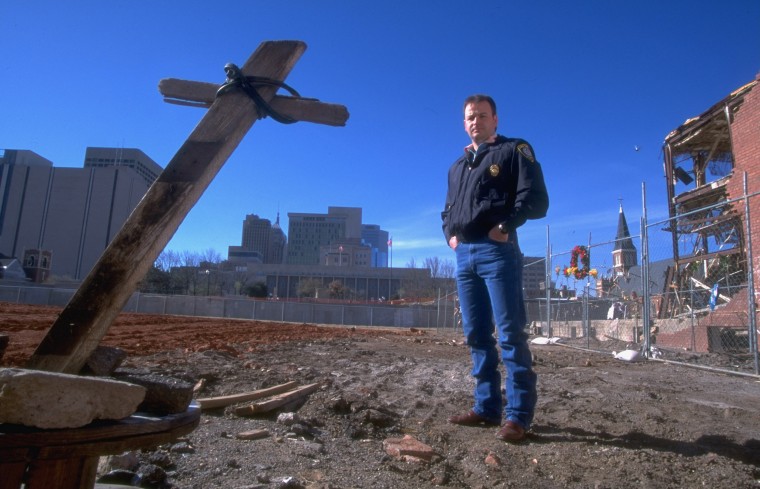 Speaking about the photo, he told the Tulsa World earlier this week, "I've heard people say that it kind of wraps everything up into one picture, and I guess that makes sense.
"You know, you look at it and you can see everything, the rescue effort, the innocence that was lost. It's all wrapped up in one image. I know I'll never be able to forget her."
The unexpected prize-winning photographer
The photo of Fields and Baylee was plastered on newspapers' front pages around the world, and won a Pulitzer Prize. It was taken by Charles Porter IV, an aspiring photojournalist and banker who was 25 years old.
Porter has largely stayed out of the spotlight since the photo was taken, doing only sparse media interviews.
He told the Newseum in Washington last month that he ran to his car to get his camera as soon as he heard the blast, which sounded like "a sonic boom."
"I didn't know that I had taken this picture, oh man, I framed that one great. No. It was just automatic," he said.
Porter didn't know right away that he had an iconic photo. He had it developed at a nearby Walmart, then submitted it to The Associated Press after a friend told him he should. He was shocked by the resulting global media response.
"I didn't know how to handle it," he said.
Baby Baylee's mother
Aren Almon-Kok was a 23-year-old single mother when Baylee was killed in the bombing. She spoke to NBC Nightly News about how hard anniversaries — Baylee's birthday, the day of the attack — have been for her.
"People talk about closure, and I don't think there's necessarily any. I think you just kind of learn to live with it differently," she said. "She would've been 21 this year, so that's been tough ... I just feel like a part of me is gone."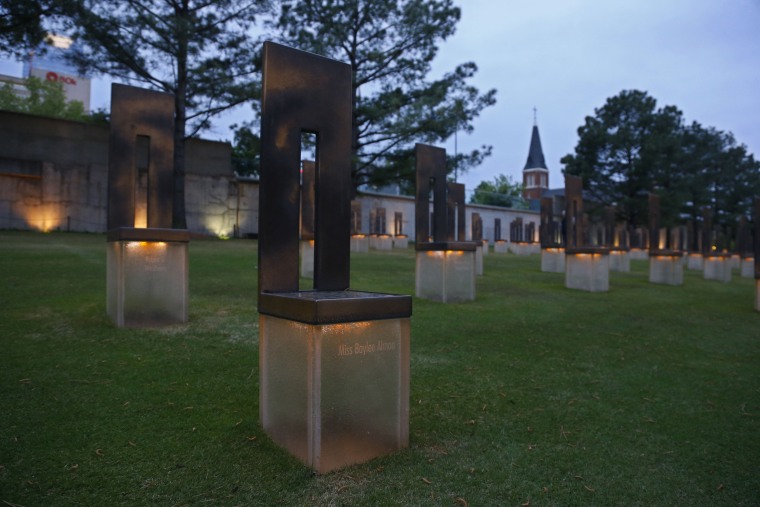 Now married with two children, Almon-Kok said the photo represents so much more than just the death of her daughter.
"When I look at it, I don't see Baylee. I see a symbol. And that's basically everybody that died in the building that day was somebody's child. Everybody was loved by somebody."
Almon-Kok and her family throw a birthday party every year in Baylee's honor, and she's stayed in touch with Fields, the firefighter.
The youngest survivor
PJ Allen was barely 2 when the bomb tore through his daycare center at the Murrah Building. He had broken bones, burns over 55 percent of his body, lung damage from breathing in debris, and a tracheotomy tube until he was 10. He was in the hospital for three months after the attack, and still has trouble breathing.
"Whenever I look at or go through any of the limitations I have to deal with, any of the after- effects of that day, I just look at it as a blessing. What happened to me was what needed to happen for me to survive," Allen, now 21, said. He and Joe Webber, another survivor from the daycare, sat down for an interview with NBC Nightly News; they were two of only six children at the daycare to make it out of the building.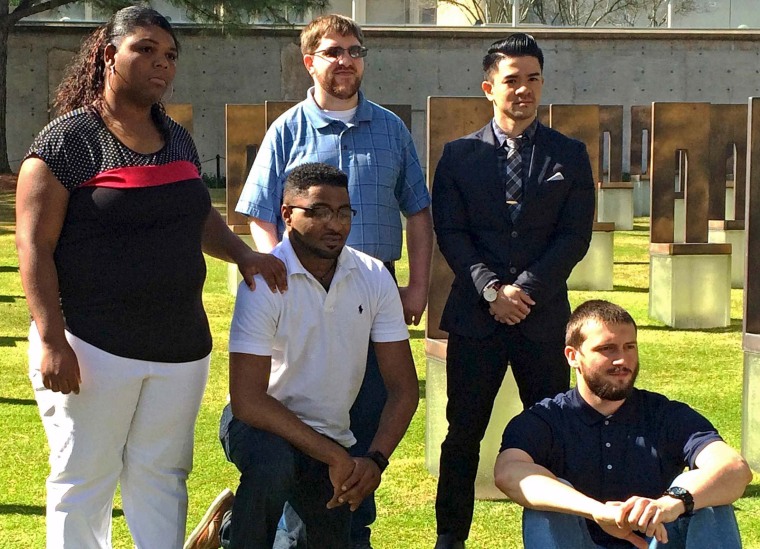 Both are now students at Oklahoma State University. Allen has ambitions of running a hotel when he graduates, and Webber is studying zoology and art. Webber has a scar that runs from his ear to his jaw from facial lacerations he sustained during the attack.
"It wasn't really till high school that it dawned on me how significant it was, the event itself and that I made it out," Webber said.
The man who caught Timothy McVeigh
McVeigh took off from the explosion in a yellow Mercury getaway car, a gun holstered to his side. He was stopped in Noble County, Oklahoma, an hour later when the fact that the car was missing a tag caught the attention of Charlie Hanger, a state trooper. Hanger told Oklahoma's News 9 last month that he thought he was just making a routine traffic stop.
Hanger brought McVeigh into jail for unlawfully carrying a weapon, but it wasn't until two days later that McVeigh was identified as the bombing suspect.
"There was a lot of divine intervention that took place," Hanger told News 9. "This is an arrest you never dream of making."
Hanger still works for Noble County and is now sheriff there.
The grieving sister-turned-representative
Dr. Margaret "Peggy" Clark was a veterinarian with the Department of Agriculture who stopped by her Murrah Building office for last-minute business when the bomb went off and killed her. She left behind three little girls who her sister, Susan Winchester, decided to help raise.
Winchester also decided to get involved with politics: In 1998, she was elected to the House of Representatives, where she served until 2008.
Winchester is now on the board of the Oklahoma City National Museum and Memorial, and is spearheading the Oklahoma Standard campaign, which aims to perpetuate the swell of volunteering seen in the bombing's aftermath.
"Someone came and tried to destroy Oklahoma and the heartland and our nation. And we, as Oklahoma, said, 'No, you can't do that to us," Winchester told NBC Nightly News.