Twitter declined Monday night to comment on its suspension of accounts of two popular sports publications, Deadspin and SBNation, but correspondence it provided to NBC News and CNBC show that several sports organizations had accused the accounts of violating its copyright protections.
Among the organizations filing the requests were the National Football League, the Big 12 and Southeastern collegiate sports conferences and Ultimate Fighting Championship.

Both accounts — Deadspin's main account, at @Deadspin, and @SBNationGIF, under which SBNation often publishes short GIF clips from sports events — suddenly disappeared Monday afternoon, replaced with a notice that they'd been suspended. @Deadspin had been restored by late Monday night, but @SBNationGIF remained unavailable early Tuesday.
A Twitter representative said the company doesn't comment on individual accounts.
But the company provided CNBC and NBC News almost two dozen "takedown notices" that representatives of the NFL, the Big 12, the SEC and UFC had filed with it, which accuse Twitter of violating the Digital Millennium Copyright Act by hosting specific tweets by the two accounts.
"As you may be aware, the NFL owns and/or controls the worldwide rights to license intellectual property of the NFL and its Member Clubs, including, but not limited to, moving images and other audio/video content featuring NFL game action and/or other NFL programming (collectively, 'NFL Content'), and the copyrights in and to the NFL Content," according to takedown notices filed by the NFL.
The NFL said it "did not request that any Twitter account be suspended," only that it had sent Twitter "routine notices as part of its copyright enforcement program requesting that Twitter disable links to more than a dozen pirated NFL game videos and highlights that violate the NFL's copyrights." The NFL's takedown notices bear that out.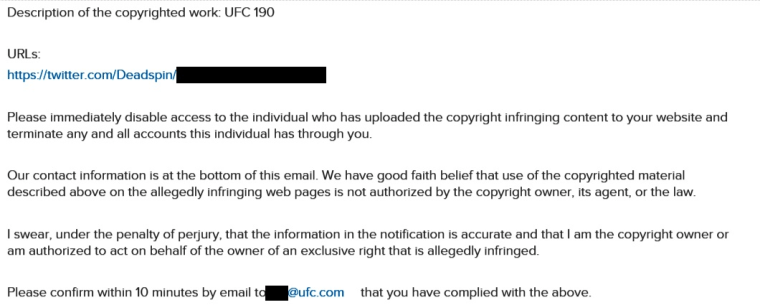 The Big 12 and the SEC also sent only general takedown notices in connection with allegedly infringed material from several college football games involving member schools.
UFC, however — referring to @Deadspin — did specifically ask Twitter to "immediately disable access to the individual who has uploaded the copyright infringing content," which it said was from UFC 190, featuring the Ronda Rousey-Bethe Correia bantamweight world championship fight.
UFC asked that "any and all accounts this individual has through you" be terminated, giving Twitter 10 minutes to reply.
The Big 12 and UFC didn't respond to requests for comment. The SEC couldn't be reached for comment.