Two academics in their 70s who disappeared from a Northern California rental cottage more than a week ago were found alive Saturday, authorities said.
The Marin County Sheriff's Department said Carol Kiparsky, 77, and Ian Irwin, 72, were plucked by a helicopter crew from heavily wooded terrain above Tomales Bay. They were conscious and dehydrated when they were taken to a hospital in unknown condition, authorities said.
"This is a miracle," Sgt. Brenton Schneider told reporters Saturday afternoon.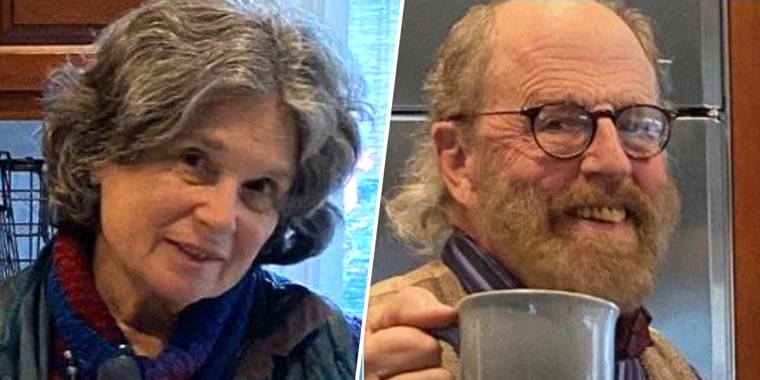 The two from Palo Alto were "avid hikers" who frequently visited the area north of Point Reyes National Seashore, Schneider said. They were familiar with local hiking trails but somehow became lost as darkness fell during a Valentine's Day outing, he said.
"They found a puddle nearby and that's what they were using to survive," he said.
Authorities were concerned when the two did not check out from their Inverness-area vacation cottage the weekend of Feb. 15. In the following days, the sheriff's departments rolled out a massive search that included the help of hundreds of volunteers, Schneider said.
On Saturday, rescuers said they heard the pair yelling for help. The two were soon pulled from brush so thick that rescuers had to crawl out on their bellies, Schneider said.
Rescuer Quincy Webster was with a search dog when he heard the pair, he told reporters Saturday.
"They were like, thank god you found us,we're so happy," he said.
It might have been just in time.
The effort to find Kiparsky and Irwin turned into a recovery mission by Thursday, the sheriff's department said.
The duo was in light clothes and had no jackets, no food and no water, Schneider said. It turned out Kiparsky had fallen at one point and was not wearing shoes, he said.
Authorities feared they would not survive the cold.
"The last three days the temperatures dropped down in to the 30s," Schneider said. "It wasn't looking great for chance of survival."
Irwin is a leading Parkinson's disease academic who is listed as a former researcher at Stanford University's Drug Assay Lab. Kiparsky is a prominent linguist and author of several books on language.
After speaking to rescue team members Tuesday, John Irwin, the couple's son, said the family was concerned something terrible had happened, NBC Bay Area reported.
"Very strange that they wouldn't have been a mile away, two miles away," Irwin said. "It's like somebody picked them up and removed them from the area. That's what I keep thinking."
They missed an appointment Sunday and later plans with their family, which the sheriff's office said "is highly out of character for them."
Housekeepers found all of their belongings still in the vacation cottage last weekend, including their cellphones, wallets and vehicle.