Two Canadian Coast Guard ships plan to escort an American freighter to its intended destination of Detroit on Sunday after the cargo vessel got stuck in the ice-choked waters of Lake Erie. This rescue, however, comes after an American Coast Guard ship trying to free that same freighter was also halted by the ice.
The U.S. Coast Guard Cutter Bristol Bay tried for several days to free the 647-foot American freighter, the Arthur M. Anderson, which has been stuck near Ohio's Conneaut Harbor since Tuesday. But the Coast Guard's Bristol Bay became stuck in the ice, which is more than 5 feet thick, according to U.S. Coast Guard officials.
The Canadian Coast Guard ship the Griffon was able to free the Bristol Bay after it was resupplied with 100 pounds of food Thursday night, but the Anderson remains stranded, the U.S. Coast Guard said. The Canadian Coast Guard said no ships are in danger because of the icy conditions. The Griffon is creating a path in the ice for another Canadian Coast Guard ship, the Samuel Risley, to reach the Anderson. It's expected to arrive Saturday night, said Canadian Coast Guard spokeswoman Carol Launderville. The escort to Detroit could take up to a day, depending on conditions, she added.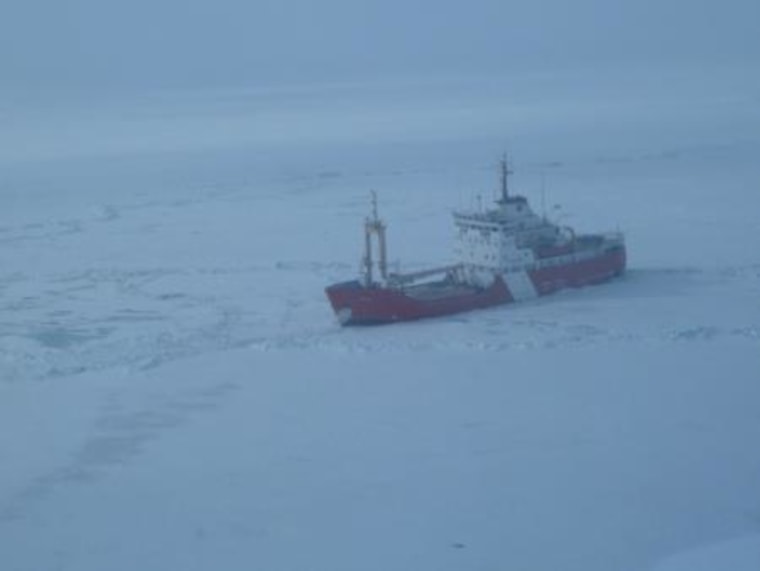 IN-DEPTH
SOCIAL
— Kyle Scott and Elisha Fieldstadt