Two young girls and an adult aide were killed Tuesday afternoon when two school buses crashed on a rain-slick highway in East Knoxville, Tennessee, authorities. One of the buses was flipped onto its side after what the school superintendent called "an unspeakable tragedy."
Three people — two children and an adult — were listed as stable at the University of Tennessee Medical Center after the accident, which occurred about 2:50 p.m. ET on Asheville Highway at John Sevier Highway. Twenty other children were treated for minor injuries and released from East Tennessee Children's Hospital. All of the children are in kindergarten through the third grade at Chilhowee Intermediate and Sunnyview Primary schools, the Knox County Schools said.
Nearly all of the victims, including those who were killed and those listed as stable, were on one of the buses, which flipped when the other one made an unexplained sharp left turn, crossed over a concrete median and crashed into its side, said Darrell DeBusk, a spokesman for the Knoxville police.
No identities were released pending notification of the victims' families, DeBusk said. The National Transportation Safety Board will assist in the investigation.
Calling the crash "an unspeakable tragedy," Superintendent Jim McIntyre said at a news conference: "We lost some members of our schools family — some of our youngest children."
"We work every day to try and prevent this," McIntyre said, adding that a decision hadn't been made on whether to close the two schools Wednesday. "It's a difficult afternoon as a school system and community," he said.
Knoxville Police Chief David Rausch asked the community to "pray for the loss of lives."
"It's a horrible tragedy," he said. "Our hearts go out to the families who have lost loved ones today."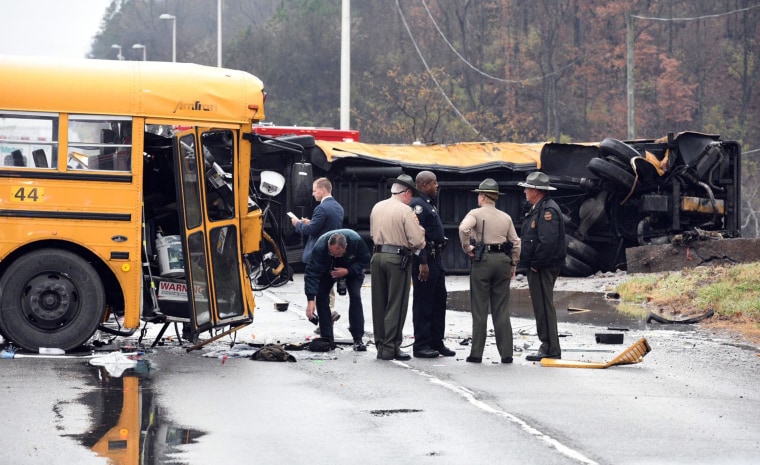 SOCIAL
— M. Alex Johnson