Three young children and their parents died after the family's SUV plunged into a lake overnight in Tempe, Arizona, police said.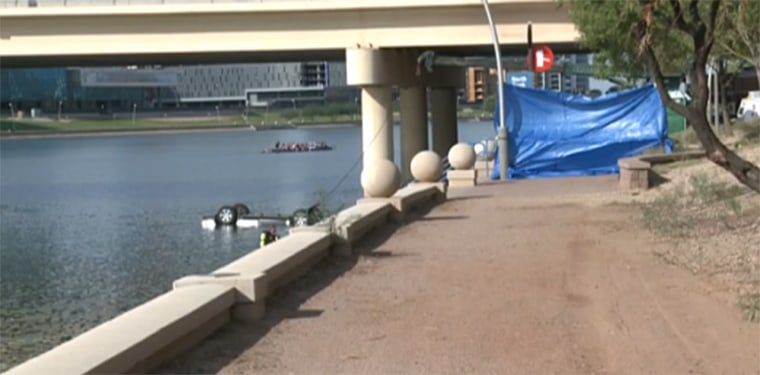 Lt. Michael Pooley, Tempe police spokesman, identified the parents Sunday as 27-year-old old Glenn Edward Baxter and 25-year-old Danica Baxter.
Their children were Reighn Baxter, 3, Nazyiah Baxter, 2, and Zariyah Baxter, 1. (Police previously identified Zariyah as 6 months old.)
Nazyiah was the only family member to survive, Pooley said, but he died Sunday afternoon after spending the day in "extremely" critical condition.
The circumstances surrounding the incident, which Pooley called "horrific" during a news conference earlier Sunday, remained unclear.
"We don't know what exactly happened," Pooley said. "We don't know what led the driver to do this."
Pooley said Glenn Baxter appeared to have been driving when, just after midnight, the SUV drove into Tempe Town Lake, a reservoir in the middle of the city.
Witnesses and police dived in after the car, Pooley said, and pulled the adults and two children to shore. After learning of a third, unaccounted-for child, a dive team discovered Reighn's body at 10 a.m. Sunday; his body was in the backseat of the submerged vehicle.
Investigators, Poole told NBC News, "are completely heartbroken. They wish they could have been there faster."