Two people died and five others were injured in a fiery crash between a bus and a car in Las Vegas Saturday, fire officials said.
The crash between a car and a tour bus occurred at an intersection at around 7:05 a.m. local time (10:05 a.m. ET).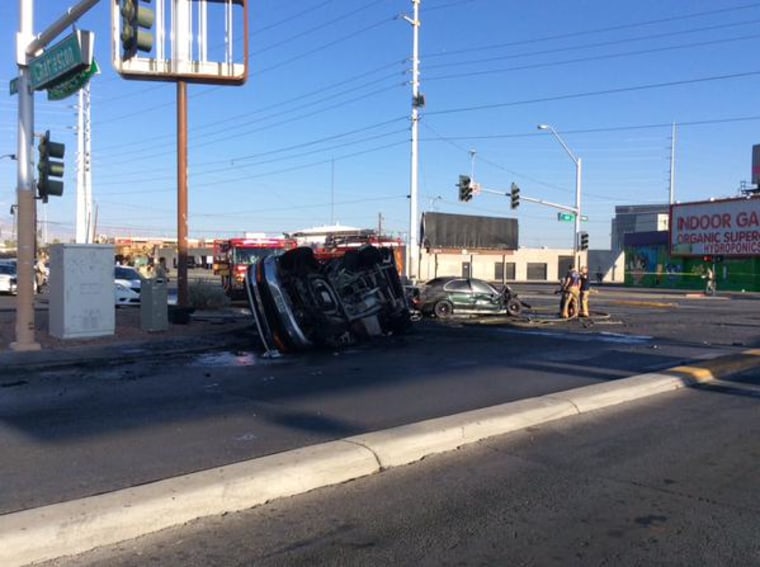 The tour bus was engulfed in flames when firefighters arrived, and two passengers aboard were not able to escape and were pronounced dead on the scene, Las Vegas Fire & Rescue said. Four others on the bus were burned and taken to a hospital for treatment, the department said.
The crash occurred when an allegedly drunken driver in a speeding BMW slammed into the tour bus, NBC station KSNV in Las Vegas reported. That driver was injured and taken to a hospital, according to officials.
Las Vegas Metropolitan Police Department Sgt. Richard Strader told the station the BMW driver's friend called 911 to report the driver just left a bar and was drunk when he got into his car.
"We're going to make sure he doesn't go home, he's going to go to jail the minute he leaves the hospital because this is ridiculous," Strader told the station.
A witness described the horrible scene. A bystander told the station that one man was seen trying to escape the wreckage through a window, with his head on fire, but fell back inside the bus.
The names of those killed were not released by Saturday afternoon.