The FBI arrested two former Houston police officers Wednesday on federal charges tied to a January drug raid that left two people dead and five officers injured.
Former narcotics officer Gerald Goines was taken into custody on two counts of depriving the victims' constitutional right to be secure against unreasonable searches, as well as obstructing justice by falsifying records, FBI Houston said in a tweet.
His former partner, Steven Bryant, was arrested and also charged with falsifying records.
Goines, 55, allegedly fabricated information to obtain search warrants at the Houston home Jan. 28 on the belief that suspects in the residence were dealing black-tar heroin.
Two occupants in the home, Dennis Tuttle, 59, and Rhogena Nicholas, 58, as well as their dog were killed in the raid. Small amounts of marijuana and cocaine were found in the residence, but no heroin was discovered.
Family and friends have denied that Turtle and Nicholas sold drugs.
The search warrants were obtained by claims that a confidential informant bought heroin at the home and saw a weapon there, according to police documents. When investigators later tried to find the informant, they were given two names by Goines.
Both informants denied working on the case or purchasing drugs from the home.
Goines also allegedly claimed that at one point, he had purchased drugs from the residence, but the indictment says that is false, the FBI said in a news release.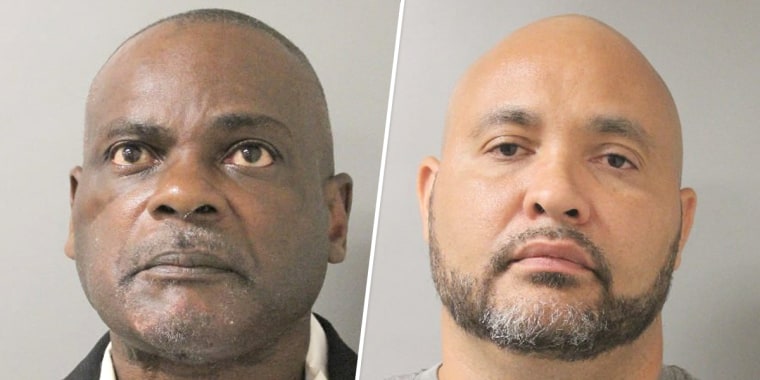 Bryant, 46, is accused of trying to help cover for Goines. The former officer allegedly falsely claimed in a report that he "had previously assisted Goines" in an investigation of the home and allegedly said that heroin he found in Goines' vehicle had been purchased from that home a day before the raid, according to the release.
Harris County District Attorney Kim Ogg previously charged Goines with two counts of murder in connection with the raid.
Bryant was charged by the Harris County DA with tampering with a government record. Both Houston officers retired.
Goines' attorney, Nicole DeBorde, told reporters that a detention hearing will be held Friday morning and they plan to argue that he is not a flight risk and should be released. He will plead not guilty to the federal charges, she said.
"We are looking forward to having our day in court and trying this case in a courtroom so that the truth can come out," DeBorde said.
Goines was injured in the deadly raid and has undergone several surgeries, with more planned, DeBorde said. "This has been a physically and emotionally very stressful time for him," she said.
The FBI also arrested Patricia Garcia for allegedly calling 911 multiple times to make false claims about the people in the house. According to authorities, during a Jan. 8 call, she said her daughter was in the home. She also alleged that the residents were addicts, dealt drugs and had weapons, including machine guns, inside. All of her claims were false, the FBI said in its press release.