Two pediatricians were found dead inside a Texas medical building Tuesday night after a hostage situation that lasted more than six hours.
According to Austin police, Dr. Katherine Dodson, 43, was fatally shot inside the Children's Medical Group in the 1900 block of West 35th Street. The gunman, 43-year-old Dr. Bharat Narumanchi, then shot himself, police said.
Officers first responded to the scene about 4:30 p.m. after getting a "disturbance call" about an armed man who entered the medical building. They learned the man, later identified as Narumanchi, had a pistol, a shotgun, two duffel bags and five hostages.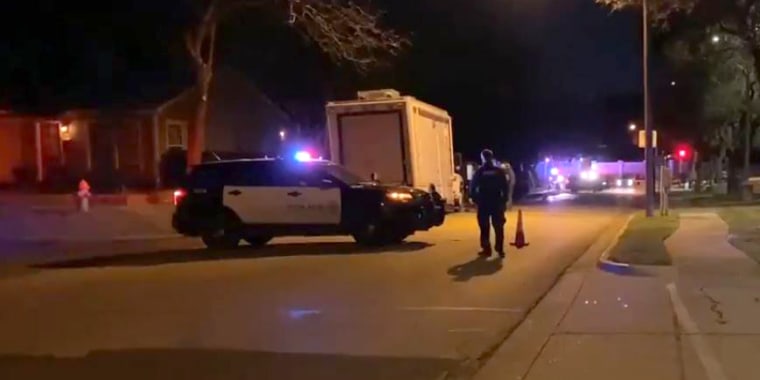 Some of the hostages escaped, police said. Others were later allowed to leave with the exception of Dodson, according to authorities. The hostages told police that Narumanchi, who had recently been diagnosed with terminal cancer, had just visited Dodson's office last week to apply for a volunteer position.
"Other than the previously mentioned visit to this office, there did not appear to be any relation or other contact between Dr. Dodson and Dr. Narumanchi," police said in a news release.
Hostage negotiators were called to the scene and tried to speak with Narumanchi over a loudspeaker to no avail, according to authorities.
"We haven't talked to you in a couple hours, and we want to make sure you're OK," a SWAT member said, according to NBC affiliate KXAN.
Download the NBC News app for breaking news
About 10:50 p.m., the news station reported hearing loud bangs. Jody Barr, a KXAN reporter at the scene, wrote on Twitter that he heard "multiple loud explosions" that sounded like gunshots. What followed was silence, Barr reported.
Shortly after midnight, police tweeted that "the SWAT situation has ended" and that they found the bodies of Dodson and Narumanchi.
The investigation was turned over to the police department's homicide unit. The Travis County Medical Examiner's Office was conducting an autopsy to determine the cause of death.
The Children's Medical Group did not immediately respond to a request for comment. As of Wednesday, the company's website appeared to be deactivated.